March 31, 2011 -
National Football Post
Notre Dame TE Kyle Rudolph: Rob Gronkowski 2.0?
Typically, I don't like to compare prospects because every player is different. However, there are just too many similarities between 2010 second round pick Rob Gronkowski and former Notre Dame standout Kyle Rudolph. And I'm not only talking physical similarities, but more so the path each took just to get into the NFL. [ Check Rob Gronkowski Week 1 Props With Tampa Bay Buccaneers just 33.5 yards -
BetRivers
]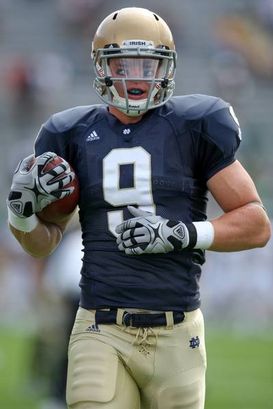 When I watch
Rudolph on tape, much like Gronkowski
last year (who was the NFP's number two tight end prospect) I see a starting caliber "on the line Y" at the next level who has the ability to win for you in all facets of the game. However, because of medical concerns with his back, Gronkowski fell to the second round last year and I think the same is likely to happen to Rudolph this year because of hamstring issues. Nevertheless, with
Rudolph you have a talented kid
who possesses great size at 6-6, 260 pounds, is a natural blocker in both the run and pass game and displays sneaky athleticism when asked to get down the field. Again, much like Gronkowski he isn't a burner by any stretch. However, he possesses good short area quickness in tight areas, knows how to set up routes, gets up to speed quickly and looks natural going up and making a play on the throw. The former Notre Dame pass catcher is also very natural adjusting to the football and has the kind of
strider speed to turn a route up the field and create a play down the seam.
And in a weak tight end class, Rudolph looks like far and away the draft's top tight end prospect, but will likely fall into round two because he isn't an overly dynamic athlete in the pass game and possesses some injury concerns. However, much like Gronkowski, Heath Miller, Zach Miller and Jason Witten, all of which fell on draft day for one reason or another, I could see Rudolph maturing into a similar type player in the NFL. In my view he has the ability to develop into one of the games best all around tight ends and will likely end up being one of the real bargains of the draft, much like the aforementioned group.
Follow me on twitter: @WesBunting