April 08, 2011 -
National Football Post
Notre Dame's Rudolph makes late charge for first round
Notre Dame hosted its pro day Thursday with TE Kyle Rudolph serving as the main attraction. The 6-6, 258-pounder ran in the high 4.7/low 4.8 range, pounded out 19 reps on the bench and posted a 34.5-inch vertical. Even more impressive was his short shuttle time of 4.36, a very solid performance for the big tight end who proved he can quickly change directions and get out of his breaks (a more valued attribute for the tight end position than straight-line speed).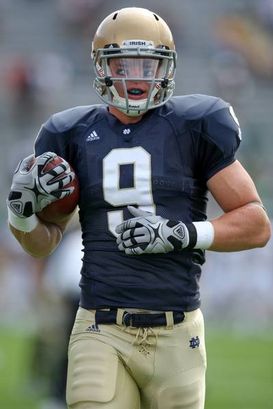 ICONRudolph had a strong workout Thursday.
Rudolph is coming back from hamstring surgery and it was his first performance catching the football in front of scouts since October, which was another area Rudolph stood out in. When looking at this guy up close he almost looks like an undersized offensive tackle prospect and has one of the biggest radiuses to throw at of any prospect in the country. He displayed good body control, balance and coordination during pass-catching drills, cleanly plucking the football off his frame and adjusting to the catch. And despite his lack of elite straight-line speed, I can still see him making plenty of plays down the seam because of his ability to go up and make a play on the football even when covered.
So…where does he end up in the draft?
Honestly, if I was in need of a tight end, I wouldn't have any qualms taking him as early as the late teens/early twenties, but I think he ends up falling into that late first/early second-round range.
Looking over the back end of round one, the Atlanta Falcons seems like a very possible destination for Rudolph with Tony Gonzalez getting up there in age. Also, don't overlook the Patriots. They always are searching for a good value, love to play in Ace Personnel (2WR, 2TE, 1 RB) and their 3rd TE Alge Crumpler is getting up there in age. Plus, it allows them to play with TE Aaron Hernandez split out more from the slot and is just another way to create more mismatches on that offense.
However, if Rudolph were to slip into round two, I think he'd be one of the main targets for teams to move up and select come Friday night. In my mind he has the makings of becoming a starter early in his NFL career and maturing into one of the league's best. Not a bad value at the end of round one or start of round two.