January 21, 2011 -
National Football Post
Now the real work begins
Editor's note: Mason Foster is a 6-2, 242-pound senior linebacker from the University of Washington who will be keeping a running journal for the National Football Post as he prepares for April's draft. This is his first entry.
It's been crazy since we beat Nebraska in the Holiday Bowl last month. Shortly after the game, my family and I went to Las Vegas to sign with my agent, Steve Caric. It was a weekend to celebrate a great ending to my college career while taking the time to look forward to this next opportunity in my life. We stayed at the new Aria hotel and had a great dinner right before I took in my first UFC fight. It was a blast, but then it was time to get to work.
I left Las Vegas for Los Angeles with my agent on Sunday to begin training for February's NFL Combine at Athletes' Performance Institute in Los Angeles. API has been everything I thought it would be and I've had the chance to work out with some of the best players in the country, including Clemson defensive end Da'Quan Bowers.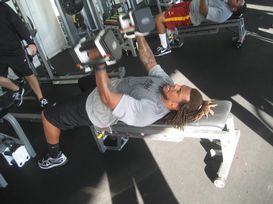 Training at API in Los Angeles.
Let me be the first to tell you that the training is no joke! Everyone was sore after the first week, but now that our bodies are getting used to these new workouts, we are really getting after it. Football workouts are all about power and strength, but a lot of what I do now at API is to improve the finer points of my game. We focus on technique, endurance and flexibility. I also work on all the drills we'll be doing at next month's Combine and have the privilege of working with former NFL players on position drills. Some of the pass-rush stuff I did with Willie McGinest was real cool.
Additionally, while I never ate all that bad in the past, I've now taken my nutrition to a whole new level. We have a chef that prepares all of our meals so that we can control everything we are putting into our bodies. The food is great and it's important to learn how to take care of the body the right way. While we are currently training six days a week, it's not all lifting and running. I get a weekly massage, had VIP tickets to a Laker game and went to Disneyland. It's great being able to mix in some fun with the work.
The last few weeks have been a whirlwind, but it's been an amazing experience so far. I have dreamed of playing in the NFL since I was little, so I look at every day that I go to work as an opportunity to make that dream come true. My next big step comes in Alabama at next week's Senior Bowl. I'll check in with you all again from Mobile, where I'll be on the field with the best players in the nation. I can't wait!
-Mason
Follow Mason on Twitter: @Mason_Foster
CLICK HERE to check out Mason's official draft website.
CLICK HERE to check out Mason's facebook fan page.