August 29, 2011 -
Barry Dorey
Oakland finds a gem in Taiwan Jones
There were a number of questions surrounding former Eastern Washington standout Taiwan Jones when he declared early for the 2011 NFL draft.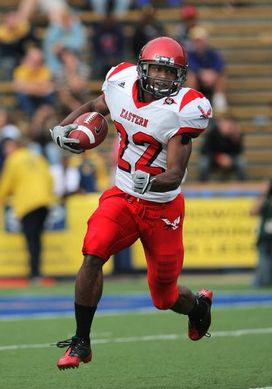 ICONJones was an NFP favorite back in April.
1. With a playing weight during the 2010 season of around 170-pounds, does he have the physical make-up to hold his own in the NFL?
2. Will he check out medically, coming off a fractured left foot that forced him to miss the final game of his junior season?
3. Could he add more girth/size to his frame and still maintain the type of dynamic straight-line speed that made him such an intriguing prospect?
Talking to scouts leading up to the NFL draft there were two trains of thought concerning Jones as an NFL running back. The first was that there simply aren't many productive backs at the NFL level that measure in a six feet tall and play under 200-pounds.
The second was that this guy possessed the talent needed to become a dynamic sub-package type option who could create big plays for an offense when you get him in space.
And after watching him in his first NFL action Sunday night, he looks to be the latter of those two opinions. Jones was quick to press the hole, displayed good patience allowing blocks to set up and then accelerated very quickly into the open field. He displayed the type of confidence in his first step where he didn't simply need to outrun defenders to daylight in order to gain yardage. As he exhibited the type of vision/feel to calmly pick his way through traffic before exploding away from defenders and outpacing angles into the second level.
And once he got into the open field he showcased the type of straight-line speed/second gear to be the type of big play threat the Raiders must have envisioned when they drafted him in April.
Now, he's still is a thinner back --despite his effort to get into the 190-195-pound range-- who possesses a narrow frame and is going to struggle to break tackles inside and hold his own in blitz pick-up. However, the Raiders have a back who can be dynamic in space both on perimeter runs and catching the football out of the backfield.
Jones should be a consistent part of the Raiders offense even as a rookie. In my view, he's an ideal situational type back because of his ability to flip the field and be playmaker anytime he gets his hands on the football even if only given limited touches throughout a game.
Follow me on twitter: @WesBunting