May 15, 2011 -
National Football Post
One journey ends, another begins
Editor's Note: Mason Foster is a 6-2, 242-pound senior linebacker from the University of Washington who will be keeping a running journal for the National Football Post as he prepares for and participates in April's draft. This is his sixth entry.
The draft is finally over, and I'm a Tampa Bay Buccaneer! I could not be more excited about the opportunity that the Glazer family, Mr. Dominick and Coach Morris have given me. I'm now out to prove that I was the steal of the NFL Draft.
While I was a little nervous heading into the Draft weekend, I was more excited and anxious than anything else. I had no expectations and I was just honored to have the opportunity to be a part of the process. My agent was confident that I would be selected sometime on Friday (rounds 2-3) and we had a pretty good idea of the teams that had me ranked the highest on their draft boards.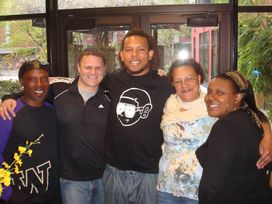 Mason (center) with his family and agent Steve Caric (immediate left) during draft weekend.
My family and my closest friends got together at my apartment complex in Seattle to watch the Draft on Friday night. What's crazy is that until you're a part of it, you don't realize how much every pick and trade effects you! For example, one of the teams that had me ranked the highest on their board traded away the pick we thought they might use to select me so that they could move up and fill a bigger team need. All of the sudden, a team that you thought you might play for is out of the picture. It's also crazy how long everything seems to take and how you just hang on every pick.
At one point, a team that I had visited called me while they were on the clock, but they put me on hold and then hung up. I later found out that they were debating between me and another player. Obviously, they didn't pick me. I plan on making them regret that decision.
When the call finally came, it was one of the best moments of my life. I spoke with the general manager, Mr. Dominick, and all of the coaches. They all told me how excited they were to have me and I told them that the feeling was mutual. I wish I could put into words what I was feeling when I was on that call, but it is indescribable. As soon as I hung up, all the tension in the room was gone and the celebration began!
Now that it's all over I can tell you that no matter how much you try to prepare for draft day, you can't be ready for all the different and intense emotions that you will experience as the process unfolds. The nervousness, anxiousness, and excitement can't be described. My mom and dad and I just hugged and cried for a while as soon as they called my name on TV. In that moment, I was reflecting on my football journey: playing in the yard back on Hamilton St. in Seaside, CA., then on to Pop Warner when I was 9 years old, then on to Seaside High, and last to UW, where I was able to help start a new chapter for the program by going out with a Bowl win. This isn't the end though; it's just the beginning.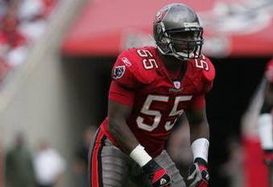 Mason gets to follow in the footsteps of childhood idol Derrick Brooks.
Playing for the Buccaneers is the best thing I could have asked for. I've actually followed the team since I was a kid because I looked up to Derrick Brooks and because I used to go to Coach (Herm) Edwards' youth football camps back in Seaside. I think I'm a great fit for the over 4-3 defense that we run, and the coaches told me they like the fact that I can play any linebacker position in our scheme.
This is a franchise with a tradition of tough, fast defenses and I can't wait to team up with guys like Da'Quan Bowers, who I trained with at API in Los Angeles before the Combine, and Brian Price, who I played against in the Pac-10, to continue that tradition. We are a great young team and I'm excited to play for Coach Morris and Coach Baker.
I'm going to come in with the attitude that I will help the team in any way necessary so that we can get back to the Super Bowl. It's also real cool to be going to a new city like Tampa Bay. I know we have the best fans in the NFL and a great stadium and I'm excited to get down there and get to work. I also want to give a shout out to my UW teammate Jake Locker, who got drafted by the Titans. We play in Tennessee this year, and it will be cool to see Jake in an NFL uniform – but a little weird seeing him on the other sideline. Just like practice at UW I guess!
As I look back on this entire draft process, I am blessed to have been a part of it and I'm glad it's over. Most of all, I'm happy with the results. At the end of the season, draft experts were saying I was a fifth round pick, but I worked hard and proved that I was better than that with my performances at the Senior Bowl, Combine and Pro Day, and I ended up being a top 100 pick. It's great knowing that all my hard work paid off and now I plan on helping my new family in Tampa get back to the Super Bowl.
Thanks to all of you for following me and for reading my journal entries through this process. Go Bucs!!!
-Mason
CLICK HERE to read Mason's previous entry.
Follow Mason on Twitter: @Mason_Foster
CLICK HERE to check out Mason's facebook fan page.