January 03, 2011 -
National Football Post
Orange Bowl Prospect Preview
A breakdown of some of the top senior prospects worth watching in tonight's Orange Bowl matchup….
Stanford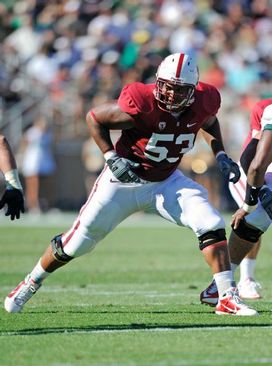 ICONHall needs to continue to tighten up his footwork.
OT Derek Hall: No. 53 (6-5, 303)
A former defensive lineman who made the move to the offensive line during his time at Stanford. Is only a first-year starter, but has showcased good flexibility and bend in his stance, fires off the football low in the run game and does a nice job generating leverage for himself at the point. Possesses a strong lower half, isn't an overly dominant in-line guy, but has the power to generate a jolt and at times can drive defenders backward, finish into the ground and exhibit above-average coordination through contact. Is a solid open-field athlete who can pull and reach a target at the second level while demonstrating the coordination to break down and seal at the point.
Is still developing in the pass game, is a bit of a waist bender and struggles to consistently keep his base under him on his kick-slide. Gets really overextended with his footwork at times and struggles to generate the same type of power on his punch as he does in the run game. Gets his hands outside the frame of defenders too often and doesn't possess the balance or power to consistently stonewall defenders on the play. Works hard to stay on blocks but isn't a real Velcro guy and will struggle to maintain balance when asked to mirror through contact. Possesses average range off the edge when asked to reach speed, but looks better suited to play as a right-sided guy.
Impression: Lacks a ton of playing time and experience and still has a good bit of upside to his game. Needs to continue to add weight and tighten up his footwork, but the guy can be a very good run blocker as an in-line guy. Has the ability to play some right tackle or guard in the NFL and seems like someone who can make a roster as a rookie, develop as a reserve and with the right coaching could fight for playing time down the line.
FB Owen Marecic: No. 48 (6-1, 244)
A well-built lead blocker who does a great job using his hands to engage into blocks, seal targets and pump his legs through contact. Looks really comfortable reaching defenders off his frame on perimeter runs, breaking down in space and keeping them from ever getting a sniff of the play. Reads and reacts quickly to defenses inside and has a great feel for the run game. Isn't the most fluid of athletes and will struggle to maintain balance when asked to quickly change directions. But showcases good pop reaching blocks off his frame and can still create a seal for his running back inside. Plays till the whistle and always seems to be working to push the pile, a real team-first guy. Looks comfortable in blitz pick-up as well, quickly locating his target and moving his feet through contact. Also, can catch the football out of the backfield, isn't a real natural plucker and is more of a linear guy with the ball in his hands. However, he can be a solid safety valve out in the flat.
Now, physically he isn't the most dominant guy when asked to drive defenders off the ball and overwhelm them at the point of attack. Possesses above-average, but not elite, strength for the position, relies more so on his coordination, hands and grit to get into blocks and seal in the run game.
Impression: A really impressive fullback who understands angles, has a great feel inside and consistently is able to get into blocks and eliminate his man on contact. Looks like a starting caliber lead guy in the NFL from day one and is one of my favorite fullback prospects in the draft.
OG Andrew Phillips: No. 71 (6-4, 305)
A tough, gritty Velcro player who does a nice job sticking to blocks in the run game and turning his opposition away from the play. Isn't overly flexible in his stance and lacks ideal explosion off the line. But does a nice job of quickly extending his arms into contact, getting under the chest plate of defenders and working his legs through the whistle. Lacks great range on slide-down blocks, but he looks coordinated when asked to get his body around defenders and has just enough athleticism to stick to interior linemen enough through the play. However, isn't a guy who is going to drive bigger defenders off the ball as an in-line guy.
Isn't real heavy-handed in the pass game and doesn't generate much of a punch on contact. Too often allows defenders to get into his frame, jar him at the point and create separation for themselves. However, does a nice job keeping his base down, maintaining balance while sliding his feet and cutting off their initial surge. Isn't fluid enough to consistently mirror in space and is better suited to mirror through contact.
Impression: Isn't the most athletic or physically imposing guards in the draft, but just finds a way to get the job done. Doesn't look to have the skill set to be a reliable starter in the NFL, but could work his way onto an NFL roster.
DT Sione Fua: No. 92 (6-2, 305)
A thick, stout defensive lineman who possesses a solid first step off the snap for his size. Does a nice job keeping his base down into blocks, extending his arms and creating a strong punch on contact. Has the ability to jolt/knock opposing linemen at the point and work his way into the backfield on his bull rush. Keeps his base down through contact and consistently can get a good push on contact. However, isn't the kind of sudden athlete to quickly shed blocks and get after the quarterback. More of push/pull guy who lacks ideal lateral quickness and doesn't have the kind of initial burst to consistently threaten gaps inside.
Uses his length and punch well to create separation for himself when run at and can disengage from blocks inside. Sits into his stance well off the ball and into contact and consistently is able to create leverage at the point and anchor with success — even vs. the double inside. Has done a better job in 2010 locating the football inside, now as a 3-4 nose, and closing gaps on either side of him. However, his overall ball awareness is still very suspect at times and needs to improve. Possesses a nice combination of body control and upper body strength when asked to fight his way off blocks inside and make a play on either side of him. Also, routinely is able to stay on his feet even through contact and isn't often cut down or ends up on the ground. An ideal two-gap tackle who is effective in tighter areas. Lacks ideal range away from his frame and isn't going to routinely make plays sideline-to-sideline, but has a motor that is always running on full and will give you the effort.
Impression: He's thick, powerful, plays with leverage and can really create a jolt on contact. Isn't a dynamic pass rusher, but can win for you inside as a nose on first and second down. Can work his way into a rotation early in his NFL career and could fight for a starting role down the line.
Others worth noting…
OC Chase Beeler: No. 72 (6-3, 275)
WR Ryan Whalen: No. 8 (6-1, 205)
Virginia Tech
ICONTaylor can make plays as a run/pass threat.
QB Tyrod Taylor: No. 5 (6-1, 214)
An undersized quarte rback prospect who lacks ideal height and will struggle to consistently see over the line of scrimmage at the next level. However, he's a gifted athlete who has a good feel in the pocket when asked to buy time and knows how to keep plays alive with his feet and find throwing lanes. Is a shifty, well-balanced athlete who can make defenders miss, side-step pressure and be a real threat in the open field. Is a gifted stop-and-start athlete who gets up to speed quickly and isn't afraid to lower his shoulder and fight for tough yards in the open field. A big-time threat once he breaks containment and is a consistent threat to take off.
However, isn't the most decisive passer at this stage and is really limited in his ability to quickly decipher information and go through his progressions. Gets spooked easily by any pressure which causes his eye level to go down quickly and he'll prematurely take off. Displays a strong enough arm to make all the necessary throws at the next level and does a nice job getting the ball out of his hands quickly with a high, compact throwing motion, as he can really spin the football. Exhibits average touch and accuracy as well when his initial read is on and has the ability to throw receivers open and get the ball out of his hand on time. However, it's when he has to go through any type of progression that the game really seems to speed up on him. Is limited to only reading one side of the field, and if nothing is on, he has a tendency to take off too quickly. Exhibits the ability to improvise with the best of them in college football, but relies on that skill set far too often. Did a better job as a senior taking care of the football and not as consistently forcing throws into coverage. Showed some added maturity to his game as the leader this season as well.
Impression: A gifted athlete who can create with his legs and be a threat in the open field. However, although he has improved in the mental aspects of the game over the past two seasons, he still has a long way to go. Will get a look though because of his athletic ability/talent and could fight for a No. 3 job.
DE Steven Friday: No. 82 (6-4, 238)
A tall, lean defensive end prospect who doesn't look natural when asked to sit into his stance. Gets a bit leggy when trying to coil up and struggles to keep his butt down from a three-point stance. However, he possesses a really explosive first step off the edge, can consistently threaten the corner and gets on top of opposing linemen quickly. Does a better job keeping his pad level down off the edge and definitely has some natural bend to his game. Possesses the body control to drop his shoulder, maintain balance and really accelerate when flattening out around the corner, and doesn't give offensive tackles much of a target to hit. Displays more of a willingness to work his inside counter move as the year went on, allowed his pad level to get upright, but extended his long arms well and had a little violence using his hands. Was able to accelerate quickly once he gained a step.
Now, fails to generate a lot of pop on contact on his bull rush, allows his pad level to rise and doesn't generate much leverage. However, does a nice job extending his arms into opposing linemen and is really sudden when asked to disengage. Looks natural/balanced slipping blocks on contact when asked to work inside and knows how to keep himself clean.
Lacks an ideal base when run at, can be overpowered on contact and washed on the edge. But, he does display some violence in his hands and explosion when asked to crash down the line, quickly can shed/slip a block and break down on the ball carrier. Is a long guy with a big wingspan and wraps up well behind the line.
Impression: Played behind a lot of talent at Virginia Tech, but finally got his chance to start in 2010. Possesses a good-looking frame, an explosive first step and some natural bend around the corner. Is raw in some areas and doesn't have a ton of experience. But he has the frame to add some weight as a 4-3 DE or might be ideally suited as a 3-4 pass rusher. Either way the guy can get after the QB in a big way. A nice developmental pass rusher who could end up making his way into the mid-rounds with a strong postseason.
CB Rashad Carmichael: No. 21 (5-10, 180)
A smaller, thinly put together corner who lacks ideal muscle and girth through both his upper and lower body. However, he's an explosive defensive back who exhibits very good straight-line speed when asked to turn and run down the field and has the ability to make up for a false step. Is at his best in zone where he can keep his eyes in the backfield, squat on routes and drive on the football. Exhibits good instincts in space and combined with his closing burst he has the ability to consistently put himself around the play. Has experience playing both the boundary and field position at Virginia Tech and does a nice job playing sound assignment football, not false stepping or taking himself out of many plays in coverage. Possesses good ball skills and coordination and consistently is able to quickly locate the throw, adjust and get his hands on the play, creating turnovers when he can. However, isn't quite as effective in man at this stage, especially when asked to play up near the line. Isn't real physical in press and seems to really rush his footwork in his drop. Exhibits good bend in his back pedal initially, but his pad level seems to rise the further he has to sit into his drop. Also, gets long and leggy with his footwork and lacks ideal balance when asked to turn and run. Exhibits good fluidity in the hips, but allows himself to get too high when transitioning to run down the field and it will take him a couple steps to get back up to top-end speed.
Isn't a real impressive tackler and struggles to break down on ball carriers in the run game. Tends to take poor angles, drops his head and fails to see what he wants to hit. Now, isn't afraid to throw his body around and try to disengage the ball from man, but just has a tendency to whiff too often both in a phone booth and in space.
Impression: An explosive athlete who can really run and click and close on the football. Displays good ball skills as well, but lacks ideal footwork in his drop and balance out of his breaks in man coverage However, he's a very good off man/zone guy and looks like a crafty nickel back at the next level.
Others worth noting…
DT John Graves: No. 91 (6-3, 281)
Follow me on twitter: @WesBunting