September 07, 2012 -
National Football Post
Outside The Norm? Denard Robinson
Denard Robinson QB Michigan 6000 (Estimated) 195 (Estimated) 4.40 (Estimated)
Every year as draft time approaches a number of highly productive college players see their draft status fall because they do not fit within the traditional physical measuring sticks that NFL teams rely upon. This happens because for every player like Bob Sanders, Antoine Winfield and Drew Brees there are many more who were highly productive in college, but failed in the NFL. So determining which players have enough talent and intangibles to over-come these concerns and become productive NFL players is what separates the good organizations from the rest.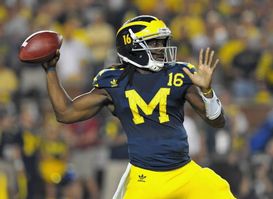 Michigan QB Denard Robinson.
In recent seasons there have been a number of very athletic college quarterbacks who have entered the NFL, like Brad Smith, Tim Tebow, Cam Newton and most recently Russell Wilson, and their level of success has varied. Below we take a look at Michigan quarterback Denard Robinson and offer our thoughts as to where his future in the NFL lies.
While Robinson still has the rest of the 2012 season to prove to NFL teams that he can play quarterback in the NFL, from what we have seen it is unlikely he will ever be a productive passer. Efficient footwork is essential for a quarterback to get rid of the ball quickly and to be an accurate passer and Robinson's footwork needs a lot of work. While light on his feet, he tends to bounce around, does not drive off back foot, is inconsistent with his stride length (Stride length is one of the most important aspects of accuracy as under striding leads to passes dipping in front of receiver and over-striding leads to passes being high) and does not get his foot pointed towards the target, all of which lead to his having terrible accuracy. This lack of accuracy showed up dramatically in the first half against Alabama when he missed a number of wide open receivers that could have kept the game close.
In addition to raw footwork, Robinson does not have a quick and compact release. His release is deliberate and allows defenders to break and close on his passes too easily. At times he is aggressive driving into ball and is able to get good zip on throws, but too often the ball comes out of his hand looking a little like a shot-out and really lacks the zip to throw tight spirals and fit passes into tight spots.
A quarterback who is six feet, has raw footwork and inconsistent throwing mechanics is bad enough, but most concerning are Robinson's decisions. Too often he will throw passes up for grabs to avoid pressure and does not read the downfield coverage well, which leads to him throwing passes into bad spots. On downfield throws, his passes often hang in the air, which allows defenders to break, close and make a play on the ball. Most frustrating is that Robinson has not improved much as a passer during his college career and still is primarily a run first quarterback who impacts games with his ability to make big plays with his feet.
Robinson is an electrifying runner who has the vision and instincts to find open creases, the sharp cutting ability to get to them and the rare explosive acceleration to get through the hole and to full speed in a heartbeat. He is an elusive runner who can change directions in a flash to make tacklers miss and despite his slight frame he has been able to run thru arm/grab tackles to gain yards after contact consistently. According to sources that have seen Robinson practice he has soft, natural hands when throwing and catching the ball with other players, which gives hope that he can develop as a slot receiver or third down back.
Robinson will likely get a chance to prove himself as a receiver, returner and running back during the week of practice at the Senior Bowl. If he excels during the week in Mobile, works out well for teams and is open to switching to another position, he could get drafted in the third or fourth round. The big question is whether Robinson will turn out to have an NFL career more like Antwaan Randle El or Eric Crouch, who both were highly productive college quarterbacks who had drastically different levels of success in the NFL. I think he will turn out to be a solid returner and make plays as a slot receiver, but will not achieve the level of success that Randle El did.
Follow Russ Lande @RUSSLANDE