November 30, 2012 -
National Football Post
Over-Rated Prospect – Devin Street
Devin Street WR Junior Pittsburgh 6040 E 190 E 4.60 E
Many college receivers arrive with great fanfare because they were regarded as great high school players and then when they produce early in their college career they are labeled as "future superstars" and expected to be first round picks. However, when it comes to receiver this could not be farther from the truth as there is a long list of highly productive college receivers who were not drafted early and even more who never panned out at the NFL level. Unfortunately, from what I have seen Pittsburgh receiver Devin Street is not an elite NFL prospect despite being hyped as such.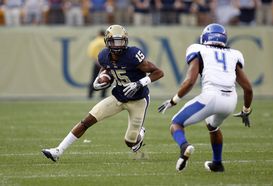 US PRESSWIREPittsburgh WR Devin Street runs after the catch.
Blessed with great height, long arms and natural hands, Street's ability to be a clutch receiver in the redzone is unquestioned. Able to shield defenders while getting up to pluck high passes enables him to consistently win jump ball battles. His body control, coordination and concentration allow him to adjust to make tough catches on off-target passes with surprising ease. Being tall and having good hands is great, but that does not guarantee success in the NFL.
Street's thin frame allows physical cornerbacks to jolt him with a punch to slow his release and are able to get him off his stem with physical play. He will need to add weight and improve his playing strength in order to deal with the physical coverage of NFL cornerbacks.
He does not however have good initial quickness off the ball, which limits his ability to get behind cornerback off the line. Lack of foot quickness and long legs also make it tough for him to change directions fast enough to avoid jam on line and contact during route.
While Street's long strides definitely hide some of his speed, the reality is that he lacks the explosiveness and playing speed to get separation of deep pass routes. At Pittsburgh he has been able to make plays down the field by keeping the cornerback on his hip and shields him to make the catch deep. Against NFL cornerbacks his lack of quick acceleration and playing speed will greatly limit his ability to make big plays down field. Additionally, he does not have the speed to run away from defenders to score long touchdowns and he cannot out-run defenders who have the angle on him.
Despite being a smooth athlete with good body control, Street's height hinders his ability to get in and out of his cuts fast. He lacks a burst out of cuts to consistently get separation from man coverage. He does however, have a good feel for finding open spots in zone coverage. He shows toughness holding onto the ball when he gets hit hard right after the catch.
As a junior, Street has been rumored to likely leave Pittsburgh early to enter the 2013 NFL Draft, but from what I have seen I think he would definitely be better suited to stay in school for his final season. He reminds me of two recent prospects, one who was a bust, Marquise Walker, and the other, Malcolm Floyd, who has turned into a good NFL receiver after entering the league as an undrafted free agent. If I were to bet, Street will be a mid-round pick and if he can improve his strength and route running he could develop into a contributing receiver in the NFL.
Email Russ at Russelllande@yahoo.com and Follow Russ on Twitter @RUSSLANDE