November 16, 2012 -
National Football Post
Over-Rated Prospect – Landry Jones
Landry Jones QB Senior Oklahoma 6040 230 4.90
Since the middle of the 2011 season "draftniks" around the country have been talking about Landry Jones as a definite first round pick who could challenge to be the first overall pick with a strong finish to his career. Entering the 2012 season, Jones was at the top of the group of quarterbacks expected to battle to be the first quarterback drafted after USC's Matt Barkley. However, Barkley's struggles this season have opened the door for another quarterback to pass him, but Jones has not seized the moment to grab that spot.
Armed with a very strong arm, Jones makes it look easy making every NFL throw. When he has a "clean pocket" and strides into his throw, he not only can make every throw, but he can do so with zip and accuracy. With good size, Jones is able to pull free from potential sacks and can make strong throws with defenders grabbing at him. While he has good size, he is not the type of quarterback like Ben Roethlisberger and Andrew Luck that defenders seem to just bounce off.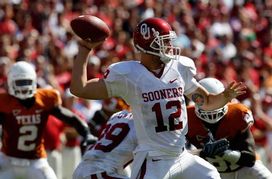 Oklahoma QB Landry Jones about to make throw.
Even though he can pull free from sacks at times, he is not quick or nimble moving within the pocket to avoid pressure. Standing straight legged while he goes through progressions limits his ability to slide/move to avoid pressure and to re-set and make good accurate throws when forced to move within pocket. He often looks stiff and mechanical when standing in pocket and surveying the field. Not keeping knees bent when scanning field and striding into throws greatly hinders Jones ability to be a consistently accurate passer. When he tries to really put zip on throws his passes tend to either dip in front of receiver or sail high because his front leg is straight when he throws.
Although his release is not over-the-top, Jones is able to get rid of the ball quickly. He can make the quick hitting out route throw with accuracy and good timing. Despite being able to get rid of the ball quickly, his throwing motion is a bit deliberate (Not in terms of quickness of release, but in terms of how early he gives away that he is starting his throwing motion) allows defenders to close quickly and make a play on the ball.
While playing in Oklahoma's wide open passing attack definitely allows Jones to show off his arm, the passing scheme definitely leads to NFL teams having to do extra work to figure out how football smart Oklahoma quarterbacks are. Nearly all the time three of the four receivers routes are pre-determined and the fourth receiver's route is completely based on the alignment of one defender. So Jones will need to impress at the Senior Bowl and throughout the interview process to convince teams he can handle making the pre-snap read, adjusting protection, making audible and going through progressions to find open receiver.
For a quarterback who has been hyped as a high pick for two years, I think Jones' play has not matched the hype at all. Despite his size, playing strength, quick release and arm strength, he is a big of a project and needs to greatly improve his footwork/technique and accuracy. I would draft Jones in the third round, but would not use a higher pick on him because he is going to need to improve his technique in order to become an accurate passer and will have a big adjustment in terms of working within NFL passing schemes.
Email Russ at Russelllande@yahoo.com and Follow Russ on Twitter @RUSSLANDE