October 26, 2012 -
National Football Post
Over-Rated Prospect – Logan Thomas
Logan Thomas QB Junior Virginia Tech 6060 E 260 E 4.60 E
As Cam Newton was re-writing many of the NFL record books for a rookie quarterback, the buzz around Logan Thomas began immediately as he fit the profile of a huge, athletic quarterback with enormous potential. During 2011, his first season as a starter, he displayed all the physical tools to develop into a high end NFL starter. However, the 2012 season has not gone as well as expected and Thomas no longer looks like a premier prospect that would be drafted in the first round.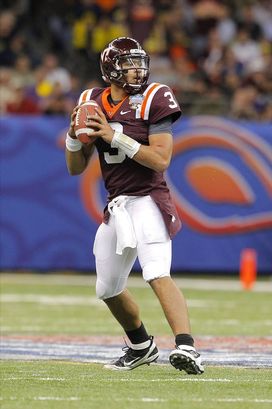 ICONVirginia Tech QB Logan Thomas looks over the defense.
Throughout his first year starting Thomas showed surprising poise within the pocket and would not force passes in bad spots to avoid pressure/sacks and even displayed a willingness to throw the ball away at times. However, he also seemed quick to pull the ball down and take off scrambling rather than sliding/moving within the framework of the pocket to buy more time. This season, Thomas has not shown the same confidence within the pocket and often is bouncing and moving around for no reason. He has not been decisive getting rid of the ball quickly and has forced some passes to avoid pressure rather than throwing it away or moving within pocket to buy a second chance.
Even more concerning is the lack of mechanical/technical improvement from 2011. Often upright and straight legged while going through progressions, Thomas does not move and re-set to throw smoothly within the pocket, which greatly hinders his accuracy. He tends to keep his front leg straight when he throws and this further hurts his accuracy. In order to improve his accuracy Thomas needs to keep his knees bent more while going through progressions, stride into his throws much more consistently, get his front foot pointed towards target and tighten his release so that it is the same every time he throws the ball.
As he was a season ago, Thomas is still primarily a "throw to his man" passer rather than one who can lead his receiver by throwing to spot where his receiver will be once he makes his cut/break. Despite showing the ability to make great deep touch passes and outstanding intermediate throws with zip into tight windows, it is extremely concerning that he does not consistently put zip on throws that need it and almost always tries to make touch throws. In today's NFL it is difficult for quarterbacks who cannot anticipate and throw to a spot, so Thomas must drastically improve this. Additionally, it is not as easy as people make it out to be for a quarterback to learn to accurately throw with good zip when they are so accustomed to throwing touch passes.
When the 2012 season began it was wildly anticipated that Thomas would improve upon his breakout 2011 season, which would lead to him coming out early for the 2013 NFL Draft where he would be a high first round pick. However, so far Thomas' play this season is that of a fourth round pick, although he would likely be a second / third round pick if he entered the Draft because of his immense physical talent and potential. Some quarterback coaches and offensive coordinators would fall in love with Thomas' skill set and convince their teams that they can "coach him up" to become the elite player he has the talent to be. I would recommend that Thomas return to school for the 2013 season as it would not only give him the best chance to improve, but would also give him another season of starting experience to learn from, which would give him a better chance of being a first round draft pick.
Email Russ at Russelllande@yahoo.com and Follow Russ on Twitter @RUSSLANDE