September 12, 2012 -
National Football Post
Overrated Prospect: Michigan's Jordan Kovacs
Jordan Kovacs Safety Michigan
6000 (Estimated) 195 (Estimated) 4.55 (Estimated)
Every college football season players are often viewed in a drastically different light by the media than they are by me and NFL scouts. So throughout the 2012 college football season I will take a look at one player each week that is either over-rated or under-rated based on my film study and what I am hearing from NFL scouts. This week I am breaking down Michigan safety Jordan Kovacs as I believe he is one of the more over-rated players in the Big Ten Conference.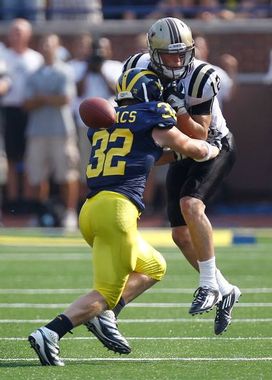 Michigan safety Jordan Kovacs making hit.
While it is vital for NFL safeties to possess good athleticism to be productive in pass coverage, the importance of football smarts and instincts cannot be over-looked as they often allow less talented safeties to out-perform more physically gifted players. This is an area where Kovacs definitely is head and shoulders above most college safeties. Consistently getting the other members of the secondary lined up correctly, reading the quarterback and seeing the pass play develop in front of him all help him to read and react with surprising quickness to passes in front of him. Reading the play quickly and correctly is one thing, but if you do not make a play on the ball then those instincts are wasted. Kovacs' natural ball skills show up in his ability to consistently cut in front of receiver/tight-end to break-up or intercept the pass.
Being productive on passes in front of you is good, but as safeties have become more involved in all aspects of coverage, they must excel helping the cornerbacks with "over the top coverage" and covering slot receivers and tight ends in man coverage. In terms of "over the top coverage," Kovacs does a good job of reading the quarterback and can get out to the sideline to make plays on the ball and can handle his responsibilities as part of a bracket coverage on a receiver. However, Kovacs' lack of athleticism shows up when he has to try and cover in man coverage. His pedal is not quick and compact and his hips are not loose, which leads to him losing a step when he has to flip hips to turn and run with man in coverage. Once he loses a step in coverage he lacks the burst to catch up. If the receiver/tight end crosses his face during route he losses a step changing directions and trying to stay in good coverage position. In the NFL Kovacs' coverage issues would likely lead to him being exposed by offenses that spread the field out and force the safeties to have more coverage responsibilities.
Even though the big, physical box safety is virtually useless in today's pass first NFL, a safety who excels in run support while still doing a good job in coverage is extremely valuable. Kovacs consistently reads and reacts to the run quickly and usually comes up the field fast and aggressively in run support. The trouble is that while he can make sure wrap-up tackles, he is not nearly consistent enough doing so. Instead of staying over feet and driving up into the ball carrier, he either waits for ball carrier to get to him and becomes a catch tackler or stops feet and dives/lunges to try and make tackles, which leads to him missing more tackles than are acceptable. The aggressive mentality that Kovacs plays with and his football instincts should enable him to be a productive coverage man on special teams, which would help him win battle for a roster spot.
In spite of Kovacs being portrayed in the media as a likely high draft pick, we believe he is more likely to be a fifth to seventh round selection. I have heard numerous people compare him to longtime NFL standout Jim Leonhard who went undrafted out of Wisconsin, but became a very good starting safety. The difference between the two is that Leonhard was a tremendous college football player with natural athleticism who only slid in the draft because he was short and thin framed. Whereas, Kovacs lacks the foot agility, flexibility and speed to be as effective in pass coverage as Leonhard has been. If Kovacs is going to have a long NFL career, I believe he will need to excel on special teams to carve out a role as a backup safety and special teams player, similar to former Notre Dame safety Tom Zbikowski.
Email Russ @ russelllande@yahoo.com and follow Russ on Twitter @RUSSLANDE