October 11, 2012 -
National Football Post
Over-Rated Prospect – T.J. McDonald
T.J. McDonald Safety USC 6024 209 4.50 (Estimated)
Following in the footsteps of a father, Tim McDonald, who was a great safety at USC and in the NFL, T.J. has been receiving similarly great accolades for his play since he got to USC. Scouts have told me that when you see McDonald "on the hoof" he definitely looks the part as the tall, well-built safety that NFL teams look for. For a player who has been hyped throughout the media as a definite first round pick the last two years, I do not see that caliber of player on film.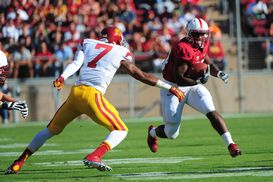 US PRESSWIREUSC's T.J. McDonald prepares to tackle Stanford's Stepfan Taylor.
As a player who flashes a willingness to play physical, McDonald seems to enjoy trying to make knock-out hits. In pass coverage, he is at his best reading the quarterback / pass on throws in front of him and closes aggressively to make hard hit right after the catch. When he stays over his feet and under control, he can be a strong and physical wrap-up tackler, both within the "box" and out in space. However, the issue is that despite his ability to be a good tackler, he is not consistent enough. He has a tendency to either launch himself to go for the huge hit or to stay upright and become a reach and grab tackler, both of which lead to too many missed tackles.
While his foot quickness and speed give him sideline range against the run and the pass, he does not consistently read and react to the play in time to get outside to help in "over the top" coverage along the sideline. Often lining up near the line of scrimmage when USC goes to its "nickel" and "dime" coverages, he is effective picking up tight ends and covering them on short routes in man coverage. Additionally, from that "up" alignment he does an excellent job of using his hands to stay free from blocks to make tackles in run support.
From deep alignment, McDonald does not consistently attack the line of scrimmage in run support and often seems content to "slow play" coming up while allowing his teammates to make the tackle. While he has shown the ability to avoid and defeat blockers well out in space, an issue is that he does not always fight to do so and seems content to be shielded from the play too often. Although he does not show it often on defense, McDonald has shown the explosive first step quickness off the ball and a top closing burst when rushing the punter. Despite all of McDonald's physical talent and flashes of play-making ability, he has not produced at the level of a first round pick.
While McDonald's inconsistent tackling definitely hurts his final grade, more concerning is his inconsistent effort. Too often he does not seem interested in making plays and seems content to watch the play from a distance while allowing his teammates to make the play. Although he is good at defeating blocks when he keeps knees bent and plays aggressively, when he plays upright he tends to get caught up in traffic and is a non-factor too often. Additionally, safeties are the last line of defense, so McDonald's inconsistent tackling definitely raises concerns. Overall, McDonald has first round size and athleticism, but his on-field production warrants more of a third / fourth round grade. To be successful in the NFL, he is going to need to compete harder on every snap and play with an aggressive streak more consistently.
Email Russ at Russelllande@yahoo.com and Follow Russ on Twitter @RUSSLANDE