September 05, 2012 -
National Football Post
Overrated-Underrated: Buckeyes' John Simon
Every college football season players are often viewed in a drastically different light by the media than they are by me and NFL scouts. So throughout the 2012 college football season I will take a look at one player each week that is either over-rated or under-rated based on my film study and what I am hearing from NFL scouts. I am starting in the Big Ten Conference because I believe that Ohio State defensive lineman John Simon is one of the most under-rated players in the country.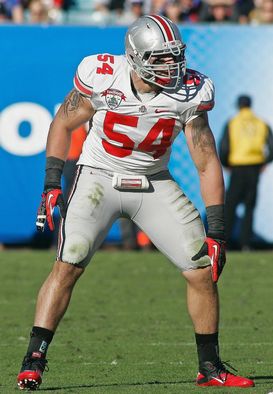 US PRESSWIREOhio State's John Simon is one of the most 'underrated' players in the country.
John Simon, DE/DT, Ohio State
Height: 6015
Weight: 260
40 time: 4.80 (Estimated)
Simon is never going to remind anyone of Dwight Freeney as he lacks that rare first step explosiveness to threaten the corner as a speed rusher. However, he has been a consistently productive pass rusher while lining up in a variety of spots. Unlike the majority of college pass rushers, Simon does an excellent job of maintain good leverage and pad level during rush and has outstanding hand-use/technique to keep the offensive tackle from getting ahold of him. His natural feel for rushing the passer shows up in the timing and variety of his pass rush moves as he consistently is able to beat the offensive tackle inside with a quick spin move or can get to corner, dips shoulder and rips through the attempted block to turn corner.
Many times defensive ends with elite athleticism are not consistently productive because they do not have good technique or pass rush aggressively every snap. This is where Simon is able to separate himself. Once the ball is snapped, Simon attacks the blocker with rare aggressiveness and plays like "his hair is on fire." Although he primarily plays with a "hand on the ground" in a three point stance, he has experience lining up in a stand-up outside linebacker alignment, so he is not completely foreign to that if a team that plays a 34 defense would want him to play there. He rarely was asked to drop off the ball into coverage in the games I evaluated, but the athleticism he displayed while playing the run and rushing the passer make me confident that he can at least be solid in short area coverage.
Unlike many highly productive college pass rushers, Simon is even better playing the run. For a 260 pounder his ability to maintain good base and get a good "fit" vs. offensive line run blocks helps him to consistently play strong at the point of attack. His good hand use also helps him to shed run blocks to make tackles on running plays to his side of the field consistently. Additionally, when offenses either leave him unblocked or try to "reach block" him with a tight end on the backside, he gets started down the line fast and has the speed to chase down plays in pursuit with ease.
Simon is not the physical specimen who is going to challenge to be a first round pick, but he is far better than he has been given credit for. I am confident that if he stays healthy throughout the 2012 season he will likely end up being a second or third round pick in the 2013 NFL Draft. In addition to having the competitiveness and mentality that NFL teams love, Simon's versatility gives him real draft value. In today's NFL where nearly half the teams play a 34 defense, Simon will be viewed as a good outside linebacker conversion prospect. While those teams that play a 43 scheme will look at him as a strong-side defensive end. Helping Simon to contribute early in his NFL career while he learns and adjusts to playing defense in the NFL, is his mentality and competitiveness which will lead to him being a productive member of special teams coverage units.
Follow me on Twitter: @RUSSLANDE