October 20, 2011 -
Jay Clemons
Passing fancy
The Trade Heard 'Round The World
It's customary to open my Thursday column with a subject or event that's both momentous and relatively simple to break down; but today, we'll begin with a hot-button topic that's impossible to measure: Carson Palmer's fantasy effect with the Raiders, after 'The Greatest Trade in Football'.
In the event that you've been fixated on the Cyclops Albino Shark or Zanesville Exotic Animals Breakout sagas, Oakland executed a mind-blowing swap for the 32-year-old Palmer on Tuesday, just hours before the NFL trade deadline passed. As their penance for losing Jason Campbell for the season (broken collarbone) and suddenly scrambling to find a QB savior for a playoff contender, the 4-2 Raiders surrendered a Round 1 pick next year and conditional 1st- or 2nd-rounder in 2013, based on the club's playoff success (or lack thereof) in the next 15 months. But since these real-world nuances have little bearing on fantasy football, let's move ahead to questions that matter:
Question: Can Palmer quickly evolve into a weekly-starter consideration in 12- and 14-team leagues?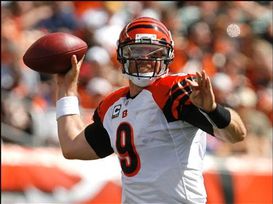 How long will it take Palmer to get up to speed in Oakland?
Answer: In 97 career starts, Palmer (22,694 career passing yards) has accounted for three or more TDs in consecutive weeks only five times -- with none of the occurrences coming after 2006. So, even in his prime with the Bengals, Palmer was never a no-brainer starter during non-bye weeks -- unless faith-based fantasy owners were convinced his powerful, yet sometimes-erratic arm could produce five-plus TDs on any given Sunday -- a two-time occurrence with Cincy (2007, 2009). Going one step further, if Palmer had been dealt to the Raiders before the 2011 season, I would have ranked him somewhere behind Matt Cassel/Sam Bradford and ahead of Mark Sanchez/Kevin Kolb ... basically preferred-status backup QBs.
Question: Will emerging targets like Darrius Heyward-Bey, Jacoby Ford, Louis Murphy, Chaz Schilens, Kevin Boss adjust to the stark differences between Palmer and Campbell?
Answer: Campbell and Palmer possess similar arm strength when competing in the made-for-TV Quarterback Challenge during the offseason, but the two are disparate figures on NFL Sundays. Palmer (100 career INTs) has no fear when throwing the deep ball in traffic or conscience when trying to squeeze tight spots on intermediate routes. Palmer is also less mobile than Campbell, likely obligating speedsters Heyward-Bey and Ford to run cleaner, quicker routes against sack-happy defenses. It'll certainly be interesting to see how quickly everyone -- including Oakland's power backs -- assimilates to Palmer's high-profile arrival.
Question: Will Darren McFadden's starring role in the Raiders offense increase or decrease on Palmer's watch?
Answer: Fantasy Football Today tabs McFadden (761 total yards, 5 TDs) as the No. 3 tailback in fantasy, despite only 21.5 touches per game; and prior to his season-ending injury, Campbell was averaging 27.5 passes per game. Bottom line: It may not matter that Raiders head coach (and de facto GM) Hue Jackson is ready for full-bore passing with Palmer. McFadden (100-plus total yards in 14 of his last 19 games) has quickly become one of the most efficient elite backs in the biz; and if he can endure Michael Bush vulturing a few goal-line touches ... surely a Palmer uptick to 30 passes per outing won't kill D-Mac's current standing as a top-5 asset. He may even catch more balls out of the backfield.
Question: Does Palmer deserve a fantasy start this weekend against the Chiefs?
Answer: Yes, Palmer has been working out with noted QB guru (and former Jet) Ken O'Brien in the last few months; but it'd be foolish to think he could dominate the Chiefs in Week 7 ... without any pre-existing chemistry with the Raiders' playmakers or the benefits of a full training camp and six weeks of the NFL grind. So please, if you're going to devote waiver-wire resources to Palmer during the bye-ravaged weeks -- praying he'll be a fantasy force -- make it a low- or medium-risk investment. Simply put: Palmer should not be a starting consideration this weekend ... when compared to Cam Newton, Matt Ryan, Matt Hasselbeck, Kevin Kolb, Matt Schaub or even Sam Bradford. (Note: Palmer went for $41, $37 and $34 in three of my blind-bidding auction leagues on Wednesday.)
Week 7: QB Locks For 275 Yards and/or 3 TDs
1. Drew Brees vs. Indianapolis
2. Aaron Rodgers @ Minnesota
3. Tony Romo vs. St. Louis
4. Ben Roethlisberger @ Arizona
5. Matthew Stafford vs. Atlanta
6. Philip Rivers @ N.Y. Jets
7. Cam Newton vs. Washington
8. Kevin Kolb vs. Pittsburgh
RB Locks For 120 Total Yards and/or 2 TDs
1. Chris Johnson vs. Houston
2. Michael Turner @ Detroit
3. Willis McGahee @ Miami
4. Arian Foster @ Tennessee
5. Darren McFadden vs. Kansas City
6. Steven Jackson @ Dallas
7. Maurice Jones-Drew vs. Baltimore
8. Adrian Peterson vs. Green Bay
9. Ray Rice @ Jacksonville
10. Matt Forte vs. Tampa Bay (London)
It's A Little Known Fact ...
... That of the top-50 wideouts or tight ends in receiving targets through six weeks, only six have yet to register a touchdown: Kellen Winslow, Julio Jones, Jerome Simpson, Jason Avant, Antonio Brown, Michael Crabtree.
The Hands That Built America
Here's my always-fluid listing of the top-40 wideouts in standard-scoring leagues ... from this point forward:
1. Calvin Johnson, Lions (float a Calvin trade balloon to your fellow owners ... just to gauge their reaction)
2. Mike Wallace, Steelers
3. Wes Welker, Patriots (his dominance is too great to ignore for the stretch run)
4. Greg Jennings, Packers
5. Larry Fitzgerald, Cardinals (red-zone efficiency must improve to maintain ranking)
6. Dwayne Bowe, Chiefs
7. Miles Austin, Cowboys
8. Hakeem Nicks, Giants
9. Roddy White, Falcons
10. Andre Johnson, Texans (will he return before the Texans' Week 11 bye?)
11. Steve Smith, Panthers
12. Jeremy Maclin, Eagles
13. Vincent Jackson, Chargers (took a lot of heat in August for his preseason ranking -- #14!!!)
14. Steve Johnson, Bills
15. DeSean Jackson, Eagles
16. Bra ndon Marshall, Dolphins (needs longer cleats for when Miami visits MetLife Stadium in Week 8)
17. Dez Bryant, Cowboys
18. Reggie Wayne, Colts
19. A.J. Green, Bengals
20. Anquan Boldin, Ravens
21. Pierre Garcon, Colts (a stunning turnaround after Weeks 1/2 disappearance)
22. Santonio Holmes, Jets
23. Julio Jones, Falcons (demonstrated stellar fantasy acumen -- before the hammy problems)
24. Marques Colston, Saints
25. Sidney Rice, Seahawks
26. Brandon Lloyd, Rams (St. Louis's NFL/MLB clubs will both be in Dallas Sunday -- how convenient!)
27. Mike Williams, Buccaneers (reasonable ranking more on reputation than actual production)
28. Nate Washington, Titans
29. Jordy Nelson, Packers
30. Victor Cruz, Giants
31. Percy Harvin, Vikings (SHOULD benefit from the Ponder switch)
32. Deion Branch, Patriots
33. Santana Moss, Redskins
34. Eric Decker, Broncos (how he'll fare with Tim Tebow at QB is anybody's guess)
35. Darrius Heyward-Bey, Raiders (more on him later)
36. Michael Crabtree, 49ers
37. Malcom Floyd, Chargers (has too much talent, athleticism to fall below the fantasy radar)
38. Steve Breaston, Chiefs
39. Jerome Simpson, Bengals
40. James Jones, Packers
Watch List
Greg Little, Browns (12 catches/20 targets in his last two games)
Torrey Smith, Ravens (fantasy owners would kill for another 3-TD outing)
Mario Manningham, Giants
Danario Alexander, Rams (still a viable deep threat with B-Lloyd in the mix)
Mike Thomas/Mike Sims-Walker/Jason Hill, Jaguars
Mohammed Massaquoi, Browns
Kevin Walter, Texans
Lance Moore/Robert Meachem, Saints
Devin Hester/Dane Sanzenbacher, Bears (great hot-and-cold/cold-and-hot pairing in deeper PPR leagues)
Early Doucet, Cardinals (anybody who can draw 16 targets in one game deserves cursory mention)
Talking Points
1. Brandon Marshall gets his long-awaited reunion with the Broncos. Even with Champ Bailey tracking his every move, I love Marshall's potential for fantasy goodness against the team that drafted and traded him. And since this game won't be played at MetLife Stadium in New Jersey -- where the field tends to tilt downhill when Marshall (28 catches/422 yards/1 TD) is running for the end zone, untouched -- there's reason to believe B-Marsh will rack up at least 100 yards and one TD on Sunday. On the other sideline, second-year wideout Demaryius Thomas has been thrust into the spotlight after Denver dealt Brandon Lloyd to the garbage-time-happy Rams ... prompting a ton of fantasy owners to devote precious waiver-wire consideration to a guy whose fate rests in the hands of Tim Tebow. Ouch!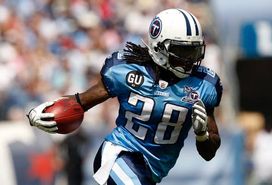 Chris Johnson has a very favorable schedule coming up.
2. Chris Johnson kicks off a 10-game stretch of expected fantasy greatness on Sunday. As often stated in Revelations, Johnson could not have asked for a better setup from Weeks 7-16: Houston, Indy (twice), Cincinnati, Carolina, Atlanta, Tampa Bay, Buffalo and Jacksonville. It's the type of easy-cheesy schedule that transforms a so-so campaign into a great one ... and vaults struggling fantasy teams into championship contenders. Has Johnson (366 total yards, 1 TD) been painfully mediocre the first six weeks? Without a doubt. Is Titans QB Matt Hasselbeck (1,414 passing yards, 9 TDs in five games) a viable threat for 250 yards and/or 3 TDs every week? Apparently so. But I'm not backing away from my Day 1 proclamation: Please move heaven and earth to get CJ2K, via trade. To justify this prediction of can't-miss fantasy glory, I sent out eight Johnson-focused trade offers to owners on Thursday ... just hours before this column goes LIVE on National Football Post.
3. Percy Harvin stands to benefit from Christian Ponder taking over the Vikings. If Percy had two or three touchdowns to go with his pedestrian 25 catches for 261 yards ... perhaps I wouldn't be such an alarmist here. For a Vikings team that's devoid of big-time receiving talent -- and infamously enjoys passing while holding fourth-quarter leads -- I'm shocked that Harvin can't crack the top 50 in targets, top 30 in receptions or top 50 in receiving yards. Which brings us to a simple conclusion that's probably a tad unfair to Donovan McNabb: Harvin has nowhere to go but up in the hearts and minds of fantasy owners ... so why not engineer a buy-low trade before he gets a piece of the Packers' bend-and-sometimes-break defense?
WR Locks For 110 Yards and/or 1 TD
1. Calvin Johnson vs. Atlanta
2. Brandon Marshall vs. Denver
3. Dwayne Bowe @ Oakland
4. Miles Austin vs. St. Louis
5. Vincent Jackson @ N.Y. Jets
6. Sidney Rice @ Cleveland
7. Larry Fitzgerald vs. Pittsburgh
8. Mike Wallace @ Arizona
9. Steve Smith vs. Washington
10. Brandon Gibson @ Dallas (super-sleeper pick)
Kicker Locks For 3-Plus Field Goals
1. Dan Bailey vs. St. Louis
2. Nick Novak @ N.Y. Jets
3. Sebastian Janikowski vs. Kansas City
4. Ryan Succop @ Oakland
5. Rob Bironas vs. Houston
6. Robbie Gould vs. Tampa Bay (London)
The Early Bird Gets The Fantasy Worm
The following is a Public Service Announcement for the ambivalent fantasy owner who cannot make a waiver-wire pickup or trade without consulting with me on Twitter first: If another owner drops Ahmad Bradshaw or Peyton Hillis for god knows why ... please, please don't wait for my thumbs-up before doing the transaction. Just do it!
Last week, just three days before Bradshaw blitzed the Bills for 130 total yards and three touchdowns, a Twitter follower (who shall remain nameless, but not blameless) sent me an overnight Direct Message, asking for Bradshaw approval; and during that six-hour window of not responding to the inquiry, Bradshaw had already been plucked by another team. Fast forward to this week, where a different follower asked if Hillis was worth grabbing in free agency, at the risk of dumping some random cat like Robert Meachem or Antonio Brown. Bottom line: NEVER pass on an opportunity to add a high-profile back to your roster -- short of a season-ending injury -- even if you have 'em riding the bench in the short term. The same goes for an elite receiver or tight end. Keep stockpiling assets. There'll be no time for consensus opinions from fantasy gurus who are happy to help -- but ultimately don't bear the responsibility of your team's success or failure.
Radio Daze
You know what makes the stuck-in-a-cubicle workday run smoothly during the fall months? Podcast after podcast after podcast! Here are my favorite football-specific podcasts/radio shows:
1. ESPN -- "Fantasy Focus" with Matthew Berry and Nate Ravitz
2. CBSSports.com -- "Fantasy Football" with Dave Richard and Jamey Eisneberg
3. KFAN in Minneapolis -- "Fantasy Football Weekly" with Paul Charchian
4. Yahoo! -- "Fantasy Blitz"
5. RotoWire.com -- "Fantasy Sports Podcast"
6. WDFN-AM in Detroit -- "Fantasy Sports Geekly" with Sean Baligian
Questions From The Audience
saintjonah: I got offered a trade, giving up Chris Johnson/DeSean Jackson for Darren McFadden. Thoughts?
Answer: Jonah, in today's Philanthropist, I go loco about how fantasy owners should do whatever it takes to corral Johnson, via trade, before his 11-game stretch of fantasy brilliance starts Sunday; so kudos to being aggressive so quickly. However, let's go over this one with a fine-tooth comb: Without a doubt, D-Mac (or DMC, whichever nickname you prefer -- like it matters) possesses the stronger trade value right now; those are the perks that go with being the 1st-, 2nd- or 3rd-ranked running back in all of fantasyland (scoring rules vary). So, on the back end, getting a top-15 receiver like D-Jax (or DJX, whichever nickname you prefer -- like it matters ... HA!) would certainly balance out the transaction. Sure, Jackson (only two 100-yard games in 2011) represents a bit of a risk; but in leagues where kick-return TDs are celebrated, we can reasonably assume that he'll pad the year-ending stat sheet with 2-3 more TDs in that realm. On the flip side, Owner B is potentially getting the last piece of a championship puzzle with McFadden ... even if he/she unwittingly owned that difference-maker in Johnson. There's a chance I'll be wrong on CJ2k by season's end ... but I doubt it. Good luck!
worthy_one77: If Jahvid Best sits, will backup RB Keiland Williams start over Maurice Morris?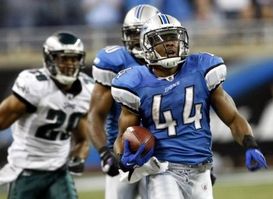 Best was having a terrific season, until he suffered yet another concussion.
Answer: In the event that Best (677 total yards, 3 TDs in 2011) misses games to a concussion (his track record with this injury goes back to the Cal days -- and no, I won't be showing THE PLAY here), I fully expect Morris to log every start within that span. But with the voided trade of Ronnie Brown going back to Philly (thanks to Jerome Harrison's apparent failed physical) ... opportunity knocks for Williams to be a sneaky-good fantasy menace -- especially in the red zone. In a three-game stretch with the Redskins last year (replacing injured back Ryan Torain), Williams racked up 266 total yards and three TDs -- a respectable audition that showcased his speed and inside-rushing prowess. And while Morris (3,352 career rushing yards, 12 TDs) is certainly the more accomplished NFL back, I'm quite confident in Williams' ability to finish plays and drives, if called upon. Make no mistake, the Lions are more dangerous with Best on the field; but I'd also argue that Morris and Williams -- as a platoon -- would fare better than Ronnie Brown right, Ronnie Brown left. So we'll see how things go. Thanks!
The Relentless Pursuit Of Perfection
Here's my idea of a perfect fantasy lineup for Week 7:
QB Matthew Stafford
RB Chris Johnson
RB Ray Rice
WR Calvin Johnson
WR Mike Wallace
RB/WR Willis McGahee
TE Jimmy Graham
PK Rob Bironas (Titans)
D/ST Dallas Cowboys
The Quiet Ones ... And Tony Romo
After six weeks of NFL action, fantasy owners should realize that a sizable chunk of playmakers have already tipped their 2011 hand, production-wise. Aaron Rodgers is essentially a weekly lock for 295-315 yards and three TDs ... but may feel inclined to call off the passing dogs late in games (nursing big leads). Adrian Peterson (537 rushing yards, 7 TDs) may be the No. 1 running back in standard-scoring leagues ... but he'll never match the PPR viability of Matt Forte. In other words, to steal a popular Bill Parcells saying: You are what your fantasy track record says you are.
As established fantasy machines, Rodgers and Peterson always get the benefit of the doubt when owners are filling out starting lineups or submitting midseason trades. But the following players don't always get that respect, even though they've earned the right to be viewed as sturdy assets:
1. RB Willis McGahee, Broncos -- If fantasy owners could get past Tebowmania in the Broncos' backfield, they'd find only one of two NFL backs to rush for 100 yards in three of his last four games (along with Frank Gore) ... and one of a tiny few to record at least one rushing/receiving TD in that span. Not only is McGahee (433 total yards, 2 TDs) an absolute lock for monster numbers against the Dolphins in Week 7, he has managed to eliminate a healthy Knowshon Moreno from primary fantasy discussion ... while reminding us that Denver's brain trust was right to pursue McGahee -- and not DeAngelo Williams -- after the 132-day lockout.
2. QB Tony Romo, Cowboys -- Don't let coach Jason Garrett's lack of trust in his quarterback during the final minutes of Cowboys-Patriots fool you; and try to block out all negative thoughts of Romo's stomach-churning, game-changing interceptions against the Jets and Lions. In the wonderful world of make-believe numbers, Romo (1,590 yards/8 TDs in 2011) should be given the ultimate respect -- especially in leagues where INTs inflict minimal damage. Anyone who can surpass 300 yards at an 80-percent clip is worth your full attention during Pre-Deadline Trade Season.
3. TE Jermaine Gresham, Bengals -- If the Andy Dalton-A.J. Green combination hadn't been such a rousing success after six weeks -- leading the very-young Bengals to a 4-2 mark -- perhaps team owner Mike Brown would not have consummated the Palmer trade. And if Cowboys owner Jerry Jones hadn't nixed the Bengals' trade request for tight end Marcellus Bennett a few years ago ... maybe Gresham never sniffs an opportunity t o star in Cincinnati. It's funny how life works, huh? At his position, Gresham ranks 4th in TDs (3), 7th in targets (42), 8th in catches (25) and 16th in receiving yards (231) -- distinctions that will likely maintain or improve when it really counts ... as Cincy battles Houston, St. Louis and Arizona during the fantasy-playoff period of Weeks 14, 15 and 16. BOOM!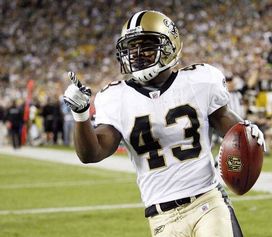 Sproles continues to produce for fantasy owners.
4. RB Darren Sproles, Saints -- There's nothing about Sproles' stature that screams prototypical fantasy back, but it's hard to mock one of only two tailbacks with 30-plus catches after six weeks; and for PPR nuts, he's the only NFL back to collect 50-plus targets during that span. Bottom line: Sproles (512 total yards, 2 TDs) is the perfect complement to QB Drew Brees; unfortunately, he has to share the end-zone spotlight with Mark Ingram, Pierre Thomas and all the Saints pass-catchers who have tallied long-distance touchdowns.
5. WR Darrius Heyward-Bey, Raiders -- In the last three weeks, Heyward-Bey has posted more targets (28) than Greg Jennings, Steve Johnson, Reggie Wayne, more catches (17) than Carolina's Steve Smith, Tampa Bay's Mike Williams, Percy Harvin and more yards (296) than A.J. Green, Jeremy Maclin, Mike Wallace. It's almost like the fighting spirit of Al Davis, the late Raiders icon, can be found in Heyward-Bey -- one of the most maligned first-rounders in recent draft history. Are three superb showings an indication of sustainable fantasy relevance? Sadly, no. But it sure beats the heck out of people posthumously mocking Mr. Davis for allegedly grabbing DHB (over Michael Crabtree) on the singular merit of straight-line speed. Heyward-Bey's a good player ... get over it!
An award-winning fantasy writer with Sports Illustrated (2008-2010) before joining the National Football Post, Jay Clemons' Fantasy Philanthropist Blog can be found here every Monday and Thursday during the regular season. Clemons can be reached, day or night, via Twitter.