November 10, 2011 -
Barry Dorey
Passing the buck
A Family Guy-Style Introduction
We had fun last week handing out (meaningless) midseason awards to the biggest and brightest fantasy stars ... and next week's column will go super-heavy on Jedi Mind Tricks to handle the Week 12 Trade Deadline. So, that doesn't leave us much to discuss for today's Philanthropist -- aside from weekly locks, talking points and one rare window to reveal my Three Biggest Pet Peeves With Other Fantasy Owners.
It Really Grinds My Gears When Fantasy GMs ...
1. Consistently waste big-name talent on the bench. By most accounts, Larry Fitzgerald, Hakeem Nicks, Dez Bryant and Roddy White have fallen short of sizable preseason expectations. But a quick look at Fantasy Football Today reveals that Fitzgerald (13th), Nicks (17th), Bryant (19th) and White (20th) still garner top-20 rankings amongst wideouts for the season. That means, on any weekend in 12-team leagues, Fitz, Nicks, Bryant and White should essentially be no worse than the WR2 or flex starter for every club. In other words, every Sunday these stars ride the bench before the trade deadline ... is a missed opportunity to maximize the long-term value of one's starting lineup. The same holds true for Philly's DeSean Jackson: If you are aghast over his middling production for the season (two 100-yard games, zero outings of 7 or more catches), that's fine. But trade him to somebody who sees that game-breaking, playoff-fate-altering potential in December. Capitalize on Owner B's utopic perception of a player who's struggling. Verdict: Having Jackson or Fitzgerald or White languishing on the bench before the deadline serves no purpose for anyone -- even if Roddy has only reached the 100-yard mark once in his last 19 games.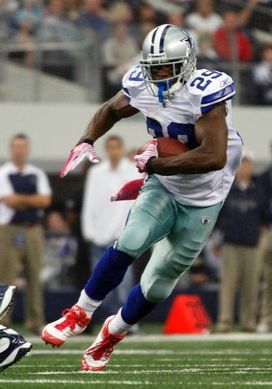 Cowboys rookie DeMarco Murray has been running wild as of late.
2. Ponder dropping quality running backs for Flavors of the Month at receiver. In the absence of substantial injury, tailbacks with a track record of fantasy success should never get booted from rosters -- unless they're being replaced by the second coming of Eric Dickerson (hint: DeMarco Murray). Most leagues allow GMs to roster up to five or six rushers; and with only four NFL teams being affected by the last remaining bye (Week 11), there aren't many plausible excuses left for making hard cuts at fantasy's most valuable position. Sure, Peyton Hillis has been a recurring nightmare for the good people of Cleveland; and yes, QB Curtis Painter should never outrush Indy backs Joseph Addai, Delone Carter, Donald Brown at any time. But even with their noticeable flaws ... useful, productive fantasy backs simply don't grow on trees. The best resolution: Include Hillis, Addai, Cedric Benson or even Chris Johnson into the package of a 2-for-1, 3-for-2 or 4-for-1 blockbuster deal before the deadline. Do everything in your power to maximize their value!
3. Keep three quarterbacks on standard-sized rosters in November. As a passing reference in Point #2, only the Texans, Saints, Colts and Steelers have yet to take their byes (Week 11). So, if you currently own superstars like Aaron Rodgers, Tom Brady, Michael Vick, Philip Rivers, Matthew Stafford, Cam Newton or Eli Manning, what's your motivation for holding two extra QBs who won't see the light of day in starting lineups from this point forward -- barring injury? Obviously, Stafford (2,179 yards passing, 19 TDs through eight games) has to go through an entire season to prove he's not "injury-prone" (an absurd label); and East Coasters Manning, Brady, Vick or Green Bay's Rodgers will surely encounter one or two brutal weather days in the next eight weeks ... but that's no reason to bench 'em. You play your healthy studs during crunch time, no exceptions. As for the bold GMs who house three mediocre quarterbacks, like Matt Cassel, Josh Freeman, Sam Bradford, I understand your mix-and-match, hope-and-pray platoon approach to fantasy success; but it still may be a case of wishful thinking. My advice: Pick the two quarterbacks with the best skeds for Weeks 12-16, and use that extra roster spot for a running back or receiver. Or ... make a trade with the one GM who's been squatting on Matt Ryan for all but one week this season.
Week 10: QB Locks For 275 Yards and/or 3 TDs
1. Drew Brees @ Atlanta
2. Aaron Rodgers vs. Minnesota
3. Michael Vick vs. Arizona
4. Cam Newton vs. Tennessee
5. Ben Roethlisberger @ Cincinnati
5. Jay Cutler vs. Detroit
7. Tony Romo vs. Buffalo
8. Matthew Stafford @ Chicago
9. Philip Rivers vs. Oakland
RB Locks For 120 Total Yards and/or 2 TDs
1. Maurice Jones-Drew @ Indianapolis
2. DeMarco Murray vs. Buffalo
3. Michael Turner vs. New Orleans
4. Arian Foster @ Tampa Bay
5. Ray Rice @ Seattle
6. Matt Forte vs. Detroit
7. LeSean McCoy vs. Arizona
8. Adrian Peterson @ Green Bay
9. Reggie Bush vs. Washington
10. Fred Jackson @ Dallas
11. Cedric Benson vs. Pittsburgh
**Special mention goes to Chargers RB Ryan Mathews ... although I'm stopping short of "lock" status
It's A Little Known Fact ...
In his six-year career, Reggie Bush has broken the 100-total-yard mark in consecutive weeks just four times -- with the production from Weeks 8/9 (242 total yards, 1 TD) serving as his greatest two-game spurt since rolling for 330 yards and five TDs at Weeks 12/13 in 2006. This all begs the question: Can Bush break new ground and eclipse the century mark for a third straight time? I think so.
The Hands That Built America
Here's my always-fluid listing of the top-40 wideouts in standard-scoring leagues ... from this point forward:
1. Calvin Johnson, Lions (still the gold standard of WRs ... by any measurement)
2. Greg Jennings, Packers (a likely candidate for two TDs against the Vikings)
3. Mike Wallace, Steelers
4. Wes Welker, Patriots
5. Vincent Jackson, Chargers
6. Dwayne Bowe, Chiefs (double-digit targets in his last four games)
7. Steve Smith, Panthers
8. Anquan Boldin, Ravens
9. Larry Fitzgerald, Cardinals
9a. Andre Johnson, Texans (hard guy to slot ... since he may not be back until Week 12)
10. Jeremy Maclin, Eagles
11. Marques Colston, Saints (NFL's receptions leader -- among wideouts -- since Week 5)
12. Dez Bryant, Cowboys (gets a bump up the rankings, in the wake of Austin's absence)
13. A.J. Green, Bengals
14. Hakeem Nicks, Giants
15. Julio Jones, Falcons (welcome to the Top 15, rookie!)
16. Brandon Marshall, Dolphins
17. Roddy White, Falcons
18. Victor Cruz, Giants (would be ranked higher if teammate Nicks wasn't on the mend)
19. Jordy Nelson, Packers
20. Steve Johnson, Bills
21. Brandon Lloyd, Rams (double-digit targets every week + Sam Bradford = GREAT pre-deadline pickup)
22. Miles Austin, Cowboys (those damn hammys!)
23. Santonio Holmes, Jets
24. Antonio Brown, Steelers
25. Pierre Garcon, Colts
26. Eric Decker, Broncos
27. Reggie Wayne, Colts
28. DeSean Jackson, Eagles (could regain fantasy traction with a strong outing vs. the Cards)
29. Sidney Rice, Seahawks (mark him down for 12 targets against the Ravens)
30. Mike Williams, Buccaneers
31. Steve Breaston, Chiefs
32. James Jones, Packers
33. Michael Crabtree, 49ers
34. Jason Hill, Jaguars (easily the Jags' No. 2 playmaker ... as weird as that sounds)
35. Laurent Robinson, Cowboys (excellent short-term buy for owners who desperately need to make the playoffs)
36. Mario Manningham, Giants
37. Lance Moore, Saints
38. Torrey Smith, Ravens (how good is this kid going to be in Years 2-5?)
39. Jerome Simpson, Bengals
40. Nate Washington, Titans (so much for that September run of glory carrying over to November)
Talking Points
1. It's impossible to get a read on Joe Flacco and Tarvaris Jackson this week. While it's true Flacco has eclipsed 300 yards passing in three of his last four games -- temporarily quieting chants of Suck-O from Ravens fans -- his per-game TD production since Week 4 still resembles something out of binary code: 0, 1, 1, 0, 1. So, it's hard to predict how he'll perform three time zones away in Seattle, against a Seahawks defense that ranks 18th against the pass. Will Flacco relax and bring the A-game that proffered a road upset of Pittsburgh last week? Or will he repeat the sluggish effort against the Jags in Week 7 (137 yards passing)? The same damned-if-we-do, damned-if-we-don't questions apply to Tarvaris Jackson. Sure, he's a trainwreck in games played away from Qwest Field (a weird occurrence, considering Jackson's in Year 1 with Seattle); but for home games, he's demonstrated a capacity to flirt with 300 yards and two TDs (even if it comes during garbage time). The key to T-Jack's success lies with WR Sidney Rice, who's averaging 6 catches, 93 yards and 10 targets in three home games this season.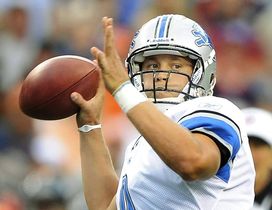 Lions quarterback Matthew Stafford will lead Detroit into a big-time showdown this Sunday.
2. Sunday marks the biggest Lions-Bears game since Paul Edinger charted a course for the Matt Millen era to begin in 2000. I'm writing today's Philanthropist from my boyhood state of Michigan, and the locals are all fired up about Sunday's clash of NFC wild card entrants -- IF the playoffs started in 48 hours. It also elicits memories of Calvin Johnson's four-feet-and-one-knee non-TD catch in Week 1 of the 2010 season -- the same afternoon that Matthew Stafford incurred a significant shoulder injury, thanks to a clean, but powerful blast from Julius Peppers. Unlike the Baltimore-Seattle game, this one's rather easy to call on a fantasy level. Stafford, Johnson, Matt Forte and Jay Cutler will roll for big-time numbers ... but one of the two quarterbacks will also be responsible for a fumble or interception that directly leads to a defensive touchdown. On a smaller scale, it's like last week's Packers-Chargers clash: Every prominent Lion or Bear will profit from the experience, with either Stafford or Cutler building up the opposing defenses, as well.
WR Locks For 110 Yards and/or 1 TD
1. Greg Jennings vs. Minnesota
2. Anquan Boldin @ Seattle
3. Marques Colston @ Atlanta
4. Vincent Jackson vs. Oakland
5. Dez Bryant vs. Buffalo
6. Steve Smith vs. Tennessee
7. Reggie Wayne vs. Jacksonville
8. Calvin Johnson @ Chicago
9. Roddy White vs. New Orleans
10. Jason Hill @ Indianapolis (sleeper pick)
Kicker Locks For 3-Plus Field Goals
1. Nick Novak vs. Oakland
2. Graham Gano @ Miami
3. Mason Crosby vs. Minnesota
4. Billy Cundiff @ Seattle
5. Sebastian Janikowski @ San Diego
6. David Akers vs. N.Y. Giants
Questions From The Audience
KevinA092: Fred Jackson/Hakeem Nicks for Arian Foster ... which side do you like better in a trade for the rest of the season?
Answer: One could make a strong case for either end of this blockbuster. In some leagues, Jackson (1,194 total yards, 6 TDs) is the No. 2 tailback in fantasyland; and Nicks can be a monster when completely healthy. But if push came to shove, and I was theoretically one player away from a fantasy championship, I'd definitely want Foster in the mix. Have you seen the Texans' schedule for Weeks 14, (@ Cincy), 15 (vs. Carolina) and 16 (@ Indy)? Foster has a quite-realistic capacity for 450 total yards and three TDs during that span; and his potential for greatness during the Week 16 Fantasy Bowl is off the charts. Bottom line: This looks like a classic win-win for both parties.
tbic: Time to give up on Vernon Davis? He's been a little underwhelming. My other options are: Brandon Pettigrew, Dustin Keller, Marcedes Lewis, Kellen Winslow. Thanks!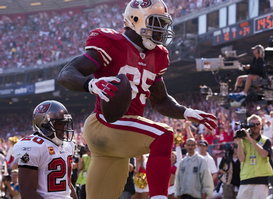 Time to give up on Vernon Davis?
Answer: Let's attack this in two parts: For starters, only six tight ends (Jimmy Graham, Rob Gronkowski, Jason Witten, Fred Davis, Jermichael Finley, Tony Gonzalez) have been consistently impressive this season, making Davis (31 catches, 339 yards, 3 TDs) among the best of a curiously mediocre lot. Besides, as long as Alex Smith is helming the 49ers offense, Davis will always be a threat for 2-3 TDs on any given Sunday. I'd take my chances on at least December breakout. On the flip side, I'd rank the other options: 1) Pet tigrew 2) Winslow 3) Keller 4) Lewis.
Where Mountain Men Runneth, Catcheth
Next up, we have a list of pre-deadline trade tiers involving tight ends, detailing the six classifications of players at this vital position -- from this point forward (standard leagues). In other words, if you have designs on trading Jimmy Graham for a RB2 and Tier-3 tight end ... feel confident in asking for the five names comprising that grouping below:
Tier 1
Jimmy Graham, Rob Gronkowski, Jason Witten
Tier 2
Jermichael Finley, Fred Davis, Antonio Gates
Tier 3
Aaron Hernandez, Greg Olsen, Tony Gonzalez, Vernon Davis, Owen Daniels
Tier 4
Kellen Winslow, Heath Miller, Jake Ballard, Brandon Pettigrew, Ben Watson, Jermaine Gresham, Dustin Keller
Tier 5
Ben Watson, Jared Cook, Dallas Clark, Brent Celek, Visanthe Shiancoe, Joel Dreessen, Jeremy Shockey, Lance Kendricks, Marcedes Lewis
Tier 6
Ed Dickson, Dennis Pitta, Anthony Fasano, Delanie Walker, Daniel Fells, Tony Scheffler
The Relentless Pursuit Of Perfection
Here's my idea of a perfect fantasy lineup for Week 10:
QB Aaron Rodgers
RB Arian Foster
RB Matt Forte
WR Greg Jennings<br /> WR Steve Smith
RB/WR LeSean McCoy
TE Antonio Gates
PK David Akers (49ers)
D/ST Miami Dolphins
YouTube Memory Lane
I cannot end today's Philanthropist without spreading more YouTube cheer, courtesy of a few epic NFL clips from the 1970s and 80s:
1. 1977 -- A lightning-fast clip of Bucs vs. Lions at the Pontiac Silverdome ... at a time when the NFL allowed smoking in indoor stadiums. At the mic, we have legendary announcer Don Criqui; and at the forefront, we have high school cheerleaders (L'Anse Creuse?), who were the only source of sideline entertainment at Detroit games for decades upon decades -- at least until someone had the bright idea of putting four female baton twirlers in each corner of the end zone, and have them perform for the audience without taking a break ... or looking back to view the on-field action.
2. 1979 -- NFL Films' account of the infamous Chiefs-Buccaneers game ... played in a rainstorm of biblical proportions. Tampa Bay needed this 3-0 victory in the worst way, clinching the franchise's first-ever NFC Central title (and subsequent playoff berth) in the final week, while confirming its amazing worst-to-first turnaround ... after losing 26 straight games in 1976-77.
3. 1980 -- The replay to one of the most eagerly anticipated matchups in Monday Night Football history, with the injury-ravaged Steelers hosting the eventual champion Raiders at Three Rivers Stadium. The quirky, enlightening interview between 'Dandy' Don Meredith and Terry Bradshaw notwithstanding, ABC took a serious, scaled-down approach to this high-scoring affair, which served as the de facto end of the Steelers' dynasty (four Super Bowls in the 1970s) ... and beginning of the Raiders' multi-city run (Oakland, Los Angeles) as an AFC power and two-time Super Bowl champion in the 80s.
4. 1982 -- The opening clip of an 11-part series detailing a classic Giants-Redskins game at old RFK Stadium. Three things stand out here: 1) CBS announcers Jack Buck and Hank Stram execute a pitch-perfect opening. 2) New York head coach Ray Perkins had already agreed to leave the Giants for the University of Alabama, in the wake of legendary coach Bear Bryant's retirement (and death about 6-7 weeks later). This also led to the eventual hiring of Bill Parcells with the Giants. 3) For clip #11, you won't see the postgame interview where 'Skins QB Joe Theismann regales Buck/Stram as to how a Giants defender accidentally caved in two front teeth on a tackle -- a move that could've easily squashed a burgeoning TV career after his "early" retirement in 1985 (spurred on by another Giants defender, Lawrence Taylor).
An award-winning fantasy writer with Sports Illustrated (2008-2010) before joining the National Football Post, Jay Clemons' Fantasy Philanthropist Blog can be found here every Monday and Thursday during the regular season. Clemons can be reached, day or night, via Twitter.