February 23, 2015 -
The Sports Quotient
Peyton Manning And The Future Of The Denver Broncos
There is no doubt that Peyton Manning is one of the greatest quarterbacks of all time. He has had an illustrious NFL career that began with being chosen as the first overall pick in 1998 by Indianapolis, where Lucas Oil Stadium was built on his success.
However, throughout his career there have always been doubts about Manning. It was questioned whether or not he could start in college at the University of Tennessee; whether or not he could win a playoff game in the NFL; and after his sitting out of the 2011 season due to a neck injury, whether or not he would even take another snap on an NFL field. The innumerable accolades he has earned, including five NFL MVP awards, three Super Bowl appearances, and a Super Bowl win put many of his critics to rest.
However, after a disappointing end to the 2014 NFL season, and the arrival of a new head coach in Gary Kubiak, the new question now is whether Manning should or even can continue to play in the NFL. There is no doubt that Manning plans on coming back, and the Denver Broncos are counting on him coming back. The question still remains: does he still have it in him to play in the NFL.
Manning has said several times that he is not the same player he was before his injury, but he has nevertheless found a way to continue to move the chains. Appearing on the Late Show with David Letterman, Manning said, "Maybe I can't throw the hundred-mile-an-hour fast ball anymore, but I can still strike you out." And that is exactly what he did, striking out numerous teams, and a couple league records as well, during his time in Denver.
Although he has adapted well to the decline of his physical skills, in the last four games of the 2014–15 season, he did not appear to have anything left. However, it came out later, after the season ended, that Peyton had an injury to both thighs, particularly a deep tear in his right rectus femoris. Since it was a leg injury, the impact of the injury on Manning's game is not often realized. In fact, his leg injury was most likely the primary cause of his inaccuracy, lack of timing, and complete inability to drive the ball. This is because when he throws a pass, Manning's upper body mechanics are usually the same, but it is his legs that decide where the ball goes.
In the adjacent GIF, you can see that from the moment he takes the snap, Manning's upper body remains completely still. When switching reads from the middle of the field to the right side, he does not turn his torso or upper body at all. Instead he adjusts his footing so that his left shoulder ends up facing the target. Hip mobility and fluidity is essential to his being able to progress through his reads quickly. However, the rectus femoris that he injured is the only portion of the quadriceps that crosses the hip joint and the knee joint—an injury to this particular muscle affects his ability to be mobile and fluid in his hips a great deal.

The rectus femoris is also the largest portion of the quadriceps and is key to generating power in his lower body. You can see Manning driving through the knee and forcefully rotating his hip to generate power. His injury however, stunted his ability to do this because of the subsequent weakness in his lower body. But like most muscle tears, this one will pass with time and a six-month offseason is plenty of it. Therefore, there should be no doubts a healthy Peyton Manning will be able to make the necessary plays.
But with Kubiak as the new head coach, the plays themselves will be very different. Manning is no stranger to changing systems or head coaches having played for four different head coaches in his career thus far and has shown his adaptability by excelling in each of their offensive schemes. However, after three years of running a high-octane, no-huddle, quick-passing offense in Denver, Manning will have to take a 180-degree turn and transition to Kubiak's run-heavy offense. That said, this complete change may be for the best. Kubiak's offense is based off of a zone blocking scheme in the run game as depicted here.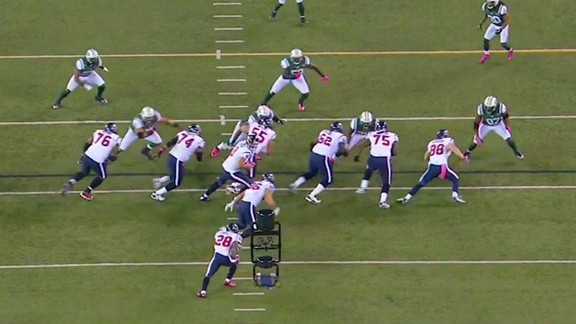 In this running style, the offensive linemen shift to the play side of the formation and double team all the defensive linemen on that side. When the running back clears the first line of defense, the offensive linemen then get to the second line to attack the linebackers. The biggest benefit of this running scheme is that there are no offensive linemen wasted on blocking the defenders on the back side of the play; you can see 76 and 74 pulling to block on the right side. When the scheme is run effectively, defensive linemen are forced to slant to the play side and leave their gap assignment. This progression, consequently, opens up play action passes and cutback lanes.
In this video (http://www.youtube.com/watch?v=y6E3YUdrf3c&t=0m31s; skip to 0m31s) from Kubiak's days in Houston, you can see almost every Steelers defender flowing with the offensive line, especially the defensive linemen who all left their gaps. Although they were able to bottle up the play side zone, the back side was wide open and Arian Foster took full advantage. This type of offense is very simple with the concept of the run, consisting of runs between the tackles, just outside the tackles, and all the way to the outside of the formation, such as a stretch run. This scheme requires the employment of a solid all-around workhorse running back that can find and hit the big cutback lanes when they are there, and Broncos' running back C.J. Anderson fits the bill perfectly.
At 224 pounds and 23 years of age, Anderson is a fresh-legged, bulky runner with a strong base who is more than capable of grinding out a good pickup of yards on runs inside and outside the tackles, as well as handling a large workload. This player is key because in a Gary Kubiak offense, it is more essential for a running back to be solid than spectacular. Justin Forsett, a seventh-round draft pick that floated around the NFL for six years, excelled in Kubiak's zone run scheme last year by taking his heavy load of carries and grinding out a solid pickup on each one, rather than hit the occasional big run.
The biggest asset of Anderson's that will allow him to make the big plays that Forsett could not is his cutback. Anderson is able to plant hard on one foot and quickly change direction, which allows him to hit those wide open cutback lanes when they are there and so often are in a zone running scheme. You can see this here (http://www.youtube.com/watch?v=q3eoVEvxuEQ&t=1m11s; skip to 1m11s) in his run against Miami, as well as the one against San Diego. What he displays in both of these runs goes beyond his lateral agility. He shows patience and vision, traits that are hard to teach to a young running back; this is what allows him to find the creases and cutback lanes, as well as run with his blockers effectively in the trenches.
It is inevitable that Anderson will be quintessential to the Broncos' offense. But any offense with Peyton Manning at quarterback will use an effective run game to set up the pass. Just as defenders committing to the play side of a zone run opens up cutback lanes, it also opens up space for the quarterback on play-action passes. The kind of space and time this can create for Manning puts him in the perfect position to let it fly, chiefly with the deep threats he has in Demaryius Thomas, Emmanuel Sanders, and even Julius Thomas (all three of which Elway will need to bring back). A tight end in Julius Thomas creates mismatches, especially when the offense can run the ball effectively and force extra linebackers to substitute in for defensive backs. And when you put a linebacker on Julius Thomas in pass coverage, more often than not, this will happen: https://www.youtube.com/watch?v=UzZi_GuWXmk&t=5m20s; skip to 5m20s.
Kubiak's scheme will add a balance to the Denver Broncos offense that they have not had before and help facilitate the explosive passing game that they have always had. The scheme will also take a great deal of pressure off of Manning, no longer requiring him to throw 30 to 40 passes per game. Broncos' general manager John Elway understands the importance of this better than anyone else. Elway had quarterbacked the Broncos to a Super Bowl victory when he was at Manning's age with the help of a great running game led by Terrell Davis—which was also the last time Kubiak was in Denver as the offensive coordinator.
In his homecoming year, the stage is set for Kubiak to repeat history. This all starts with turning C.J. Anderson into Terrell Davis to complement Manning's game. Being the running back guru that he is, Gary Kubiak appears more than ready to make 2016 the year that Pat Bowlen says, "This one's for Peyton."