April 08, 2013 -
Erik Oehler
Pick your Poison: Ezekiel Ansah vs Bjoern Werner
With nearly all the Pro Days completed, most teams are beginning their final Draft meetings within the next week, so for the next four weeks we are going to compare and contrast two players who play the same position. This will give you the insight into the small things that can separate top prospects. We start this week comparing our top two defensive ends, Ezekiel Ansah and Bjoern Werner.
While I believe that both players are worthy of being selected in the top ten, they are different players who bring differing skill sets and risk factors to the field. To start with, it is incredible that two premier NFL prospects in the same draft class were born outside the United States, but have developed so quickly since taking up the sport they will be first round selections. Although Ansah is an elite athlete and no doubt special in that respect, I believe that Werner is being drastically under-rated athletically. His efficiency, technique and effort over-shadow his athleticism on film, which was confirmed by my sources at Florida State's Pro Day who told me that he worked out like a star and displayed elite athleticism throughout.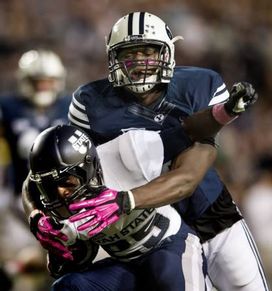 US PRESSWIREBYU's Ezekiel Ansah makes a tackle against Utah State.
Right off the bat, Ansah and Werner's physiques are drastically different. Ansah is long at 6052 with 35 1/8 inch arms at 271 pounds and ripped up like a body builder, while Werner is "only" 6032 with 33