April 15, 2013 -
Erik Oehler
Pick your Poison: Giovani Bernard vs Eddie Lacy
With all the Pro Days now behind us, teams are in the middle of their final Draft meetings. So for the final ten days we are going to continue to compare and contrast two players who play the same position. This will give you the insight into the small things that can separate top prospects. Today we compare two of the top running backs, North Carolina's Giovani Bernard and Alabama's Eddie Lacy, in the Draft.
In a year with no premier running back prospects, two of the better ones are Giovani Bernard and Eddie Lacy, but they are drastically different players. Naturally instinctive with great vision, Bernard is consistently able to find an open hole/crease and has the burst to get through it fast. Patient running with the ball, Bernard follows his blockers well, sits on their hip, can make the sharp cut off their blocks and gets through the front line of defense quickly. While Lacy also displays good instincts and finds the hole well when he keeps his head/eyes up, he lacks the explosive burst to consistently get through the hole before it closes. He often has to rely upon his playing strength to drive through contact as the hole starts to close before he gets through it and that will not be as effective in the NFL. The biggest issue is his bad habit of ducking his head down when he lowers his shoulders and this causes him to lose sight of the blockers and the potential hole, meaning he runs blind.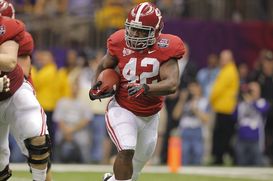 ICONAlabama running back Eddie Lacy looks up the field while running with the ball.
Although Lacy definitely needs to get quicker getting through holes, he has the size and strength to be a powerful runner between the tackles if he can. He has the playing strength and balance to run through arm/grab tackles and to keep his feet versus hard hits to always gain yards after contact and fall forward for the extra yard or two at the end of the run. Bernard is not as effective running between the tackles as he lacks the bulk and playing strength to break tackles and consistently gain yards after contact. Although Lacy is definitely a better inside runner, Bernard's ability to get through a clean hole faster than Lacy and to make tacklers miss within the hole should enable him to be productive running between the tackles in the NFL. While inside running goes to Lacy, outside running is where Bernard separates himself.
Bernard has the quick burst and speed to get the edge and the sharp cutting ability to make the great cut-back to get through the backside hole. Not only effective on plays that start to the outside, he consistently has shown the ability to change directions fast and bounce the run outside when the inside hole is clogged up. Once he gets outside he is a dangerous runner as he can make sharp cuts to get to a hole/crease, has an explosive burst through the hole and the elusiveness to easily make tacklers miss. As opposed to Bernard, Lacy's outside running is very dependent on the blocking he receives as he lacks the explosive burst and speed to get the corner consistently. While Bernard gets to full speed fast, Lacy needs time to build to full speed which hinders his ability to get outside in time. Whether it is an inside or outside run, to be successful, backs in the NFL must have the quickness, agility and balance to change directions fast enough to avoid defenders who shoot into the backfield or drive their blockers into the backfield before the play really gets started. While Bernard is a better outside runner and Lacy is better between the tackles, it is not close in terms of contributing as a receiver and making big plays when they have the ball in the open field.
Lacy catches the easy passes well enough, but he does not have the soft hands to adjust and make tough catches. In the games evaluated seemed to fight the ball more often than not. Once he catches the ball, he is a strong and aggressive runner after the catch that consistently gains yards after contact. He is not however an elusive runner and lacks home run speed to out-run angles and score long TD's. Bernard on the other hand has soft hands and can pluck the ball easily, although occasionally he will take his eyes off the ball and lets it get into his body. After the catch, Bernard has the change of direction ability to easily make tacklers miss, is dangerous cutting back plays and has the speed to take plays the distance. The one area Lacy bests Bernard in the passing game is pass protection. Lacy is a strong and physical pass blocker who gets after man aggressively, stays over feet and has the strength to tie up and eliminate man. Bernard was not used much to stay in and pass block and when he was he was not effective as he lacks good technique and gives an inconsistent effort. He was usually asked to chip a defender as he went out on route and did just an adequate job doing that.
In the end, neither Lacy or Bernard warrants being selected in the first round in my opinion, but both have the tools to be solid starting backs. Lacy will need to do a better of job of keeping his head up to avoid losing vision and running into his blockers/traffic. His best chance of success is to be drafted by a power running team with a strong offensive line that can give him time and space to get to full speed before he has to deal with a tackler. Whereas Bernard is not going to be a power back, but with some added weight could turn out to be an excellent inside runner. He is a more dangerous big play back who can be a dangerous receiver out of the backfield, which is so vital in today's NFL. I would draft Bernard ahead of Lacy if I were making the choice because he has the potential to contribute in more areas than Lacy and is a legit big play threat every time he touches the ball.
Email Russ at Russelllande@yahoo.com and Follow Russ on Twitter @RUSSLANDE