April 19, 2013 -
Erik Oehler
Pick your Poison: Lane Johnson vs DJ Fluker
As we enter the final week before the 2013 NFL Draft, I continue to compare and contrast two players who play the same position. This will give you the insight into the small things that can separate top prospects. Today we compare the two offensive tackles, Lane Johnson and D.J. Fluker, who are expected to be drafted after Luke Joeckel and Eric Fisher.
While I believe that both Johnson and Fluker will become quality starting offensive tackles in the NFL, they could not be more different as prospects. The differences between the two begin with their football backgrounds. Fluker was a dominant high school offensive tackle in Alabama, one of the top offensive tackle recruits in the nation and after redshirting his freshman season at Alabama he started 35 of the final 39 games of his college career. On the other end of the spectrum is Johnson who was a quarterback in high school and during his first year at junior college. He then switched to tight end and then defensive end before finally settling in at offensive tackle during spring football in 2011, so he only has played and started at offensive tackle for two seasons. While their backgrounds are nothing alike, their on field play is just as different.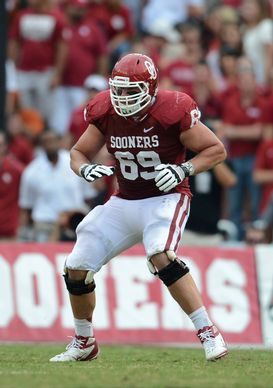 US PRESSWIREOklahoma left tackle Lane Johnson prepares to pass block.
For a player with such limited experience at the position, Johnson's rare athleticism for a tall offensive tackle helped him to produce at a high level very quickly. Remarkably flexible, Johnson is able to bend knees and sink hips with such ease that he pass blocks with base/leverage that is almost unheard of for a 6'6 tackle. His ability to block with base combines with his foot quickness, so that he can easily slide out to the corner to cut-off explosive speed rushers and can re-direct and slide back in the other direction to adjust to quick change of direction pass rush moves. Although he does not aggressively punch in pass pro, he does flash the ability to get his hands onto pass rusher quickly, can get arm extension and can tie up man well. Although he can do an excellent job of maintaining in pass protection when he keeps his feet moving after making initial contact, the issue is that he does not do this consistently. He has a bad habit of stopping his shuffle/feet after making contact, which leaves him vulnerable to quick secondary pass rush moves because it is hard to adjust to sudden moves once you stop your feet. Additionally, when he stops his shuffle after making contact in pass pro, he will cross-over and chase man around the corner too often for a player with his talent. While he at times gets hands on pass rusher fast, he does leave his chest open too often and aggressive power rushers are able to jolt and drive him backwards, which will likely be an issue vs the stronger pass rushers he will face in the NFL. One thing that is impressive is that Johnson is able to block with such great leverage that he can re-set and anchor excellently after being jolted backwards initially.
As opposed to Johnson, Fluker is a massive man who is able to physically dominate man once he gets his hands on man. For a 330+ pound offensive tackle, Fluker has shocking foot quickness to slide out in time to block edge rushers from his right tackle position. With nearly 37 inch arms, he is able to keep pass rusher at bay and once he locks up on them he flashes the ability to torque man off feet. His size and strength make it easy for him to stop power rushers in their tracks. When he keeps his knees bent and pass blocks with good base, he can adjust well enough to handle most secondary pass rush moves. However, his lack of elite foot quickness and athleticism makes him much better suited to play right tackle as opposed to the left side where he would face the elite pass rushers. Additionally, he has a bad habit of getting straight legged and upright while sliding out in pass pro and when he does he is not as effective handling secondary pass rush moves.
Although Fluker is not a premier athlete, he is better than most 330+ pounders and it helps him to be a dominant run blocker. While he is able to easily jolt and drive shaded defensive linemen down the LOS on down/side blocks, what is more impressive is his ability to easily get movement on straight ahead run blocks as this is often a big challenge for all offensive linemen. In addition, Fluker can get through to the second level to block linebackers out of the play with surprising ease. As Fluker physically controls man, Johnson relies upon his superior athleticism to make contact with defensive linemen fast and his ability to block with good base to stay on and maintain his in-line run blocks. He does not drive man and get movement on in-line run blocks, but rather gets ahold of man, works into good position and can usually seal man to the side of the play. He shines pulling and getting outside to lead block on outside runs and can get through to the second level in a flash. His balance, agility and overall athleticism help him to stay over feet to maintain contact and eliminate man from the play on blocks out in space.
In the end, Fluker is probably going to fit more for a power blocking team looking for a right tackle that can step in and start immediately. Johnson has more potential as he has rare athleticism and should be able to add bulk/weight over the next few seasons to alleviate playing strength issues. I believe he will continue to improve by leaps and bounds as he gains experience playing offensive tackle. There is no doubt that I would take Johnson ahead of Fluker in the first round, but in my eyes there is definitely a much higher chance that Johnson will turn out to be a bust than Fluker, as Johnson is being drafted in the first round based on the potential of how good he can become, while Fluker will be a first rounder because of his dominating play at Alabama.
Email Russ at Russelllande@yahoo.com and Follow Russ on Twitter @RUSSLANDE