April 01, 2013 -
Erik Oehler
Pick your Poison: Luke Joeckel vs. Eric Fisher
With nearly all the Pro Days completed, most teams are beginning their final Draft meetings within the next week, so for the next four weeks we are going to compare and contrast two players who play the same position. This will give you the insight into the small things that can separate top prospects. We start this week comparing the consensus top two offensive tackles, Luke Joeckel and Eric Fisher, in the Draft. Right off the bat it is important to note that neither Joeckel nor Fisher is a premier offensive tackle prospect at the level of Orlando Pace, Jonathan Ogden or Walter Jones. Joeckel and Fisher are both smart and instinctive tackles who anticipate pass rush moves and work well with other linemen to handle defensive line stunts/games.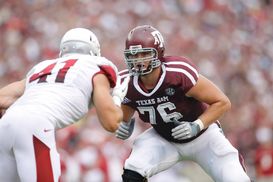 US PRESSWIRETexas A&M OT Luke Joeckel prepares to pass block.
Although both Joeckel and Fisher are going to be top fifteen picks and are elite athletes, they are very different in other areas. Joeckel's ability to bend knees and sink hips enables him to pass block with outstanding base/leverage. Combined with his foot quickness he can slide out to cut-off explosive speed rushers with ease and can re-direct and slide quickly side to side to handle fast change of direction pass rush moves. While Fisher can block with excellent base also, he tends to get a little high as he slides out to edge and this hinders his ability to consistently adjust to quick pass rush moves back under-neath.
Interesting neither Joeckel nor Fisher uses his hands to aggressively punch, which leaves their chests wide open to pass rushers. They do however use their hands differently. Joeckel keeps his hands low and wide and tries to grab the pass rusher outside the shoulders, while Fisher keeps his hands low and close together and tries to bring them up to "get a good fit" between the pass rusher's shoulders. Both players have had issues being jolted and driven backwards by aggressive, power rushers, so they must improve their hand use to handle bull rushers effectively in the NFL. Because Joeckel maintains base/leverage more consistently than Fisher, he is more consistently able to re-set and anchor after being jolted backwards initially.
Neither Joeckel nor Fisher is a powerful, in-line run blocker who drives man off the line and out of the play with ease and although they have different run blocking styles, they are both effective. More of a positional, seal run blocker, Joeckel relies on his quickness to get into good blocking position with good leverage and is consistently able to pin man out of the play. On the other hand, Fisher gets after defender aggressively, delivers a blow and flashes the ability to get movement through a combination of strength, aggressiveness and rare competitiveness. This aggressive blocking style does lead to Fisher occasionally over-extending and missing blocks he is in position to make.
When it comes to blocking out in space, they are both productive, but Fisher flashes the ability to be elite. Joeckel is quick through the line to the second level and can make the short pull around the tight end to get outside fast. He consistently maintains good base and is able to lock onto defender and eliminates him from the play. While Fisher has elite foot speed pulling and getting out in front on outside runs and can adjust to block a moving target with surprising ease. He has the talent to be the rare offensive lineman who can make a block 20+ yards down the field.
When you add everything up, in my opinion Joeckel is the more consistent blocker, but also more of a finesse, positional blocker and reminds me of current Browns' left tackle Joe Thomas. While Fisher is a more explosive athlete who blocks with more of a nasty, aggressive temperament, similar to Vikings left tackle Matt Kalil, which I think gives him a chance to be the better NFL tackle.
Email Russ at Russelllande@yahoo.com and Follow Russ on Twitter @RUSSLANDE