April 12, 2013 -
Erik Oehler
Pick your Poison: Travis Frederick vs Barrett Jones
With nearly all the Pro Days completed, most teams are in the middle of their final Draft meetings for the next two weeks we are going to continue to compare and contrast two players who play the same position. This will give you the insight into the small things that can separate top prospects. Today we compare two of the top centers, Wisconsin's Travis Frederick and Alabama's Barrett Jones, in the Draft.
Right off the bat, although Jones (6040) and Frederick (6035) are nearly the same height, they have different body types. Jones looks taller than his measured height because he is linear and does not look like he weighs 300+ pounds "on the hoof." Whereas, Frederick is thick all over and looks like a bear of a man. Not only are their body types different, but their abilities and production are drastically different.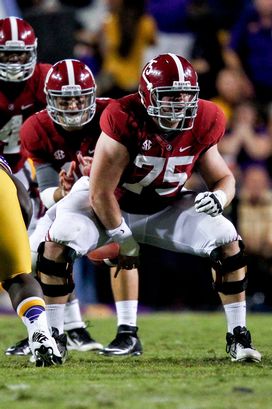 US PRESSWIREAlabama's Barrett Jones snaps the ball and prepares to block.
Jones has quick feet and is able to get out of stance and set to block fast. He accentuates his quick set-up by delivering a fast and aggressive punch to the DT. In pass protection, when Jones gets his hands on the DT first to slow his initial charge, he is often able to tie man up and keeps him on the LOS. Extremely smart, Jones not only makes all the calls and works well with the other linemen to switch off and handle different DL stunts/games, but this intelligence helped him to start at all five OL positions during his career and even to switch between two positions during a game without any drop-off in the quality of his play. However, Jones lacks good flexibility and agility, which prevents him from bending his knees and sinking his hips to pass block with good base/leverage. This hinders his ability to slide quickly side to side to handle fast change of direction pass rush moves. In addition, explosive off the ball power rushers who get their hands on him first can drive him backwards too easily. This issue will be further accentuated when he has to try and hold his ground versus the bigger, stronger DT's in the NFL.
While Frederick's 40 times have been terrible, the reality is that his quickness out of his stance to set up to block is quicker than expected. Although he does not deliver a hard punch in pass pro, he does get his hands inside the DT's shoulders "to get a good fit" nearly every snap, which allows him to lock on and control his man. Unlike Jones, Frederick is able to bend his knees and sink his hips to pass block with excellent leverage, which combines with his ability "to get a good fit" and his natural strength so that he can stop any straight ahead pass rusher in their tracks. In addition, his blocking with base enables him to slide side to side surprisingly well to maintain in pass pro and adjust to different stunts/games and blitzes.
As a run blocker, Jones is quick out of stance to make contact with DL, but he tends to make initial contact high which limits his strength at the POA. Additionally, he has a bad habit of bending at the waist and leaning and reaching to maintain contact, which leads to him over-extending and falling off in-line run blocks too often. While his quick feet help him to get through the LOS to the second level fast and to pull and get outside quickly on outside runs, his lack of agility and all-around athleticism hinder his ability to adjust to block a defender who is not on his track.
Frederick is quick to make contact with DL on in-line run blocks and does so while blocking with good base. He does not get movement at initial contact, but his ability to stay over his feet combines with his playing strength and tenacity so that he can drive man out of the play. His brute strength and good hand use give him the ability to lock onto a defensive lineman and then can either turn and seal them out of the play or at times he will torque them and toss them to the ground. He lacks the foot speed to pull and get outside to lead block, but he is more effective than expected stepping through the LOS to block on the second level and once there he can adjust to block the defender because of his consistency staying over feet and under control.
In the end, it is likely that both Jones and Frederick will become starting centers in the NFL, but I think the level of player they will become is different. Jones will be the tough, scrappy over-achiever who cannot get movement on in-line run blocks and constantly has trouble blocking the big 320+ pound DT's, both on run blocks and in pass protection. Frederick on the other hand will never be confused with one of the most athletic centers, but he will be one of the more physically dominant ones in the league. He will get his hands on the defensive lineman and will be able to dictate the play to them. Frederick's skill set will enable him to stop power rushers in their tracks, adjust to quick pass rush moves in a small area and constantly control his man to open holes on inside runs. In addition, in today's NFL where so many teams run 34 defenses, Frederick will have no trouble blocking the nose tackle one on one, while Jones will struggle in that area. For these reasons, I would definitely draft Frederick before I would select Jones.
Email Russ at Russelllande@yahoo.com and Follow Russ on Twitter @RUSSLANDE