September 29, 2011 -
Barry Dorey
Pitt/USF: Top prospects worth watching tonight
A breakdown of the top five senior prospects worth evaluating tonight…
1. OG Lucas Nix: Pittsburgh (6-5, 310)
A good athlete for the position who can win in the pass game and seal lanes instantly inside as a run blocker as well. Has some upside as a power player and looks like a capable starter early in his NFL career.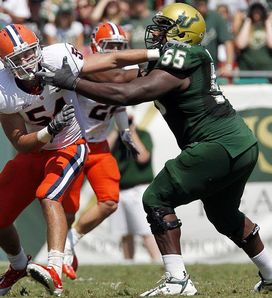 ICONWarren is an intriguing big body.
2. DE/OLB Brandon Lindsey: Pittsburgh (6-2, 250)
A good athlete with a compact frame who knows how to get after the quarterback in a number of ways, but isn't dynamic in any area. Doesn't look like a playmaking type pass rusher at the next level, but his lateral quickness will give him a shot as a starting rush backer.
3. OG Jeremiah Warren: South Florida (6-4, 327)
A big guy with natural athleticism/coordination for his size. Is a bit raw as a run blocker, but has the skill set to fight for playing time with some development.
4. ILB Max Gruder: Pittsburgh (6-2, 230)
A productive kid with a great motor, but he just doesn't show enough in either the run or pass game to make me think he can mature into anything more than a fringe roster guy.
5. DT Chas Alecxih: Pittsburgh (6-5, 285)
For a big guy does exhibit some coordination as a pass rusher working his feet/hands in rhythm. However, he lacks a great anchor, isn't a dynamic athlete and his best spot might be as a 34 DE because of his size. More of a size free agent at this stage.