February 01, 2012 -
National Football Post
Players All-Star Classic Practice Notes: Day Two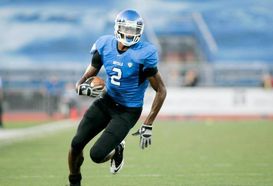 ICONRivers looks the part, but will struggle to separate at the next level.
Buffalo WR Marcus Rivers is a big kid at 6-3, 211-pounds and has a smooth element about his game as a vertical receiver. He does a nice job tracking the football down the field and initially can keep himself clean vs. press-man. However, he's not a real dynamic athlete, needs a couple steps to reach top end speed and looks limited in the routes he'll be able to run at the next level. He does enough things well to get a shot in a NFL camp, but he's going to have a tough time separating from man coverage vs. NFL corners.

One of the cornerbacks that gave all the North receivers fits Wednesday was Western Kentucky's Derrius Brooks. He's a shade under 5-10, but showcases natural quickness, fluidity and feel when asked to play in both off and press concepts. The biggest knock on him is that he isn't the biggest or fastest of kids. Nevertheless, he has some natural balance to his game when asked to turn and run, and certainly warrants a spot in a training camp as a potential nickel/dime guy. However, he needs to do a better job as a tackler and get a bit more physical if he hopes to make an NFL roster because he's going to need to be a presence on special teams.

The one defensive lineman that has flashed all week on the North squad has been Georgia State's DT Christo Bilukidi. The 6-4, 307-pound lineman has some initial quickness to his game, can be sudden laterally when side-stepping blockers and is a pretty athletic pass rusher. However, he doesn't sit real low in his stance, gets upright easily off the snap and at times is content to be blocked and won't show much fight trying to disengage vs. the run. He's got the talent to get a look in an NFL camp, but play-to-play consistency is the key for him long term.

Penn State DE Eric Latimore is another guy that looks the part. He's a physically imposing kid with good height, length and overall girth. He flashed at times today inside as a pass rusher. However, he's tighter hipped lineman who gets upright and at times can simply overpower because he's a more physically gifted than his opponent. However, for the most part, he hasn't displayed the type of dominance you would expect from a kid with his skill set coming from a big time program vs. this type of competition.

I came away pleasantly surprised with the game of Portland State OL Dustin Waldron. He's a taller kid at nearly 6-6 and is a bit narrow framed, and I don't see the natural width from him to comfortably add much more weight. However, he can bend, is able to quickly get into blocks inside, fit and slide his feet through contact. Anchor strength is a slight concern. However with a little physical development he's a guy who could be able to fight for a roster spot after a year or two on the practice squad.

Watching Richmond QB Aaron Corp today, the guy displays impressive balance from under center through his drop, he maintains good width through the base and has a little snap when transferring his weight. He doesn't have a great arm, but spins a clean football, demonstrates a quick release and throws a really catchable football. Plus, he looks coordinated on the move and when asked to boot to his right, he generates a little more torque from the waist and can really snap some throws outside the numbers. Overall, if I had to walk away with one quarterback from this game, Corp would be my guy.

Finally, UMass WR Julian Talley as an athlete stood out all week. He's a nice sized kid at 6-1, 185-pounds and has a natural burst to his game, separating quickly out of his breaks. He needs to do a better job plucking the football and securing the catch. However, he's got the ability to run vertically, play fast in tight areas and develop as a route runner. Could be worth a pick late, but at worst looks likes a priority FA who should be able to fight for a roster spot if he can continue to improve his hands.
Follow me on twitter: @WesBunting
Check out the NFP Draft page here...