January 31, 2012 -
National Football Post
Players All-Star Classic Practice Notes
North practice notes…

Nevada DL Brett Roy is the definition of a tweener. He's 6-3, 273-pounds, possesses good athleticism for his size and some natural power on contact. Honestly, he reminds me a little bit of former Miami DL Allen Bailey last year, whereas he has the ability to add some weight and maybe play a little five-technique. But, is also athletic/rangy enough to stand-up and rush off the edge or play inside as a jack backer. Either way he's a natural football player who should be able to make an NFL roster and find a way to contribute.

There's definitely some talent to the game of Monmouth QB Alex Tanney. The 6-3, 217-pound signal caller displays quick feet when asked to set and when he balances his lower half and snaps though the hips he can really spin the football. At times he gets upright and rolls toward his target negating his velocity, but he's a raw piece of clay that can certainly be molded.

Cal-State Sacramento OLB Zack Nash impressed as a pass rusher today. He doesn't have a ton of experience standing up. But, he exhibits a good first step, can change directions off his speed rush and used his hands well to keep himself clean. He's got a burst to his game with the size (6023, 252-pounds) to intrigue.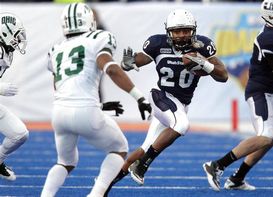 ICONSmith was impressive on day one.
I liked the game of Utah State RB Michael Smith. He's a powerfully built kid who runs low to the ground, displays good short areas quickness and has a burst when asked to get up the field. He looked explosive pressing space Tuesday and accelerating toward daylight, could be a nice late round value.

South practice notes…

Northwestern State CB Jeremy Lane was one of the few prospects down here flashing an explosive first step and obvious change of pace to his game. He showcased a quick/balanced drop, was able to stay low out of his breaks and routinely created a burst when asked to close. He isn't the most natural of players and at times had a tough time feeling/recognizing routes/tells off the line. Nevertheless, he's a talented kid with some growth potential to his game.

I liked what I saw from Abilene Christian DE Aston Whiteside Tuesday. The 6-2, 265-ponder was able to create a burst off the edge, counter off his speed rush and keep his pad level down while changing directions. He also displayed some violence when asked to shed with his hands and was a tough block off one-on-one.

On the other hand, Nebraska OT Jermarcus Hardrick had a tough time keeping his pad level down throughout in pass protection and failed to gain much leverage on his punch. He's a big kid at 6-5, 325, but doesn't play with much natural bend.

Finally, I came away impressed with the overall intelligence, feel and attitude of Clemson CB Coty Sensabaugh. He's got good size at 5-11, 187, recognizes routes well pre-snap and can read and react quickly in coverage. He will get a bit choppy and upright out of his breaks. However, he was physical off the line and showcases the ability to turn and run. I don't know if he's worth a draft pick. But because of his "plus" smarts, I wouldn't be shocked at all if the guy ends up making an NFL roster.
Follow me on twitter: @WesBunting
Check out the NFP Draft Page here...