February 03, 2012 -
National Football Post
Players All-Star Classic: Stock Watch
Who helped themselves the most?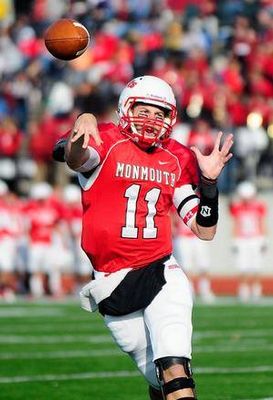 ICONTanney has some talent on the move.
QB Alex Tanney: Monmouth (6-3, 216)
Tanney didn't have a "jaw-dropping" week by any stretch. But he displayed good athleticism from under center and when asked to move around in the pocket. He looked natural when flushed and threw the ball well on the move. He gets a bit erratic with his footwork at times when trying to set his feet quickly into throws. However, when he does transfer his weight, he can and really spin the football. At worst, the guy looks like an intriguing priority free agent with a good amount of upside to his game and could end up warranting a draft pick late on day three.

OLB/SS Jerico Nelson: Arkansas (5-9, 190)
I didn't write about Nelson all week, but quietly the guy had a strong showing in Little Rock. He's undersized; there is no doubt about that. But, the guy is simply a football player. He displayed good balance during DB drills keeping his feet under him and getting out of his breaks. He looked natural when asked to change directions and always put himself around the football during team. Now, he's a tweener. But when you have a guy who tackles consistently and is as instinctive as Nelson, you can't help but think the guy has a chance to get drafted late and make a roster from day one as a special teams ace and nickel backer.

RB Daryl Richardson: Abilene Christian (5-11, 195)
Richardson is the bother for former Abilene Christian RB Bernard Scott and has a lot of the same athletic qualities. He showcased a "plus" first step all week, got up to speed quickly and has the kind of explosive element to his game that is hard to overlook. He isn't a real big guy, but can create in the open field and looks like a late round/priority free agent type who could quickly earn a spot on a roster as a third running back and return man.

Strugglers…

QB Dominique Davis: East Carolina (6-3, 210)
The 6-3 signal caller has a tall, lean frame and some natural athletic ability when asked to buy time and create outside the pocket. However, he isn't real coordinated in his drop, struggles to balance himself into throws and doesn't generate any type of torque from his lower half. Therefore, he doesn't create a lot of velocity into throws and his accuracy struggled all week because he rarely sets his feet before letting go of the football. There is some talent there, but not enough in my mind to warrant a draftable grade.

DE Kendrick Adams: LSU (6-5, 248)
Adams looks the part of a tall, athletic SEC-type defensive end. However, he weighed in at only 248-pounds and doesn't have the type of "plus" first step to match his lacking size. He routinely got upright off the ball, didn't uses his hands well to shed through contact and wasn't real sudden laterally. Overall, he's a good looking kid with some growth potential. However, after watching his skill set this past week I don't see how he's going to reach the passer at the next level.

CB Troy Woolfolk: Michigan (5-10, 195)
Woolfolk has the frame more of a corner, but the skill set more of a safety. He struggled all week in man coverage, displaying an inability to get his hands on receivers off the line in press and turn to run vertically. Plus, he didn't have a great feel in off coverage and routinely gave up legitimate separation out of his breaks. Overall, looks like a CB/FS tweener who is going to have a tough time making an NFL roster.
Follow me on twitter: @WesBunting
Check out the NFP Draft page here...