January 31, 2012 -
National Football Post
Players All-Star Classic Weigh-in Results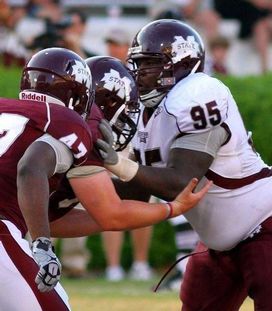 ICONAs a former defensive lineman Carmon is raw, but has some talent.
It was a bit disappointing to see Kentucky LB Danny Trevathan measure in at just under 6-feet. However, he was a physically built 230-pound athlete with a strong looking base and could be poised for a big week.

Richmond QB and former USC transfer Aaron Corp was a bit lean at only 214-pounds. However, he had a flexible looking frame and at nearly 6-4 possesses the height to see over the line of scrimmage with ease.

One of the prospects to keep an eye on this week is small school cornerback (Northwestern State) Jeremy Lane. At nearly 6-0, he possesses a naturally long set of arms and solid frame. He weighed in at only 183-pounds. But has the ability to continue to fill out without losing much athleticism.

Utah State's Michael Smith was a chiseled 5-8, 207-pound running back who "wowed" when he walked on the stage. He exhibited a massive upper body with good overall muscle tone and girth through his lower half. He played behind a talented runner in Robert Turbin at Utah State this year, but could prove he's worth a pick in his own right this week.

I'll be keeping a close eye on Mississippi State OT James Carmon this week as well. The 6-6, 334-pound offensive lineman did look a bit soft through the upper body. However, he possesses 34-inch arms, a 83 1/8 inch wingspan and certainly has the length to control blocks on the edge.

Finally, Penn State DE Eric Latimore is a big athlete at 6052, 279-pounds. He carried his weight well, has a long set of arms (34 5/8-inches) and displayed the type of size that made me think he could end up maturing into a potential strong side defensive end in a 43 scheme at the next level.
Follow me on twitter: @WesBunting
Check out the NFP Draft Page here...