February 24, 2013 -
Erik Oehler
Players that did not shine at Sunday's Combine workout
Players Who Both Shined & Struggled At Times during Combine Sunday
1. Montee Ball, RB, Wisconsin: Things did not start out well for Montee when he ran in the low 4.6's, which is definitely slower than expected. However, in the positional workout, Ball did significantly better. He was quick and fluid in drills and showed the ability to make sharp jump-cuts. In addition, he caught the ball naturally and looked at ease as a receiver.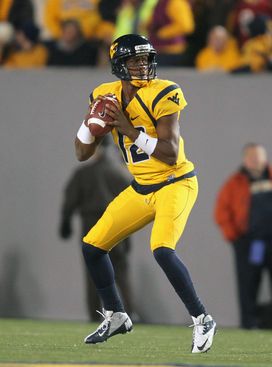 US PRESSWIREWest Virginia QB Geno Smith scans field to find an open receiver.
2. Geno Smith, QB, West Virginia: As one might expect considering Smith's background as a shotgun QB at West Virginia, Smith showed very inconsistent footwork throughout today's workout – At times smooth and polished and other times choppy. On shallower throws he tended to over-stride, which limited his ability to rotate his hips and transition his weight properly. On deep balls he under-strided and kept his front leg stiff, which resulted in the ball sailing. Smith clearly had an impressive arm today and showed that he can make every NFL with the necessary zip. These are certainly correctible errors, but he clearly needs to improve his lower body mechanics quickly if he is to be an NFL starter come September.

Players Who Struggled At Combine Sunday
1. Marquise Goodwin, WR, Texas: Even though Goodwin blazed an incredible 40 time, his overall workout was not strong. His speed was expected as he is an Olympic caliber track athlete, but he showed today that he is a long way from being a polished NFL receiver. His routes were raw and as one scout told us "he looked like a freshman receiver" trying to learn how to run routes. On underneath routes Goodwin struggled to consistently catch the ball and get it tucked away. However, on deep balls he displayed much better than expected tracking skills and caught the ball well, even though he had one drop.
2. Cordarrelle Patterson, WR, Tennessee: Patterson displayed today some of the same concerns that we had with him during film study. He was choppy in and out of his breaks, and did not display fluidity on his routes. Throughout his workout, he let the ball get into his body and struggled to catch the ball cleanly. Early in the workout he caught the ball extremely well, but as the workout went on he dropped some passes he should easily have caught. As expected, he ran extremely well (unofficial 4.37 40), but he is far from a polished product, despite being so highly regarded in some circles. **More concerning is that we heard that Patterson has been very unimpressive in interviews, which will likely lead to him sliding down draft boards
Email Russ at Russelllande@yahoo.com and Follow Russ on Twitter @RUSSLANDE