January 30, 2013 -
Erik Oehler
Players that stood out during Wednesday's practices at Texas VS The Nation Game.
1. Armonty Bryant, DE, East Central Oklahoma (6041, 262 and 4.85 E): Being the best player at practice on Tuesday did not get into Bryant's head as he had another outstanding practice today. His foot quickness and snap anticipation showed in his ability to consistently beat the OT to the corner, which allowed him to threaten the corner consistently. At the point of contact, he displayed the quick burst, hand use and ability to dip shoulder to defeat OT, turn the corner and pressure the QB easily. His ability to threaten the corner allows him to set-up the OT and gives him a "two way go" to beat the OT around the corner or back inside. While this game does not match the Senior Bowl in overall talent, there is no doubt that through two days of practice Bryant would have been impressive beating the OT's in Mobile had he been invited.
2. Elvis Fisher, OT, Missouri (6046, 291, and 5.20 E): Fisher picked up where he left off on Tuesday by showing that he is the best blocker here. Able to bend his knees and sink his hips, he pass blocked with base/leverage nearly every snap, which made it easy for him to stay on and maintain blocks. Although he did not deliver a violent punch, he consistently "got a good fit" which combined with his technique so that he could tie up man and keep him from getting pressure on QB. Because he lacks ideal bulk, he will need to improve his punch to avoid being jolted and driven backwards by power rushers in the NFL. Fisher surprised us with his ability to get to the second level in time to make seal block on LB and even though he missed some blocks in space, he was definitely solid in this area. Unfortunately, about halfway through the team period today Fisher injured his right knee when another lineman (I am not sure if it was an OL or DL) fell on his knee and he did not return to practice.
3. Matt Furstenburg, TE, Maryland (6035, 241 and 4.83): With NFL teams searching high and low to find tight ends who can make big plays as a receiver, Furstenburg showed today that he has the physical talent they are looking for. Blessed with soft, natural hands, good body control and outstanding concentration, he was able to consistently twist his body to adjust to make tough catches on off-target throws. Not only could he twist to adjust, but his flexibility enabled him to get down to catch very low passes easily. Quick getting started up the field after the catch; Matt showed he has the quickness and athleticism to be a solid, productive runner after the catch.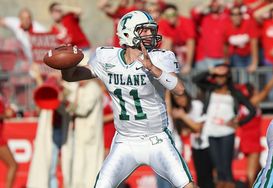 US PRESSWIRETulane QB Ryan Griffin about to make throw.
4. Ryan Griffin, QB, Tulane (6037, 216 and 4.95 E): On an extremely windy day, Griffin clearly stood out as the best quarterback today. Displaying a strong arm, Griffin was able to make throws with zip through the heavy winds. Quick in his pass drops, Griffin displayed the footwork to plant and drive off back foot to get rid of ball fast. While his deep accuracy was inconsistent today, his short passes were on target throughout. Additionally, Griffin impressed with his ability to make short, accurate throws when on the move outside of the pocket. Although he was not great today, he definitely showed the skills to warrant being a good developmental QB prospect.
5. Lamar Mady, OG, Youngstown State (6023, 313 and 5.20 E): On Tuesday, Mady flashed, but struggled to consistently block his man due to his inability to maintain good technique throughout. However, he clearly felt more comfortable and took coaching well as his technique was drastically better today. He consistently bent his knees and pass blocked with good base/leverage, "got a good fit" with his hands, stayed over feet and maintained slide well. Taking on pass rushers strong on the LOS, he was able to get arm extension, locked out and kept man from getting a push. Today's performance made me confident that Mady has the talent to start in the NFL if he can play with good technique consistently.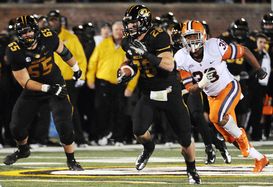 US PRESSWIREMissouri WR TJ Moe runs with the ball after the catch.
6. T.J. Moe, WR, Missouri (5112, 201 and 4.55 E): After a strong day Tuesday, Moe had an excellent day on Wednesday. Displaying great route running today, Moe made it look easy getting open. He was able to turn cornerback's hip with good fakes and got open with double moves repeatedly. He did not just catch the ball well today, but had magnets for hands and made numerous tough catches look routine. In addition to making plays catching passes, Moe displayed the aggressive playing attitude that NFL teams love and really showed it making an excellent crack-back block.
7. Emeka Onyenekwu, DE, Louisiana-Lafayette (6036, 254 and 4.75 E): Despite lacking ideal bulk, Emeka was consistently able to take on and hold ground versus OL run blocks and when he got hand son blocker first, he even showed ability to shed quickly to make tackle. Quick feet and agility allow him to change directions fast and when combined with his good, quick hand use he can defeat pass blocks to pressure the QB. Although he was more productive rushing the passer in the drills before the team period, he did flash during team and has the skills to be effective rushing QB in any situation when he is aggressive doing so.
8. Anthony White, DT, Michigan State (6014, 334 and 5.10 E): On Tuesday White flashed, but struggled with consistency, so today it was impressive to see him make big plays throughout today's practice. For a 330+ pound DT, White's initial quickness is shocking and enables him to get hands on OL before they are set to block. He consistently showed the strength to jolt and drive pass blocker backwards when he bull rushed and was able to anchor vs run blocks. His initial quickness, strength and hand use let White consistently defeat blocks to get backfield penetration to make plays behind the LOS. While White is far from a finished product, he showed today that he has the talent to be a starting nose tackle in the NFL when he plays with aggressiveness and good technique.
Email Russ at Russelllande@yahoo.com and Follow Russ on Twitter @RUSSLANDE