January 30, 2013 -
Erik Oehler
Players that struggled during Wednesday's practices at the Texas VS The Nation Game.
1. DeVonte Christopher, WR, Utah (6002, 192 and 4.55 E): Despite being the stand receiver on Tuesday, Wednesday was not as kind to Christopher as he struggled most of the day. Clearly the elements, especially the windy conditions, affected him as he struggled to adjust to the slight changes in placement and trajectory of the passes thrown his way as he dropped too many passes. More worrisome than the drops, was that he looked uncomfortable dealing with the elements and just did not seem to get on track during practice. He still displayed quickness and speed in routes to get open, but was not able to adjust to catch passes consistently. While his physical skills are still impressive, Christopher needs to prove that weather conditions will not affect his play like they did today when he gets to the NFL.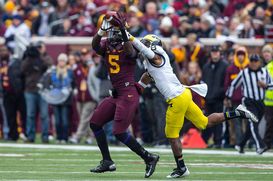 US PRESSWIREMinnesota's Marqueis Gray plucks a high pass against Michigan.
2. Marqueis Gray, TE, Minnesota (6035, 239 and 4.65 E): For a player that many NFL people were excited to see this week, Gray had his second straight disappointing practice on Wednesday. Despite flashing the explosiveness and athleticism at Minnesota to be considered a good conversion project, so far through two practices he has looked like an un-draftable prospect. Gray's routes need a ton of work as he lacks burst off the ball, is an upright route runner who needs to run with much better pad level and surprisingly needs to lengthen his stride as he tends to take a lot of short steps while running. While NFL teams expected his routes to need a lot of work, his struggles catching the ball has been a big surprise and raises real concerns. He does not reach out and pluck the ball consistently and often tries to catch the ball with hands close to his chest which leads to him fighting to catch the ball consistently. Gray needs to practice better the rest of the week and in the game to realistically expect to be drafted.
3. Branden Hansen, OG / C, BYU (6051, 306 and 5.20 E): Despite his good height and bulk, Hansen struggled holding ground against power rushers Wednesday. Defensive linemen were able to jolt and drive him backwards with surprising ease. While he has the flexibility to bend knees to pass block with base/leverage, he struggles to slide well side to side to adjust to quick change of direction pass rush moves.
4. Josh Kline, OG/OT, Kent State (6027, 309 and 5.25 E): For the second straight day, Kline seemed over-matched today as he was consistently defeated by pass rushers and struggled to get movement on in-line run blocks. He lacks the foot quickness to adjust fast to quick change of direction pass rush moves, which leaves him vulnerable to quick and agile pass rushers. Despite competing at a consistently high level, Kline lacks the hip snap to deliver hard initial blow to defensive linemen and cannot get movement consistently on in-line run blocks.
5. Matt McGloin, QB, Penn State (6005, 203 and 4.95 E): Even though Matt did not throw the ball well today, it is clear the he is a smooth athlete who is light on his feet and can move within the pocket. While he has a smooth throwing motion, it is not quick and is deliberate which allows defenders to break and close on his passes. He does not drive into throws and seems to push the ball rather than throw it. He throws it more like he is trying to aim it, which is not a good thing. Additionally, he did not look quick deciding where to throw the ball today and often ended up holding the ball too long before making throw. He stared down his primary receiver a number of times today and threw some passes that he should never have thrown. In the end, through two days of practice, Matt has not proven he has the tools to play quarterback at the NFL level.
6. Matt Smith, C, Kentucky (6037, 295 and 5.20 E): I was disappointed in Smith's production Wednesday considering he was a three year starting center in the SEC. Defensive tackles were able to jolt and drive him backwards on "bull rushes" with surprising ease. His tendency to pass block without leverage and not deliver an aggressive punch allowed pass rusher's to get into his chest. While he was effective tying up defensive linemen with side/seal run blocks, he lacked the strength to drive man off ball to open holes and struggled to run block effectively when he had to move his feet a lot. Overall, Smith did not block like a draftable center today and will need to improve the rest of the week to help his draft stock.
Email Russ at Russelllande@yahoo.com and Follow Russ on Twitter @RUSSLANDE