January 21, 2013 -
Erik Oehler
Players who had a good first day of practice at the Senior Bowl.
After a quicker than usual weigh-in this morning, the players hit the practice field this afternoon. There is clearly a huge upgrade in talent from last week's East West Shrine Game. While Syracuse Ryan Nassib was the best QB at either practice today, he did not stand out enough to warrant inclusion on this list. Below is a breakdown of the players who stood out, both good and bad, during today's practices.
Players Who Helped Themselves Today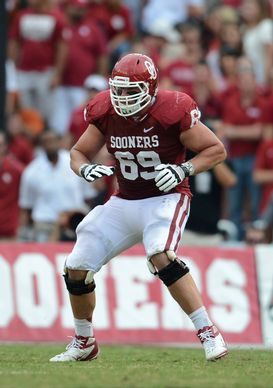 US PRESSWIREOklahoma OT Lane Johnson slides in pass pro.
1. Lane Johnson, OT, Oklahoma (6062, 302 and 4.95): Johnson immediately stood out during the "mirror" drill, as he looked comfortable sliding side to side while maintaining proper base and a flat back. He was one of the few linemen in the drill that consistently had his hands out in proper position to attack the defender. During the pit drill he was able to absorb bull rushes and use his hands and quick feet to redirect his man. In team drills he was able to thwart a speed rush by Ezekiel Ansah by using his hands to re-establish contact and ride him out of the play.
2. Ezekiel Ansah, DE, BYU (6050, 275 and 4.70): Ansah was very impressive during one-on-one drill as he not only demonstrated the explosiveness needed to take the edge, but was also able to convert speed to power against Xavier Nixon when he overset the edge. He looked like a quick twitch athlete today as he consistently displayed outstanding first step quickness. In addition, he demonstrated sound recognition skills on a rep during team period, where he was unable to penetrate but got his hand up to bat down a pass.
3. Leon McFadden, CB, San Diego State (5096, 193 and 4.60): While McFadden's long speed was rarely tested, he was very impressive today in off and zone coverages. He was quick to diagnose and attack routes and on multiple occasions was able to beat the receiver to the break point. While he was explosive coming forward, his movements were calculated and under control. During the one-on-one period he made a one-handed interception by jumping his man's out cut from press man.
4. Vance McDonald, TE, Rice (6041, 262 and 4.70): McDonald was one of the superstars of the weigh-in and his day only got better as he had an outstanding practice. He showed the ability to catch the ball away from his frame and all practice was able to create separation with his impressive route running. He was able to beat the jam by leaning into defenders and exploding out of his break and when given a free release he made precise cuts and looked fluid and quick on double moves. If he proves himself as a blocker this week, don't be surprised to see him shoot up boards into first round consideration.
5. Chris Harper, WR, Kansas State (6006, 228 and 4.45 E): Impressing during the weigh-in was not enough for Harper as he had an excellent practice today. Smooth and fluid running routes, Harper was quick getting his head and hands around as he came out of cuts to catch passes that got on top of him fast. He did not show the explosiveness to run away from defenders, but had deceptive speed once he got to full speed. Most impressive was Harper's soft hands as he made tough catches seem routine. I could not hear him catch the ball as he reached out and plucked it so soft and cleanly.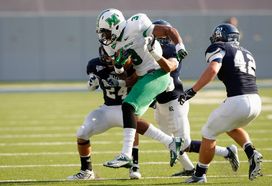 US PRESSWIREMarshall WR Aaron Dobson runs with ball after the catch.
6. Aaron Dobson, WR, Marshall (6025, 203 and 4.55): Although Dobson is a tall, thin-looking receiver "on the hoof" and was upright running routes, he had a good all-around day. Despite his upright route running style, he did a good job of using dip and fake to turn cornerback around to create some separation even though he lacked burst out of his breaks. He consistently reached out and caught the ball away from his body, and was able to make tough catches on off-target passes with surprising ease.
7. Marquise Goodwin, WR, Texas (5087, 179 and 4.35 E): Blessed with world-class explosiveness and speed we were excited by Goodwin's performance today. He no doubt needs to work on the sharpness of his routes, but once he got into cut (Which often took too long as he throttled down to do so), he exploded out of break to create some space. Best of all was Goodwin's ability to reach out and catch the ball cleanly. Overall, Goodwin's good day has us very interested to see how well he does the rest of the week.

Email Russ at Russelllande@yahoo.com and Follow Russ on Twitter @RUSSLANDE