January 23, 2013 -
Erik Oehler
Players who impressed at Wednesday's Senior Bowl Practices.
Today was the final day of padded/meaningful practices at the Senior Bowl. Below is a breakdown of 13 players who finished with a bang.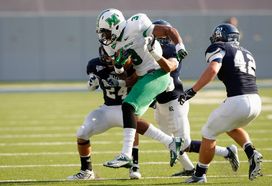 US PRESSWIREMarshall WR Aaron Dobson pulls away from defender to make play after the catch.
1. Aaron Dobson, WR, Marshall (6025, 203 and 4.60): Dobson looked crisp getting in and out of his breaks as he was able to use quickness and head fakes to separate from defenders. Two of his catches today were downfield on double moves and he consistently caught the ball away from his body. He was also a solid, willing blocker on run plays during this morning's practice.
2. Desmond Trufant, CB, Washington (5111, 190 and 4.45): Trufant displayed smooth hips transitioning out of his pedal and was very patient with his technique in man coverage. He showed the ability to click and close in front of him, and when in man coverage downfield was able to quickly locate and make plays on the ball. Yesterday we were impressed with his closing speed and he flashed this again today, as he was able to consistently stay with his man in space.
3. Markus Wheaton, WR, Oregon State (5110, 183 and 4.45): Wheaton had another excellent practice, as he was again smooth while running routes and cutting. We were especially impressed with his ability to adjust to the ball in the air, as he was able to grab multiple balls away from his frame without breaking stride. While he didn't look innately explosive, he looks the part of a polished slot receiver at the next level.
4. Chris Harper, WR, Kansas State (6006, 228 and 4.44): Harper was outstanding today, as he is clearly a polished, big-bodied receiver that has reminded us of Anquan Boldin. Today he did an excellent job of using his hands to combat aggressive CBs and create separation on his breaks. He also displayed outstanding hands and a large catch radius. He consistently showed the ability to adjust to off target throws during todays practice.
5. Jamar Taylor, CB, Boise State (5106, 192 and 4.41): Taylor looked like a quick twitch athlete today as he was able to pedal and change directions quickly in coverage. Most impressive was the athleticism he showed in recovery when he bit on fakes, as he was able to close the gap and put himself back in position to make plays.
6. Steve Beauharnais, LB, Rutgers (6006, 236 and 4.75): In one-on-one drills he showed the ability to flip his hips and consistently stay with RBs in man coverage. He also flashed the ability to get excellent depth in his drops and put himself in position to make plays in zone coverage. He displayed excellent awareness and lateral movement on a play-action rollout to his side, as he immediately snuffed the play out and chased the QB out of bounds. Today he showed very good instincts versus both the run and pass.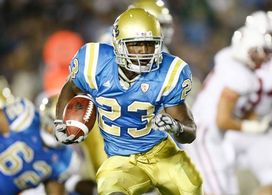 ICONUCLA RB Johnathan Franklin makes play in the open field.
7. Jonathan Franklin, RB, UCLA (5100, 201 and 4.55): Franklin impressed us with his lateral quickness and burst on his cuts today. He ran with excellent pad level and showed the ability to make himself small through tight spaces. He was elusive in space and showed excellent balance with a variety of moves that made it difficult for the first defender to tackle him. While he flashed the speed to bounce plays to the outside he needs to be more patient running inside. He was aggressive in pass protection and was able to consistently anchor at the POA.
8. Sylvester Williams, DT, North Carolina (6026, 213 and 5.00): Williams was impressive during one-on-ones today and during the team period when rushing the passer, as he displayed a quick first step combined with a variety of rips and spins, which allowed him to defeat his man at the LOS. He flashed the agility needed to dip underneath his man, but struggled to shed blockers once tied up.
9. Shawn Williams, SAF, Georgia (5117, 211 and 4.60): Williams showed solid read and react skills today and was aggressive attacking the LOS once he read run plays. He displayed adequate speed covering TEs and receivers during one-on-one drills. He was very physical at the POA and delivered huge hits on Miami RB Mike James and Stanford RB Stepfan Taylor.
10. Vince Williams, LB, Florida State (6004, 247 and 4.90): Williams read his keys well and was quick to diagnose and attack the LOS. He was extremely physical with his hands at the POA, which allowed him to avoid and shed blockers. While he does not appear to be a quick twitch athlete, today he was able to make plays on the boundary because of his instincts. He also was effective picking up TEs in coverage and running with them in space.
11. Quinton Patton, WR, Louisiana Tech (6000, 202 and 4.45): Patton had another outstanding day and is one of the clear stars of the week. Today he again was explosive off the ball into his routes, closed the gap quickly on defenders and consistently ran by CBs in space. He was smooth and fluid running routes and showed the burst needed to gain separation out of his breaks. Despite double catching one or two passes he otherwise once again caught the ball extremely well.
12. Terrance Williams, WR, Baylor (6017, 201 and 4.45): Williams did a nice job of using his hands and foot quickness to defeat press coverage which allowed him to get separation. On downfield routes he demonstrated the closing burst needed to create space late as the ball arrived. He displayed the body control needed to adjust to off target throws as well as turn upfield quickly after the pass.
13. Terron Armstead, OT, Arkansas Pine-Bluff (6050, 304 and 5.10): Armst ead was impressive in Shrine game practices last week and was a late addition to the South roster today. He continued his strong pre-draft performance today; as he displayed light feet during individual drills and looked natural sliding out to the edge in pass protection. His quick first step and fluid footwork allowed him cut off speed rushers, and he was able to lock out with his hands and use his length to protect his frame.
Email Russ at Russelllande@yahoo.com and Follow Russ on Twitter @RUSSLANDE