January 21, 2013 -
Erik Oehler
Players who need to do better the second day at the Senior Bowl.
Players With Up-and-Down Performances Monday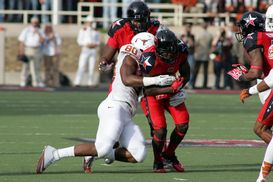 US PRESSWIRETexas DE Alex Okafor makes tackle.
1. Alex Okafor, DE, Texas (6045, 261 and 4.90): Okafor impressed in one-on-ones today with his first step quickness. He won his first rep with an inside countermove and his second with speed on the edge. However, when linemen were able to meet him at the edge they were able to tie him up at the POA and he was easily eliminated. He used his hands well to set up pass rush moves, but struggled to consistently shed blocks.
2. Kyle Long, OT/OG, Oregon (6061, 304 and 5.00): Although Long tended to get upright at the snap; he demonstrated the foot quickness needed to cut off the edge from speed rushers. When he played with good knee bend and leverage, he flashed the ability to anchor and hold the POA. For an offensive lineman, he showed the quicks and speed to easily get to the second level to block LB's.
3. John Jenkins, DT, Georgia (6037, 359 and 5.30): Jenkins was a frustrating player to watch today as he at times showed flashes of greatness, but disappointed too often with his inconsistent play. He clearly has the natural strength needed to hold the POA against multiple blockers and can drive pass blocker with a powerful bull rush. Where he struggled was with his motor, as he did not consistently play with a high level of intensity and was repeatedly prodded by Lions' coaches to finish plays.
Players Who Hurt Their Stock Today
1. Xavier Nixon, OT, Florida (6054, 311 and 5.40): Nixon struggled throughout practice, as he simply did not display the foot quickness needed to play on the edge. His feet audibly sounded heavy during individual drills (The only OL who feet sounded loud) and he often seemed out of breath. He demonstrated limited lateral movement skills and consistently struggled with speed off the edge. He was not able to stay square to his target and got out of control with his upper body movements.
2. Ryan Swope, WR, Texas A&M (6002, 204 and 4.59): Swope had a terrible day catching the ball as he consistently let the ball get into his body, resulting in five drops over the course of practice. He was able to create separation off free releases with his foot quickness, but did not demonstrate the strength needed to beat the jam. Because he is not an explosive athlete with great deep speed, if he continues to struggle catching the ball this week his stock will likely drop considerably.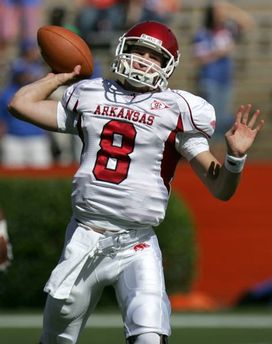 ICONArkansas QB Tyler Wilson about to release the ball.
3. Tyler Wilson, QB, Arkansas (6021, 218 and 4.90): Wilson was for the most part sound fundamentally today, but he sprayed the ball all over the field and did not demonstrate the consistent accuracy expected out of a first round prospect. He overthrew multiple receivers badly on downfield routes and threw a bad interception during team drills when he failed to read the safety dropping down into the box. Day one of the Senior Bowl is always difficult on QBs as they try to gain chemistry with brand new receivers, so scouts will be paying particular attention to how he progresses throughout the week.
4. Robert Lester, SAF, Alabama (6012, 212 and 4.70): Lester looked the part at the weigh-in this morning but was extremely disappointing during practice in the afternoon. He looked stiff and upright in his pedal and consistently lost a step in transition. He showed no discernible burst moving forward on passes in front of him, and consistently gave up easy receptions over the middle. Because of his athletic limitations, teams may consider trying to bulk Lester up and convert him to LB.
5. Ricky Wagner, OT, Wisconsin (6061, 310 and 5.25): Although he is willing to punch his man off the snap, today he at times got overaggressive and lunged at his man, causing him to fall off blocks. He showed poor lateral movement throughout practice and struggled to set his feet and anchor at the POA. Too often he stopped his feet on contact and did not display the foot quickness needed to protect the edge.
6. Aaron Mellette, WR, Elon (6024, 216 and 4.55 E): While there is no doubt about Mellette's size and athleticism, he did not look comfortable today. He lacked suddenness in routes and was more of a smooth route runner, but struggled to consistently get separation. Most disappointing were Mellette's hands. For a receiver who was so dominant at a lower level of football, he consistently allowed the ball to get into his chest and fought the ball before getting it tucked away. Overall, Mellette looked a long way from being able to contribute to an NFL team today.
7. Zac Dysert, QB, Miami-Ohio (6027, 224 and 5.00 E): Of the quarterbacks on the North Squad, it was clear Dysert had the worst day of practice today. His footwork and release were not quick and he struggled to set-up and get rid of the ball fast. Additionally, he struggled with accuracy today and with his slow release, defenders were able to close fast to break-up and/or intercept his passes. Dysert needs to practice much better the next few days to avoid falling way down draft boards.
Email Russ at Russelllande@yahoo.com and Follow Russ on Twitter @RUSSLANDE