December 21, 2011 -
Barry Dorey
Poinsettia Bowl Prospect Preview
ILB Tank Carder: Texas Christian (6-3, 237)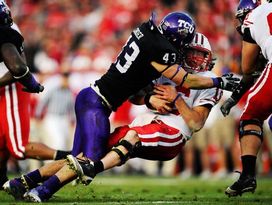 ICONCarder knows how to find the football.
Possesses a solidly built frame with above-average length for the position, but isn't overly compact in the lower half. Is an instinctive linebacker who finds the football quickly, inside will extend his arms to fight off blocks and displays just enough short area quickness to avoid contact and put himself around the action. Plus, he uses his length well to wrap up in tight quarters and overall is a very sound tackler when asked to play in a phone booth. Is at his best keying the inside run game, getting early jumps on the action and playing with some power inside. Isn't an ideal stack and shed guy, can beat opposing blockers to a spot, breakdown and wrap well even through contact. However, struggles to anchor on contact when taking on blocks, has a bit of a burst downhill, and doesn't gain much leverage or display much natural anchor.
Gets exposed in space and really has a tough time re-directing quickly, collecting himself and making plays on the ball carrier. He's a tight-hipped kid who struggles to keep his pad level down when changing directions, doesn't generate much depth at all in his drop and lacks the range to turn and run with receivers down the field. Now, he does have some savvy when trying to get his hands on pass catchers in tighter quarters, but overall he's a guy who will be limited to only playing in a 34 scheme where they can limit the amount of space he'll play in. Looks more like a reserve only.
Impression: Lacks the athleticism needed to play in space and isn't the kind of "plus" power guy to overcome his deficiencies inside. Looks like an overachieving inside guy to me who you can't count on as a starter.
Check out the NFP Draft Page here…
Follow me on twitter: @WesBunting