February 27, 2011 -
National Football Post
Ponder shines, Newton inconsistent
Breaking down the finer points of why Florida State QB Christian Ponder excelled and Auburn QB Cameron Newton struggled.
Christian Ponder, Florida State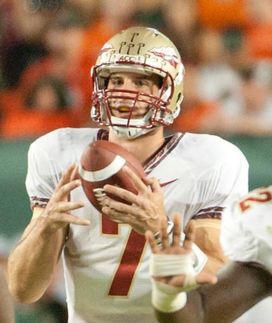 ICONPonder was very accurate all throwing session.
I was looking forward to watching Florida State QB Christian Ponder throw live Sunday at the NFL Combine and he did not fail to impress. Looking through the entire QB group I thought Ponder had the best day of all the signal callers. His arm looked plenty live enough to make all the throws, he was balanced in his drop, got the ball out quickly and was very accurate during the session. He showcased good ball location in the three step game, getting the ball out on time while allowing his receivers to consistently run through the throw. Ponder also showcased plenty of zip on his throws in the five step game and was capable of sticking the dig.
The one area where he did struggle was on bucket throws when trying to toss the nine (fade), but he did a nice job later in the workout on the post-corner, dropping his first pass into the outstretched arms of the receiver. Ponder seems to be getting stronger and stronger the further he gets away from his injury-riddled senior season and with the improvements to his footwork, he's still the guy who I like the most in this quarterback class.
Cameron Newton, Auburn
The one tell on Auburn QB Cameron Newton is watching where his plant leg is located into the throw. In the three and five step game when he has to get the ball out quickly and on time, he's really inconsistent with where that plant leg/foot is pointed. At Lucas Oil Stadium on Sunday, Newton had his plant foot located slightly behind his intended receiver and was often forced to throw slightly across his frame, which is the main reason why passes sailed on him when he was throwing the outs and digs.
When asked to toss bucket throws down the field on the nine route, Newton can get away with being a bit sloppy with his footwork because he has the arm strength to make up for it and there is more room for error. However, watching him try to get the football out accurately and on time in the short/intermediate pass game has been a struggle for him not only Sunday in Indianapolis, but also at his pro day workout and on tape. It's an inconsistency that will need to be corrected or spotty accuracy is a trait that will follow Newton throughout his career.
Follow me on twitter: @WesBunting