September 04, 2012 -
National Football Post
Practice Squad analysis: NFC East
After the final cut down to 53 players, most fans and media outlets only look closely at those who made the final roster. However, "the devil is in the details" as numerous current NFL starters such as Fred Jackson of the Bills, Chris Clemons of the Seahawks and Antonio Garay of the Chargers spent time on the practice squad before developing into the players they are today. So today we take a look at five practice squad players in the NFC East that we believe have the tools to develop.
1. Danny Coale WR Virginia Tech 5117 201 4.43 Dallas Cowboys Practice Squad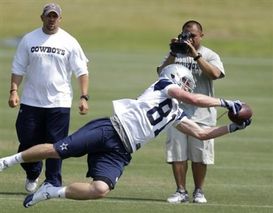 Virginia Tech product Danny Coale will start the season on the Cowboys' practice squad.
While Coale did not perform at the level hoped during training camp, he has the skill set to become a good slot receiver with improvement. His ability to get off the ball quickly and to explode out of his cuts to create separation are traits a slot receiver must have to be successful. He has natural hands to pluck the ball away from his body and the elusive open field running ability to make plays after the catch. In order for him to develop into the player he showed the ability to be in college, he must improve his strength and hand use to fight through a cornerback's jam and must prove he can be a durable player after struggling with the after effects of a broken foot.

2. B.J. Cunningham WR Michigan State 6013 211 4.53 Philadelphia Eagles Practice Squad
Despite being a highly productive college receiver, Cunningham did not make the Dolphins' 53 man roster due to a lack of explosiveness and inconsistent routes, which were concerns when he was drafted. He is never going to be a blazing receiver who runs away from cornerbacks and gets separation on deep routes. However, with good size, excellent playing strength and the strong hands and concentration to make highlight reel catches seem routine there are tools to develop. Cunningham needs to do a much better job of getting off the ball quickly and runs sharper routes in order for him to use his size and ability to catch the ball with a defender in close proximity to contribute in the NFL. He has the potential to be a quality possession receiver who makes big plays in the red zone if he improves in those two areas.
3. David Douglas WR Arizona 6006 205 4.55 New York Giants Practice Squad
For a player who did not get invited to the Combine Douglass flashed real potential throughout training camp with the Giants, but he is not the finished product he needs to be. At over 6-0, he has the size NFL teams look for, is quicker accelerating to full speed than expected and has the hands, body control and coordination to catch any pass he can get his hands on. Holding him back right now are the sharpness of his routes, which hinder his ability to consistently get open, and his lack of speed to threaten deep, which keeps cornerbacks from giving him much of a cushion. It will be hard for Douglass to make an impact with the Giants because they have so much talent at receiver, but receivers with his size, hands and competitiveness to play on special teams usually are able to carve out a role in the NFL.
4. Ronald Leary OG Memphis 6027 315 5.30 Dallas Cowboys Practice Squad
To the surprise of many Leary went undrafted in April due to some concerns about his inconsistent production at Memphis, but still was one of the most sought after free agents after the draft. Unfortunately, the inconsistency that plagued him in college was an issue throughout training camp. There is no doubt in our mind that Leary's combination of excellent natural strength, good flexibility and flashes of violent hand use give him the tools to start in the NFL. However, during his time on the practice squad he must learn to do a better job of bending his knees and playing with leverage to avoid leaning, reaching and over-extending to maintain blocks if he is ever going to make it in the NFL.
5. Matt McCants OT Alabama-Birmingham 6057 308 5.47 New York Giants Practice Squad
Not a polished technician in college, McCants must greatly improve his technique if he is ever going to develop in the NFL. Few offensive tackles enter the NFL with his size, feet and natural flexibility, but he did not play up to his athleticism in training camp. During pre-season games McCants flashed the ability to slide out in time to protect the corner vs. explosive speed rushers, but he did not bend his knees to block with good base and did not get a good "fit" with his hands, which allowed pass rushers to defeat him with secondary pass rush moves too easily. He is no doubt a project because he is so raw technically and needs to improve his playing strength, but with a year on the practice squad we believe he will not only make the Giants 53 man roster in 2013, but will challenge to be the Giants starting left tackle.
Follow me on Twitter: @RUSSLANDE