December 19, 2012 -
Erik Oehler
Practice Squad Players Worth Stealing – Part Three
With only two weeks left in the regular season, this is the time when well-run organizations start putting some backup players on injured reserve in order to create space on the active roster to steal a few practice squad players from other teams. This week I look at offensive players in the NFC that teams should consider signing to their active rosters because they have potential to contribute to their teams in 2013. On measureables listed, they are all verified (As in taken by someone in the NFL) unless they have an "E" next to them, which stands for estimated.
1. B.J. (Byron) Coleman, QB, Tennessee-Chattanooga, Green Bay Packers Practice Squad (6030, 233 and 5.05 E): A strong armed quarterback who was dominant at a lower level of competition, Coleman was the prefect practice squad candidate to try and improve his mechanics/footwork. Now after working on these things since signing with Green Bay after the Draft, it is the perfect time to steal him because of his upside. When Coleman's footwork is right he can make every NFL with excellent zip and touch and has the talent to start in the NFL. Although he began his college career at Tennessee before transferring to Chattanooga, he had not played with the best talent in the world and this year he has had the chance to adjust to the huge jump in the level of competition. I would sign Coleman with an eye towards him continuing to work on his fundamentals throughout the off-season in the hope that he could challenge to win a spot as a backup quarterback on the 53 man roster in 2013.
2. Andrew Datko, OT, Florida State, Green Bay Packers Practice Squad (6060, 315 and 5.26): Datko is a player I have been touting as a "sleeper" type player since the 2012 NFL Draft because he was such a tremendous left tackle at Florida State as a junior before he severely injured a shoulder. Light on his feet, Datko can handle protecting the corner when his shoulder is right as it allows him to use his hands much more aggressively. Although he does not always look pretty, I feel he is an under-rated athlete who can bend knees, blocks with base and stays over his feet well to maintain blocks easily. Not only does Datko have the physical skills to play tackle in the NFL, but his great intensity and competitiveness as a blocker give him the edge over many other linemen. I would definitely sign Datko of the Packers practice squad because if his shoulder is still healthy then he can work and learn my team's offensive scheme all off-season and should be in position to challenge to be a swing tackle in 2013 and potentially a starter down the road.
3. Ronald Leary, OG, Memphis, Dallas Cowboys Practice Squad (6027, 315 and 5.30): Strong and powerful, Leary has the tools to handle the strong defensive tackles in the NFL. Having played offensive tackle nearly his entire college career before switching to guard for the final six games of his senior season, Leary is still learning and adjusting to playing inside. At Memphis when he was beaten it was often because he would get sloppy with his hand placement and not bend his knees to block with leverage. Those issues are even more of a problem playing inside at guard, so he must correct those to develop. Smart and instinctive, Leary has the football intelligence to handle all the protection adjustments which could also lead to him getting an opportunity as a center. I would sign him off the Cowboys practice squad because once he learns the nuances of playing guard he has the talent to start in the NFL.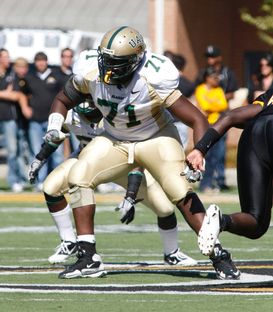 ICONOT Matt McCants pass blocking while playing at Alabama-Birmingham.
4. Matt McCants, OT, Alabama-Birmingham, New York Giants Practice Squad (6057, 308 and 5.47): A top level athlete, McCants needs to greatly improve his technique and awareness to become a starting tackle in the NFL. Blessed with excellent height, long arms (35 3/8) and natural feet, McCants has not trouble sliding out to protect the corner from explosive off the ball speed rushers. Additionally, he looks like a "dancing bear" when he blocks out in space as he can stay over feet and under control while adjusting to make tough blocks. However, his issues stem from pass blocking upright and not always seeing/anticipating things quickly, which leads to him being slow to react and change directions to handle quick secondary pass rush moves. I would sign McCants off the Giants practice squad because tall offensive tackles with good feet and athleticism are extremely hard to find.
5. Dale Moss, WR, South Dakota State, Chicago Bears Practice Squad (6030, 213 and 4.41): Very raw and with little high end experience playing football, Moss is an ideal player to try and steal away from the Bears practice squad. After playing basketball in college, Moss used his final season of eligibility to play football at South Dakota State and flashed the big play ability that excites NFL teams. With surprisingly soft hands and good body control, Moss can make tough catches seem routine. He is however raw when it comes to route running and the fundamentals of playing receiver. I would sign Moss from the Bears practice squad because if he has developed this season then with a full off-season working with my team he would have a chance to make the active roster.
Email Russ at Russelllande@yahoo.com and Follow Russ on Twitter @RUSSLANDE