December 12, 2012 -
National Football Post
Practice Squad Players Worth Stealing – Part Two
As we enter the final month of the season, this is the time when well-run organizations start putting some backup players on injured reserve in order to create space on the active roster to steal a few practice squad players from other teams. This week I look at defensive players in the AFC that teams should consider signing to their active rosters because they have potential to contribute to their team in 2013. On measureables listed, they are all verified (As in taken by someone in the NFL) unless they have an "E" next to them, which stands for estimated.
1. Sean Cattouse, SAF, California, Chargers Practice Squad, (6021, 211 and 4.71): Despite producing at a high level at California, Cattouse slipped through the 2012 NFL Draft undrafted because he lacks the timed speed to overcome concerns about his ability to be effective in deep coverage in the NFL. A physical, instinctive and aggressive safety, those traits helped him to play quicker and faster than his timed speed. Consistently aggressive coming up in run support, Cattouse does an excellent job of making strong and physical tackles with good technique. While I am never going to ask Cattouse to cover slot receivers on a regular basis, he has better quickness and athleticism that he gets credit for. I believe he has the athleticism to be productive playing in deep coverage in the NFL. I would sign Cattouse from the Chargers' practice squad because he would make an immediate impact on special teams and I believe would challenge for playing time at safety in 2013.
2. Donnie Fletcher, CB, Boston College, Jets Practice Squad (6004, 199 and 4.52): Despite a strong college career, Fletcher's lack of blazing speed kept him from being drafted, but I believe he has the tools to develop into more than just a backup. After displaying smooth athleticism, coverage and ball skills at Boston College, Fletcher shined throughout the week of practice at the Senior Bowl in January 2012. Tall and linear, Fletcher moves surprisingly well when playing off the receiver in "off" and "zone" coverages. He does an excellent job of reading the quarterback/pass and closes quicker than expected to either make play on ball or tackle after the catch. While his lack of top speed hinders him against the fastest receivers, he uses good technique, length and ball skills to cover most receivers well on deep routes. I would definitely sign Fletcher with an eye towards him continuing to develop as a cornerback in 2013 while he excels on special teams.
3. Adrian Hamilton, OLB, Prairie View A&M, Baltimore Ravens Practice Squad (603 E 251 E 4.75 E): A dominant small school player, Hamilton impressed me greatly at the HBCU All Star Game with his athleticism, competitiveness and pass rush skills. Naturally instinctive, Hamilton is quick to find and get started towards the ball and has good playing speed to chase down plays all over the field. Having primarily rushed the passer in college, Hamilton is learning the intricacies of playing off the ball as a linebacker. While he may not fit what teams that play 43 defenses look for due to his lack of experience playing off the line, he is an excellent developmental prospect for a team that plays a 34 defense. If I were running a team that ran a 34 defense I would definitely sign Hamilton off the Ravens' practice squad because of his potential as a pass rushing outside linebacker. His competitiveness, aggressiveness, athleticism and willingness to hit would enable him to earn his keep on special teams while he continues developing as a linebacker.
4. Shawn Loiseau, ILB, Merrimack, Indianapolis Colts Practice Squad (6000 E 239 E 4.70 E): Lacking ideal height and playing at a small school worked against Loiseau, but his outstanding production at Merrimack and a strong week at the East West Shrine Game assured him of getting an opportunity in the NFL. Blessed with great instincts, Loiseau was consistently fast reading and reacting to the play and was constantly around the ball making tackles. While his height may not be ideal, at nearly 240 pounds he is well built and has the strength to take on blockers strong at the point of attack, can shed and make tackles with surprising ease. In addition to his physical tools, Loiseau's aggressive playing style and willingness to do whatever it takes to get to the ball carrier enables him to constantly make big plays in key situations. I would sign Loiseau of the Colts practice squad with the expectation that he would be my number three inside linebacker in 2013 and eventually challenge to become a starter.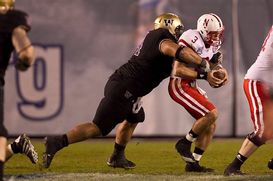 ICONNose Tackle Alameda Taamu makes tackle against Nebraska.
5. Alameda Ta'amu, NT, Washington, Pittsburgh Steelers Practice Squad (6024 348 5.35): The best nose tackle I evaluated leading up to the 2012 NFL Draft, Ta'amu slipped to the fourth round due to questions about maturity and consistency on the field. He then proved those concerns legitimate when he was arrested during his rookie season with Steelers. He is a massive man who is surprisingly quick footed and nimble for such a big man. At Washington he displayed the ability to physically control offensive linemen, made it look easy anchoring vs. double team run blocks and consistently shut down the opponent's inside rushing attack. If he can take care of his off-field issues, Ta'amu has the talent to be a high level starting nose tackle in the NFL. I would definitely sign Ta'amu off the Steelers' practice squad even with the off-field questions because nose tackles with potential to develop in an All Pro are extremely hard to find.
Email Russ at Russelllande@yahoo.com and Follow Russ on Twitter @RUSSLANDE