December 05, 2012 -
National Football Post
Practice Squad players worth stealing
As we enter the final month of the season, this is the time when well-run organizations start putting some backup players on injured reserve in order to create space on the active roster to steal a few practice squad players from other teams. For the next four weeks I will break down five players per week that I believe teams should try and steal from other team's practice squads. This week I look at offensive players in the AFC. On measureables listed, they are all verified (As in taken by someone in the NFL) unless they have an "E" next to them, which stands for estimated.
1. Charley Bryant OG / OT Memphis 6060 E 320 E 5.25 E San Diego Chargers Practice Squad
After making the switch from offensive line to defensive line (Nose Tackle) as freshmen at Memphis, Bryant did not produce at a high enough level to be drafted. He was however signed as a free agent and eventually was moved back to the offensive line by the Chargers. While he is never going win any foot races, Bryant has good height, long arms and the strength to anchor at the point of attack. Finding big men who compete hard every snap and have the size and strength to handle NFL defensive tackles is not easy, which is another positive in Bryant's favor. Far from a finished product now, Bryant would be a good player to sign to an active roster for the remainder of the 2012 season because with an entire off-season spent working at offensive line to improve his technique he would have a good chance to stick as a backup guard / tackle for the 2013 season with the potential to develop further down the road.
2. Justin Cheadle OG California 6024 290 E 5.20 E Pittsburgh Steelers Practice Squad
After starting at guard his final three seasons at California, Cheadle went undrafted due to concerns about his size and strength as he played at approx. 282 pounds in college. He is however a good athlete with very quick feet, good agility and balance, which enables him to slide and shuffle well to adjust well in pass protection. Possessing the athleticism to get out in space and block effectively, Cheadle can fit in any blocking scheme as long as he adds weight to improve his playing strength. Cheadle's ability to eventually bulk up to 300 pounds and improve his playing strength will likely be the deciding factor in whether he becomes a starting lineman during his career. He would be an excellent player to sign for the final month of the season because if he is able to continue to add weight and get close to 300 pounds this off-season then I expect him to not only make a 53 man roster, but to challenge for a starting job next season.
3. Antoine McClain OG Clemson 6054 329 5.48 Baltimore Ravens Practice Squad
An immensely talented guard, McClain struggled greatly with consistency at Clemson and that is the big issue he is trying to correct with his time on the Ravens practice squad. Thickly built from top to bottom, he has the strength to get movement on in-line run blocks and to anchor vs. power rushers. Although he lacks good playing speed to get out in front when pulling and lead blocking on the edge, he is a smooth athlete with deceptive short area quickness. This enables him to get through the line of scrimmage to the second level to seal block defenders out of the play well when he stays over his feet and does not bend at the waist. The big issue is that for all of McClain's talent, way too often he plays straight legged and ends up bending at the waist and leaning/reaching to make blocks, which causes him to fall off blocks and end up on the ground way too often. McClain would be an excellent player to steal for the last month of the season because he has been working all year on his technique and if he has made strides he has the potential to become a quality starting guard in time.

4. Quentin Saulsberry C Mississippi State 6023 304 5.35 Denver Broncos Practice Squad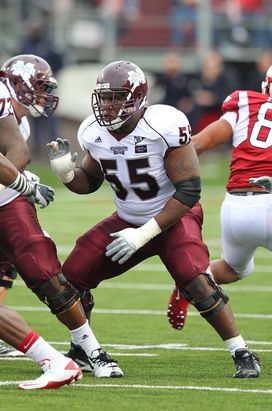 US PRESSWIREMississippi State center Quentin Saulsberry pass blocking.

Highly productive during his career in the SEC, Saulsberry is the classic player who is a better player than he looks like he should be. Short and stocky, he does not have the long arms to jolt and lockout defensive tackles. He does however, have the flexibility to block with base/leverage and the playing strength to anchor vs. pass rushers and to get movement on side/angle in-line run blocks. He is not a super quick athlete, but is a smooth athlete who moves easily within a small area, which allows him to block effectively on the second level. Very smart and versatile, Saulsberry started at tackle, guard and center throughout his college career, so he brings great versatility to the NFL. Saulsberry would be an excellent addition for the final month of the season because he of his versatility as a backup center and guard. Saulsberry fits excellently as a backup to begin with and could eventually become a starting center.
5. Brad Smelley FB/H-Back Alabama 6020 E 235 E 4.75 E Cleveland Browns Practice Squad
An integral part of Alabama's offense his senior season, Smelley has yet to find a home as he is somewhat of a "tweener" between tight end, h-back and fullback. At Alabama he contributed primarily catching passes from a variety of alignments, but was not an effective blocker. If he is going to play fullback in the NFL, he will need to improve his blocking greatly. I believe that Smelley would be an excellent player to sign by a team with a creative offensive coordinator who knows how to use players to their strengths to create miss-matches as Smelley could develop into a versatile, puzzle piece type of receiving weapon if used to his strengths as a receiver.
Email Russ at Russelllande@yahoo.com and Follow Russ on Twitter @RUSSLANDE