February 21, 2012 -
National Football Post
Pre Combine: Prospect Rankings Part II
Ranking the prospects from 16- 30…
16. OT Mike Adams: Ohio State (6-8, 320)
He's a talented kid with a big frame, long arms and natural movement skills. He can bend and if he can put it all together and continue to improve his footwork he could certainly mature into a starting caliber left tackle in the NFL.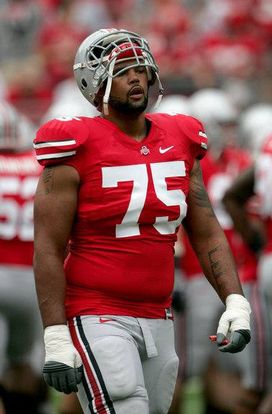 ICONAdams has the ideal physical and athletic make-up to play on either the right or left side in the NFL.
17. CB Janoris Jenkins: North Alabama (5-10, 182)
If he can put it all together off the field, he's got the ability to develop into a very good cover man in the NFL and despite his size he's going to be a really tough guy to separate from in just about any scheme he plays in.
18. ILB Luke Kuechly: Boston College (6-3, 237)
He's not the biggest, strongest or fastest of athletes. But he's instinctive, plays faster than he times, finds the football in all areas of the game and can really tackle. He's going to be a bit limited in coverage, but he's instinctive enough to play on third down in zone and should end up being one of the NFL's top tackling linebackers for years to come.
19. OLB Melvin Ingram: South Carolina (6-2, 276)
He is an impressive pass rusher who can get after the QB in a number of ways. Ingram is raw with his technique and can get better, but his suddenness, length and natural feel for the game makes me think he's one of the draft best senior pass rushers.
20. SS Mark Barron: Alabama (6-2, 218)
Has the makings of a heck of a special teams player who can also attack downhill vs. the run game, play inside the box and drive on the football in front of him in the pass game. Isn't going to be a major threat turning and tracking the football, but his improved instincts makes me think he can start in the league early on.
21. TE Coby Fleener: Stanford (6-6, 244)
An impressive pass catcher who can win both down the field and underneath vs. man coverage. Has the frame and flexibility to develop into a solid blocker as well and looks like a future starting caliber NFL TE.
22. WR Michael Floyd: Notre Dame (6-3, 224)
Didn't seem quite as dynamic as a receiver when he bulked up in 2010. However, has looked sudden, explosive and showcased the ability to separate quickly and create after the catch as a senior. Is one of the draft's top receiving prospects.
23. OC Peter Konz: Wisconsin (6-5, 315)
For a taller center showcases impressive flexibility, as he typically gains leverage on contact and uses his length to gain proper hand placement. Has some limitations because of his height and will allow defenders to get under him at times. However, for the most part is able to quickly re-set his hands, sink his hips and keep the inside of the pocket clean in pass protection. Showcases an good snap through the hips in the run game, is routinely able to create a push inside and drive opposing nose tackles away from the play and/or seal. Looks like a "plus" run blocker in the NFL in more of an angle scheme.
For the rest of the list click to page two...