February 20, 2012 -
National Football Post
Pre Combine: Top 15 prospect rankings
Ranking the NFP's top 15 prospects…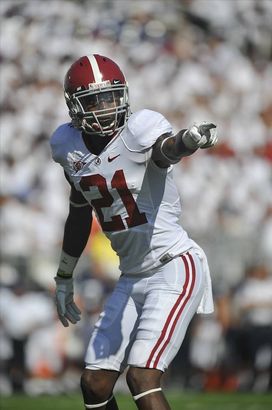 ICONKirkpatrick has the size to handle the bigger receivers in the NFL.
15. CB Dre Kirkpatrick: Alabama (6-3, 192)
Will be an ideal zone corner at the next level because of his size, instincts and physicality. However, he can also press off the line and consistently re-route receivers. Isn't a dynamic quick-twitch athlete, but showcases good balance, can keep his feet under him and looks like a "plus" caliber starting cornerback in the NFL. Reminds me some of Chargers cornerback Quinton Jammer physically.
14. DT Alameda Ta'amu: Washington (6-3, 337)
This is the kind of guy who has the ability to anchor the middle of an NFL defense in either a 3-4 or 4-3 front. Needs to do a better job finding the football, but overall he looks like a starter who you eventually will be able to win with in the NFL.
13. TE Orson Charles: Georgia (6-3, 241)
A gifted athlete who can create a lot of mismatches in the pass game. Should be able to improve as a route runner as well. Not quite as polished as Aaron Hernandez as an H-back coming out, but could end up playing a similar type role.
12. WR Kendall Wright: Baylor (5-10, 190)
In the same mold as a number of Pittsburgh Steelers receivers (Mike Wallace, Emmanuel Sanders) and can be effective both inside and out making plays down the field at the next level.
11. DT Devon Still: Penn State (6-5, 310)
He really put it all together as a senior. If you can keep him motivated has the talent to mature into a very good starting caliber lineman at a number of spots in both a 34 and 43 front in the NFL.
10. DE Quinton Coples: North Carolina (6-6, 285)
Can be as good as he wants to be in the NFL. The game comes very easy to him and he can be dominant if he learns to use his arms even better to slip blocks in the pass game, but with more time I expect that to improve. The sky is the limit as long as he's willing to work at his trade and keep his motor running.
9. OG Cordy Glenn: Georgia (6-5, 348)
Had had some struggles in space as a tackle prospect, but in tighter areas where he can get his hands on linemen quickly as a guard he showcases the ability to dominate. Looks like a starting caliber OG early in his NFL career.
For the rest of the list click to page two...