January 28, 2013 -
Erik Oehler
Preview of Texas versus Nation Game Practices.
With the Super Bowl just a week away nearly the entire football world is focused on it, but many NFL personnel will be spending this week in Allen, Texas watching prospects practice at the Texas versus the Nation All Star game. While this game does not have the elite prospects that the Senior Bowl had last week, there are many interesting prospects. This game provides a great opportunity for many small school players to prove their skills to NFL evaluators. Below we give a short synopsis of six players NFL teams are interest to watch this week in alphabetical order.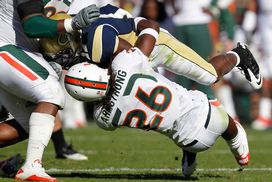 US PRESSWIREFormer Miami safety Ray Ray Armstrong makes tackle.
1. Ray Ray Armstrong, SAF, Former Miami (6027, 222 and 4.75 E): Muscular and well built, Armstrong looked like a future high draft pick with his early play at Miami. However, that was the best football he played in college as he struggled with consistency and then was dismissed from Miami for reported contact with a booster. Quick up the field in run support, Armstrong can avoid blockers and has an explosive closing burst to make violent hits, but he struggled to consistently wrap-up his tackles. His desire to make big hits/plays often led to mistakes as he would leave his responsibility/assignment attacking the play and would get caught out of position and lacked the speed to recover and get back into position. Armstrong needs a big week to convince teams that he is worth risking a draft pick on.
2. MarQueis Gray, TE/WR, Minnesota (6030, 245 and 4.65 E): An elite athlete who does not possess the passing ability to continue playing quarterback in the NFL, this week gives Gray a chance to prove why he could be a better pass catcher in NFL than fellow Big Ten QB Denard Robinson. After playing quarterback most of his college career, Gray moved to receiver for some games in 2012 and really showed the hands, speed and toughness to warrant the time to develop. Not only is this a big week for Gray to prove his receiving skills, but also for NFL teams to determine if he fits best as a big receiver or move tight end like Aaron Hernandez.
3. Oscar Johnson, OG, Louisiana Tech (6054, 354 and 5.40 E): After two of Johnson's college teammates, receiver Quinton Patton and offensive tackle Jordan Mills, had strong weeks at the Senior Bowl, now he gets the chance to prove his wears. A massive man with the playing strength to dominate at the point of attack, Johnson makes it look easy stopping bull rushers in their tracks and driving defensive linemen off the ball on in-line run blocks. NFL teams want to get a feel for Johnson's feet and athleticism to determine if he has the tools to develop into a starting guard because powerful and aggressive blockers are difficult to find. From what we have seen on film, we expect Johnson to dominate this week and be one of the start linemen down here in Allen.
4. David King, DE, Oklahoma (6044 E, 270 E and 4.95 E): One of the more frustrating defensive linemen I have evaluated this season, King needs to step things up this week. A strong defensive end, King's lack of explosiveness off the ball hinders his edge pass rush ability and has him labeled as a "tweener." A smooth athlete with good body control, King needs to prove this week that he has the quickness and burst to consistently pressure the quarterback off the edge. In addition, he can really help his draft value if he proves he can play effectively off the ball as some teams think he would be best suited as an outside linebacker in a 34 scheme.
5. Uzoma Nawchukwu, WR, Texas A&M (6000 E, 195 E and 4.50 E): While fellow A&M receiver Ryan Swope received nearly all the national attention, Nawchukwu has a number of NFL people believing in him. Blessed with good height, long arms and excellent hand-use, his ability to defeat jam and release into route enables him to consistently get separation. Additionally, his deceptive foot quickness and sharp/precise routes allow him to create space vs man coverage. Most concerning is that for a player who displayed excellent hands throughout 2012, Nawchukwu struggled with drops in previous seasons so NFL people want to get an up close and personal look at his hands and catching technique. A good week in Allen could help Uzoma move into the mid-rounds of the Draft.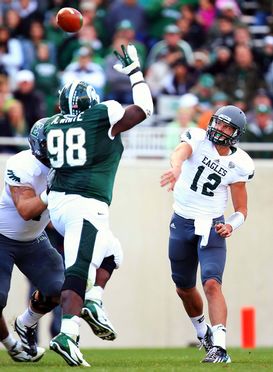 US PRESSWIREMichigan State nose tackle Anthony White gets hand up to try and tip pass.
6. Anthony White, NT, Michigan State (6020 E, 325 E and 5.30 E): As more NFL teams make the switch to playing 34 defenses, nose tackles have become more valuable which is why teams will be spending extra time focusing on White this week. While not the massive 350+ pounder that often is considered for the nose position, White has excellent playing strength, plays with base/leverage and uses hands well to "get a good fit" versus blocker. Consistently able to anchor vs double team run blocks and defeat one on one run blocks to make tackles on inside runs, White does the dirty work required of two gap defensive linemen. Surprisingly nimble with good balance, White consistently keeps his feet and makes more tackles than expected. A strong week in Texas could put White in position to be a fourth or fifth round pick as either a nose tackle in a 34 scheme, defensive end in a 34 scheme and as a two gap defensive tackle in a 43 scheme.

Email Russ at Russelllande@yahoo.com and Follow Russ on Twitter @RUSSLANDE