January 26, 2013 -
Erik Oehler
Preview of the actual Senior Bowl Game – Defense
With all the important practices at the Senior Bowl complete, now it's time for the actual game. There has been much written about the players who helped and hurt their draft stock during practice this week, but the game takes places on Saturday, so players have one final chance to impress NFL evaluators. In addition, most rookie defenders need to shine on special teams in order to make it in the NFL, so these players can make a big impact by making big plays on special teams today. Below is a short look at some players that I will be watching closely on Saturday.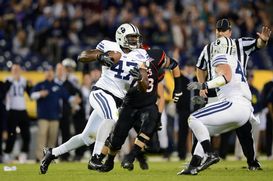 US PRESSWIREBYU's Ezekiel Ansah runs with the ball after making an interception.
Defensive ends Ezekiel Ansah, Margus Hunt, Michael Buchanan and Datone Jones need to play well for a variety of reasons. Nearly every practice Ansah flashed rare initial quickness along with the speed to get the corner and the power to be an excellent "bull rusher," but he did not do it consistently. Too often he did not use his hands well once the pass blocker got ahold of him and ended up a non-factor. There is little doubt that he will be a first round pick based on his raw physical talent, but he needs a big game to warrant being a high first rounder.
Similar to Ansah, both Margus Hunt and Michael Buchanan are gifted athletes who flashed during practice, but neither one flashed the elite explosiveness and pass rush ability that Ansah displayed. Hunt did not show explosiveness off the ball and often looked mechanical and robotic rushing the passer. His tendency to play upright/high without leverage allowed run blockers to seal him to the side of the play.
Buchanan, on the other hand, is thin framed and played high too often, which hindered his ability to get a push as a power rusher and to hold ground versus run blocks. For Hunt and Buchanan who have first round physical talent, their on field play during 2012 and at the senior Bowl is more of a third or fourth round pick, so they to step up today to prove they can play up to their physical talent.
UCLA's Datone Jones came to Mobile viewed as a gifted defensive lineman who was a "tweener" between defensive end and tackle and a likely third round pick. However, after a week of practice where he looked like a first round pick with his display of the initial quickness, speed and edge pass rush ability that teams questioned he needs a big game to finish his great week on a strong note. While this one week will not be enough for Jones make the jump all the way to the first round, if he has a big game and then impresses throughout the rest of the spring he could secure a spot in the second round at worst.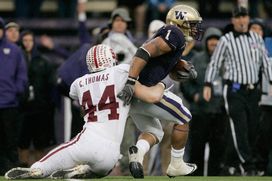 US PRESSWIREStanford linebacker Chase Thomas makes a tackle against Washington.
While most of the linebackers did not grab our attention, positively or negatively, this week, a few, like Stanford's Chase Thomas and Alabama's Nico Johnson raised some concerns. Thomas primarily played outside linebacker in Stanford's 34 defense, but in Mobile he looked out of place playing in a 43 scheme. He did not look smooth or fluid dropping in coverage and lacked the speed to be productive in that role in the NFL. If Thomas is going to avoid being dubbed a 34 only linebacker, he needs to play well in the game to get teams that play 43 schemes to take a closer look at him.
Johnson did not really disappoint, but rather struggled in coverage similar to how he did at Alabama, which has many NFL teams believing he is a two down linebacker who will need to come off the field in obvious passing situations. An instinctive linebacker who is effective against the run, throughout the week in Mobile he did not read and react quickly in coverage and lacked the closing burst to make plays on the ball. If Johnson does not show in today's game that he can be effective in coverage he will confirm team's views of him and will likely be drafted later than expected.
Three cornerbacks who shined this week, Washington's Desmond Trufant, San Diego State's Leon McFadden and Boise State's Jamar Taylor, need to continue their good play today to put a stamp on a strong week. After an up and down senior season Trufant came to Mobile viewed as primarily a nickel cornerback who would likely be a third round pick. However, from day one in Mobile Trufant played excellent football and showed he has the strength and willingness to play physical necessary to be effective playing against big receivers. Numerous NFL scouts said that he played like a first round pick in practice and that if he played at this level for the rest of the spring he could really move up draft boards.
Both McFadden and Taylor proved this week that they both have the quick and compact backpedal and can transition and close fast on passes and have the ball skills to break up passes. However, there are still questions about both players playing speed, so they need to show in the game that they can stay with receivers on deep routes to convince teams that they have the entire package to potentially start at cornerback in the NFL.
I am very interested to watch two safeties in today's game, although for different reasons. Robert Lester started on Alabama's national championship team, but struggled throughout the week in Mobile. He played high and with a choppy backpedal, which hindered his ability to change directions quickly. Struggling in pass coverage all week definitely raised concerns that Lester will not be more than a backup safety in the NFL. So he needs to prove in today's game that he can be productive in coverage to avoid sliding into the later rounds of the Draft.
On the other hand is Florida International safety Jonathan Cyprien who had an excellent week of practice proving he has the athleticism to play with the big boys. Muscular and very well built, Cyprien's athleticism and speed playing in coverage really impressed NFL teams. He showed the speed to have excellent range vs the run and in coverage and the body control and athleticism to square up and make good, form hit while making wrap-up tackle despite being at nearly full speed.
Email Russ at Russelllande@yahoo.com and Follow Russ on Twitter @RUSSLANDE