March 20, 2013 -
Erik Oehler
Pro Day Preview for March 21st & 22nd
While the evaluation of game film is still bar far and away the most important aspect of scouting, NFL teams send coaches and scouts across the country to work-out prospects to fill in the last piece of the scouting puzzle. Today we will break down the Pro Days for Thursday and Friday this week, which include Sharrif Floyd's workout on Friday the 22nd.
1. March 21, Georgia: DE/OLB Jarvis Jones, NT's John Jenkins and Kwame Geathers.
After choosing not to workout at the Combine, Jarvis Jones needs to have a strong workout to keep place with all the other elite prospects that have shined so far this spring. Putting aside the medical questions surrounding Jones neck, which I cannot fairly comment on as I am not a doctor, he needs to prove that he has the explosiveness off the ball to threaten the corner as a pass rusher as he is under-sized. Additionally, for teams that play 34 defenses, he needs to show that he can bend his knees, drop in coverage and change directions smoothly and fast in order to overcome concerns about his being a bit of an upright and mechanical player when he is not going forward. Lastly, for a player that a number of scouts have told us is a "when he wants to" type player, Jones needs to maintain his focus and competitiveness throughout what will assuredly be a grueling and demanding workout.
In today's NFL where nearly half the teams play 34 defenses, the search to find a quality nose tackle never stops and both Jenkins and Geathers are viewed as players with the talent to be one. Jenkins came into the 2012 season expected to be a dominant player, but he had an up and down season and combined with an inconsistent performance at the Senior Bowl, he has a lot to prove. He must show teams that he has kept himself in good shape since the season ended, can maintain bend and base throughout workout and can handle a very physically demanding workout if he wants to be selected in the first two rounds of the Draft.
Although Geathers did not come into the season with as much hype as Jenkins, he was a more consistent player in 2012. A massive man, he has the size, long arms and strength to physically dominate blockers at the POA. Uncommon for such a big man is his consistently good competitiveness, which bodes well for his future in the NFL. However, for Geathers to force his way into the top 60 picks he needs to prove that a man his size can actually sink his hips to play with leverage as that is vital to success as a nose tackle. If he struggles doing so in the workout, some teams may view him more as a 34 defensive end than a nose tackle.
2. March 21, Kentucky: OG Larry Warford:
Although considered by most to clearly be the third guard in the Draft with little chance of catching J. Cooper or C. Warmack, Warford is a very good guard who we believe could make things interesting with a strong workout. After an outstanding week at the Senior Bowl where he showed the strength to stop big men, like Georgia's John Jenkins, in their tracks and the foot quickness and body control to get out and block effectively out in space, Warford is a sure fire starting guard at the next level. NFL teams want to get a better feel for his overall athleticism to feel comfortable considering him in the top 50 picks, so he needs a strong workout.
3. March 21, Miami-Ohio: QB Zac Dysert:
After really struggling at the Senior Bowl, Dysert has been fighting an uphill battle to put himself in consideration to be drafted on day two of the Draft. A well-built quarterback with under-rated arm strength, Dysert needs to prove to NFL teams that not only does he have the arm to make every throw necessary at the next level, but also that he can be an accurate passer. The frustration with Dysert is that despite his clear physical talent, he goes through stretches where his accuracy is too inconsistent and this has to be corrected for him to be a productive NFL quarterback.
ER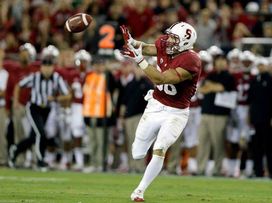 Stanford TE Zach Ertz reaches out to catch a pass.
4. March 21, Stanford: TE Zach Ertz, RB Stepfan Taylor and OLB Chase Thomas:
In what has surprisingly become a three man battle with Tyler Eifert and Gavin Escobar to be the first tight end drafted, Zach Ertz needs a big day to try and claim the top spot. A tall and solidly built tight end with excellent hands and smooth athleticism, Ertz is not viewed as an explosive, game changing player. For NFL teams to feel more comfortable that he can get down the seam to stretch the defense and can line up effectively split out in the slot, Ertz needs to show the quick burst of acceleration and top end speed to convince teams he can be an impact receiving tight end.
Not as highly regarded as Eddie Lacy or Giovani Bernard by most teams, Taylor is one of our favorite running backs who has the size and strength to run through tackle attempts to gain yards after contact and the deceptive agility to make slight cuts to get into and thru the hole faster than expected. For him to assure himself of being a second or third round pick, he not only needs to show explosiveness and speed in his workout, but he needs to catch the ball cleanly to show teams he can contribute in their passing games as well.
Outside linebacker Chase Thomas is a unique player because for teams that play 43 defenses he really has no role as he lacks the explosiveness off the ball and size to play as a defensive end and is not athletic enough to make the transition to a linebacker position. However, as a 34 outside linebacker, I feel he is an under-rated prospect with the tools to not only start in the NFL, but to be a highly productive pass rusher and run defender. Thomas needs to show teams that he has the quickness and pass rush skills to be effective off the edge and that he can drop into coverage smoothly enough to not be a coverage liability.
5. March 22, Sharrif Floyd, DT, Florida:
Clearly the biggest name player working out this week, Floyd is in a position to secure a top ten spot with a strong workout. Although he tweaked his ankle during his combine workout, before doing so his workout was excellent, so teams do not question his athleticism. However, viewed as an athletic defensive tackle who strength is shooting gaps and disrupting plays, NFL teams want to get a feel for his innate strength during this workout so they can determine if he can be an effective two-gap defensive tackle in the NFL. This is even more of a concern after his arms measured under 32 inches at the Combine as many NFL teams feel that in order to be effective as a two-gapper you must have long arms to take on, lock-out, anchor and shed OL blocks.
Email Russ at Russelllande@yahoo.com and Follow Russ on Twitter @RUSSLANDE