March 25, 2013 -
Erik Oehler
Pro Day Preview for March 25th & 26th
While the evaluation of game film is still bar far and away the most important aspect of scouting, NFL teams send coaches and scouts across the country to work-out prospects to fill in the last piece of the scouting puzzle. Today we look at Duke, Louisiana Tech, North Carolina and Notre Dame. On Tuesday, we will break down the Pro Days for the Texas, Kawann Short, LSU, USC and South Carolina.
1. March 25, Duke: QB Sean Renfree: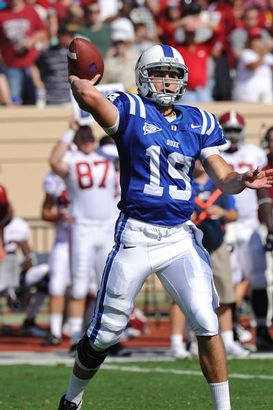 ICONDuke QB Sean Renfree eyes field as he is about to release ball.
After suffering a torn right pectoral in Duke season finale on December 27th, it is unknown as of this writing if Renfree will be able to throw at Duke's Pro Day this week, but if he does, here is what NFL teams will be keeping an eye on. Nearly all the quarterback talk seems to center around Geno Smith, Matt Barkley and Ryan Nassib, but NFL sources have told me that quarterback coaches are intrigued by Renfree. Although his lack of ideal arm strength on film is an issue, coaches love his quick/compact release, good footwork and excellent short/intermediate access. A smart young man who identifies the defense well pre-snap and makes proper adjustments, he gets rid of the ball quickly and makes accurate throws. NFL teams want to figure out his current arm strength when he throws at his pro day and if they feel he needs to improve it, decide if he has the frame to eventually do so.
2. March 26, Louisiana Tech: WR Quinton Patton and OT Jordan Mills:
When Quinton Patton had an excellent week of practice at the Senior Bowl everyone we spoke to in the NFL felt he was a sure first round pick. While he has not been receiving a ton of publicity since, NFL teams are still high on him and if he shines at his Pro Day he could cement a spot in round one. With good size at 6'0, top end playing speed and the hands to make tough catches seem routine, Patton looks like the complete package on film. He needs to display the explosiveness and hands at his Pro Day that he showed on film as he did not do so at the Combine, if he wants to assure himself of being a first round draft pick.
3. March 26, North Carolina: RB Giovani Bernard, OG Jonathan Cooper and DT Sylvester Williams:
Alabama running back Eddie Lacy is still waiting to get healthy to work out, so Giovani Bernard gets the chance to make his statement to be the first back drafted. After missing the 2010 season due to a knee injury, he has shown toughness and durability staying in the lineup throughout two highly productive seasons. An instinctive runner with outstanding cutting ability and burst, Bernard can get through the hole fast and is a stronger inside runner than he gets credit for. When he gets the ball in the open field he is a game changer with legit big play ability. While Lacy will still get his chance to lay claim to the top spot, if Bernard has a great workout he could make things interesting.
Although no one we have spoken to believes that Cooper can surpass Warmack to be the first guard selected, he still needs a strong workout to try and lockup a spot as the second guard taken in the first round. NFL teams love Cooper's athleticism as few guards have the quickness to get through to the second level fast and to get to shaded DL to make reach block. However, he needs to prove he has the aggressiveness and strength to control the big, powerful NFL DT's.
Since the Combine Sharrif Floyd has been anointed the best DT and likely top five pick by the media, but NFL teams have told us that while they like Floyd, Sylvester Williams, Star Lotulelei and Sheldon Richardson are outstanding players and still in the mix to be the first DT selected. Williams has the rare combination of explosive initial quickness, elite playing strength, top athleticism and competitiveness to warrant being a top ten pick. If Williams has an outstanding workout he could make a real move to challenge Floyd and be the first DT selected in the 2013 Draft.
4. March 26, Notre Dame: TE Tyler Eifert and MLB Manti Te'o: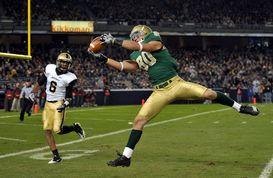 US PRESSWIRENotre Dame TE Tyler Eifert reaches out and makes a tough catch.
Over the last ten years tight ends have become a focal point of successful passing attacks and Eifert has the tools to be the next one. Quick accelerating to full speed, able to get in and out of his cuts quickly and possessing the hands to make great catches seem routine, Eifert looks ready to make an immediate impact in the NFL. However, as he is in a battle with Zach Ertz and Gavin Escobar, Eifert needs a strong all-around performance to lockup the spot as the top tight end in the Draft and a first round pick.
Obviously, there may not be a player who has received more negative publicity in 2013, so Te'o definitely needs to step up and have a good workout to assure him a spot in the first round. At the Combine Te'o did not run well at all, but according to sources inside the dome, his positional workout was strong and his interviews were outstanding, so he did not hurt his draft stock in Indianapolis. However, without a strong workout in front of many NFL personnel, his speed will still be a concern and could keep a team from taking a gamble on him in the first round, so he needs a strong workout.
Email Russ at Russelllande@yahoo.com and Follow Russ on Twitter @RUSSLANDE