March 26, 2013 -
Erik Oehler
Pro Day Preview for March 27th – 29th
While the evaluation of game film is still bar far and away the most important aspect of scouting, NFL teams send coaches and scouts across the country to work-out prospects to fill in the last piece of the scouting puzzle. Today we look at the Pro Days for the Texas, Kawann Short, LSU, USC and South Carolina.
1. March 26, Texas: DE Alex Okafor and SAF Kenny Vaccaro: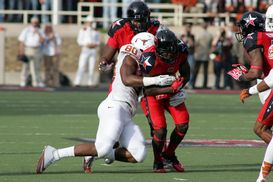 US PRESSWIRETexas' Alex Okafor makes tackle against Texas Tech.
Unlike most years when Texas' has many elite prospects, this year scouts will be focused mainly on these two prospects. Okafor is a good prospect whose draft stock has been on the rise since a strong showing at the Senior Bowl after an up and down 2012 season. He needs to prove to teams that he has the quick twitch athleticism and flexibility to be a starter as NFL teams have concerns about his ability to threaten the corner as a speed rusher and play off the ball as an OLB in a 34 scheme.
While Okafor needs a big day to try and secure a spot in the first two rounds, Vaccaro is the top safety, but needs a good workout to prove that his slow 40 time at the Combine is not an issue. His on field play in 2012 was outstanding and put him in position to be a top ten selection, so in order to assure he is drafted that high he needs to run better and display good quickness and speed throughout his workout. I expect him to shine as he is a better safety prospect than Mark Barron who was drafted seventh overall last year and could lock up a spot in the top ten.
2. March 26, Purdue DT Kawaan Short:
An elite talent who struggled with consistency throughout much of his college career, NFL teams want to work out Short to get an up close look at him. As a player who often seemed to not be in the best of shape and would wear out during games, he is likely going to be put through a long and grueling work out so NFL teams can see what type of shape he is in. This is vital as it will tell teams how much effort Short made to be in the best possible shape for his Pro Day because if he is out of shape and wears down during workout it would be a very bad sign. A strong workout could help Short squeeze into the bottom of the first round, but a bad one could see him slide to the third round.
3. March 27, LSU: DE/OLB's Barkevious Mingo and Sam Montgomery, DT Bennie Logan, SAF Eric Reid, CB Tharold Simon, OT Chris Faulk and MLB Kevin Minter:
There are too many LSU prospects that will be working out to break them all down, but there are some key ones who need big Pro Day performances. Barkevious Mingo is going to be a first round pick, but with so many elite pass rushers in this year's Draft he is not assured of being a top fifteen pick. If he shows polish in pass rush drills, good strength and hand use in drills he could end up in the mix to be a top five or six pick. Unlike Mingo, Sam Montgomery is viewed as a potential first round pick, but more likely a second round pick because of questions about his explosiveness and all-around athleticism. He needs to prove to teams that he has the quickness to be an effective edge pass rusher and the flexibility and athleticism to be effective playing off the ball as a 34 OLB.
When Bennie Logan declared for the Draft many expected he would be a high draft pick, but teams have not been impressed with his play on film. He is viewed as more of a third or fourth rounder. He needs to step up and have a great workout to overcome concerns that he lacks the high end athleticism to be an impact starter in the NFL. If he does not have a good workout do not be shocked if he slides to the third day of the Draft.
Cornerback Tharold Simon is not the elite prospect that recent LSU's corners Morris Claiborne and Patrick Peterson were coming out of school. He is however viewed by many as a very intriguing prospect because of his height, long arms, good athleticism and natural coverage/ball skills. A number of scouts feel he can be a high end starter like Brandon Browner, so if he works out well he could end up being a second or third round pick.
Viewed as an elite OT prospect with great potential entering the 2012 season, Faulk was injured in LSU's season opening game against North Texas and therefore was expected to return to LSU for the 2013 season. He surprised many where he choose to come out early for the Draft anyway and must prove during this workout that he is close to 100% and will be able to get back to his pre-injury form. If he works out well and proves he is healthy then he could end up being as high as a second round pick.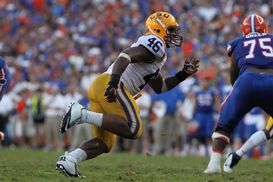 US PRESSWIRELSU linebacker Kevin Minter begins chasing after ball carrier in pursuit against Florida.
With Alec Ogletree and Manti Te'o getting all the publicity this spring, Minter has slid under the radar, but this workout could really help his draft status. Viewed now as a short linebacker who lacks elite athleticism, Minter needs to prove to teams that he has the quickness, burst and speed to be effective chasing down plays in pursuit and to be a three down linebacker to assure himself of being picked in the first two rounds.
4. March 27, USC: QB Matt Barkley and WR Robert Woods:
Nearly all the other big name quarterbacks have already thrown for scouts, so this is the chance for Barkley to make a statement that he should be the first one picked. The biggest concerns surrounding Barkley are his arm strength and athleticism, so he needs to prove he has the arm to make all the NFL throws and the foot quickness so move/slide effectively within the pocket. If he does these things, then because he was so outstanding in his Combine interviews he will likely be the first quarterback drafted.
Catching many of Barkley's passes will be Robert Woods, who is trying to convince teams he has the explosiveness and top end speed to warrant a first round selection. A fundamentally sound receiver who runs great routes and has rare hands, NFL teams are concerned that Woods lacks the burst out of his cuts to get separation consistently and the speed to stretch the field deep. While a strong day will not assure Woods of jumping over other receivers to be a first round pick, it could lock up a spot in the second round.
4. March 27, South Carolina: RB Marcus Lattimore: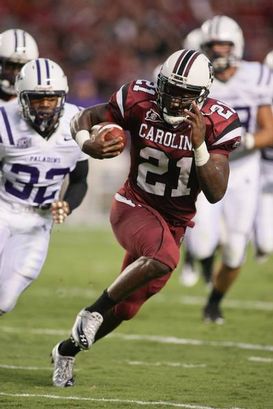 ICONSouth Carolina running back Marcus Lattimore makes sharp cut back before he was injured.
After suffering what seemed to be a gruesome knee injury during the 2012 season, many expected Lattimore to return to South Carolina to get healthy and prove himself in 2013. However, after choosing to leave school early NFL teams are eager to see how he has progressed and if he is going to eventually get back to his pre-injury form. While I do not feel he warrants being a first or second round pick, if he is able to work out and does so very well some team will likely use a top 50 pick to select him.
Email Russ at Russelllande@yahoo.com and Follow Russ on Twitter @RUSSLANDE