March 21, 2013 -
Erik Oehler
Pro Day review for March 18th, 19th & 20th
NFL personnel are in the thick of the Pro Day schedule traveling all over the country working out prospects. As there are so many Pro Days across the country, we cannot be everywhere at once, so we rely upon a network of NFL sources that we have built during our time working for the Rams and Browns. Below is a breakdown of what we have been told by different NFL sources at these workouts:
1. Florida State: Bjoern Werner, DE/OLB, Brandon Jenkins, DE/OLB, E.J. Manuel, QB & Menelik Watson, OT and Xavier Rhodes, CB:
Although Cornell "Tank" Carradine did not workout at Florida State's Pro Day (He is scheduled to hold a workout April 20th) as he is still recovering from a torn right ACL he suffered against Florida, there was still a lot of talent for NFL personnel to see. While many are praising quarterback EJ Manuel with having a great Pro Day, our source at the workout was not as impressed. I was told that Manuel demonstrated excellent arm strength and was really able to make every throw with zip. In addition, his throwing motion was quick and he was able to get rid of the ball fast once he began motion. Although only one ball hit the ground during his passing workout, our source in attendance told me that Manuel made his receivers work and was often high and outside with his throws as he seemed to make throw a little too soon. Although his workout was not great as many have said, when you add in Manuel's outstanding work ethic and character, I would be surprised if he is not selected within the top 40 picks.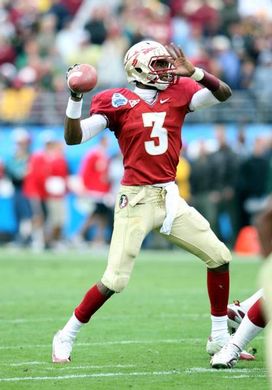 ICONFlorida State QB E.J. Manuel strides into throw right before throwing pass.
While Manuel may have been the big name player working out, there was a lot of buzz about Menelik Watson as NFL teams are smitten with his upside/potential and he did not disappoint. For such a muscular and well-built lineman, my source told me that NFL personnel were still impressed with how quick Watson moved and how easily he could maintain knee band and stay over feet while changing directions so fast. He performed at a high level in all the positional drills and displayed very quick and heavy hands throughout. No doubt Watson is still raw when it comes to technique, but his potential showed during the workout and likely will lead to him being a first round selection.
Almost forgotten amongst all the other storylines is Bjoern Werner who not only is an elite prospect in his own right, but had an exceptional workout. Werner looked natural going through the bag drills and impressed many with his ability to maintain his quickness and speed when forced to react in drills, which showed natural instincts/feel. With so many defensive line prospects, the NFL coaches put them all through a very long and grueling workout and by the end of it only one player, Werner, was still going full speed and did not seem to tire. His conditioning, effort and intensity throughout the workout really impressed people as Werner was already viewed as a top prospect and likely top ten pick before the workout. When you add in Werner's rare intangibles and shocking football intelligence for someone with less time playing the game than most NFL prospects, my source there said you can see why NFL teams believe he will be a highly productive player for many years.
After an up and down Combine where he ran and tested remarkably well, but struggled in the positional Drills, cornerback Xavier Rhodes had a similar workout today. Although he did not do the Combine type testing, he did display the foot quickness, acceleration and rare speed for such a tall and well-built cornerback. However, in the positional drills he was not smooth as he struggled in the backpedal drill, where he kept slipping, and looked tight hipped trying to change directions fast. His overall workout was respectable, but definitely showed what Rhodes physical strengths and weaknesses are. For a team that plays press man a lot Rhodes will shine, but in "off' and zone he will have some troubles because of his issues changing directions.
Coming into the 2012 season Brandon Jenkins was expected to finish a strong career with a big senior season and lock up a spot in the first round. However, after suffering a Lis-Franc injury to his left foot in the season opener, he missed the rest of the season. There is little question that Jenkins looks the part "on the hoof" and went through the full workout as he is healthy. However, his workout did not impress as he was only okay doing the defensive line drills and really struggled in the linebacker drills. As my source in attendance told me, Jenkins is stuck between two positions as he lacks the elite explosiveness and pass rush skills to play defensive end and is not athletic enough to be a full-time linebacker. He felt his best chance was to play outside linebacker in a 34 defense where he would not be asked to do a lot in terms of coverage responsibility.
2. San Diego State: Leon McFadden, CB and Gavin Escobar, TE:
As was expected, McFadden had a strong all-around workout and showed why he is viewed by many teams as a future solid starting cornerback. He was quick and agile in positional drills and able to change directions with ease. Although his lack of elite speed was evident throughout, he did show the short area explosiveness to change directions and close fast on receivers. Also impressive were McFadden's ball skills as he plucked the ball consistently.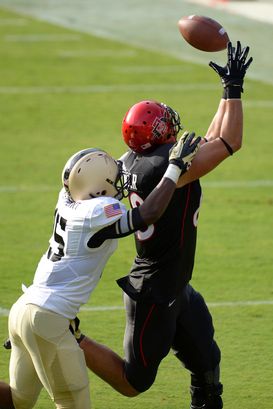 US PRESSWIRESan Diego State tight end Gavin Escobar is about to make the tough over-the-shoulder catch.
Escobar not only worked out well in the positional drills, but also shaved anywhere from .10 to .18 off his Combine 40 time of 4.84 (My sources at the workout had him in the high 4.6's and low 4.7's). Beyond his 40 time, Escobar ran excellent routes throughout the workout. He looked smooth and fluid in routes, got out of his cuts quickly and got his head and hands around quickly after making a cut. He caught the ball extremely well during workout also.
3. Utah: Star Lotulelei, DT:
After not working out at the Combine due to a medical/heart condition that was detected during physicals, Lotulelei went through a full workout after receiving full medical clearance (My sources at the workout said that Lotulelei will be providing all teams with all the pertinent medical information). While it was clear that Star was not in game shape, he went through not only the positional drills, but also did the Combine testing. His 40 time was in the high 5.2's or low 5.3's depending on the source. However, in the positional drills he displayed the quick feet, agility and shocking change of direction ability that he showed in games at Utah. While his testing numbers did not blow anyone away, the athleticism and competitiveness he displayed during the positional drills was very impressive and what NFL people expect from a high draft pick.
Email Russ at Russelllande@yahoo.com and Follow Russ on Twitter @RUSSLANDE