March 16, 2013 -
Erik Oehler
Pro Day Review – March 16th
Now that the Combine is over, NFL personnel are in the thick of the Pro Day schedule traveling all over the country working out prospects. As there are so many Pro Days across the country, we cannot be everywhere at once, so we rely upon a network of NFL sources that we have built during our time working for the Rams and Browns. Below is a breakdown of what we have been told by different NFL sources at these workouts:
1. Florida: Matt Elam, SAF (5097, 208 and 4.53 – All from Combine) and Josh Evans, SAF (6010, 207 and 4.48 – 40 Time from Pro Day):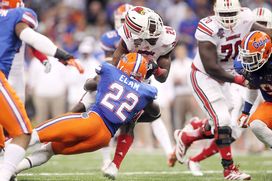 US PRESSWIREFlorida safety Matt Elam makes hard hit and tackle against Louisville.
Having been hyped as a premier safety prospect throughout the 2012 season, Elam's workout at Florida's Pro Day was solid, but not spectacular. Although his 40 time at the Combine was not stellar, during the workout Elam displayed excellent foot quickness accelerating to full speed and the elite speed to give him great range in coverage. In games, Elam was much more effective in coverage on passes in front of him and struggled when he had to flip his hips to adjust in coverage. During his workout at the Pro Day, Elam displayed a little tightness in his hips and was not as quick or smooth flipping hips and changing directions as elite safeties usually are. Obviously, Elam's lack of ideal size is an issue for NFL teams and the hip tightness he showed in his workout raises concerns about if he has the top level athleticism to make up for that lack of size. Teams definitely are impressed with his competitiveness, football intelligence and aggressive playing style, which should keep him from sliding out of the second day of the 2013 NFL Draft.
While Evans has been viewed as the "other safety" at Florida throughout the 2012 season and not regarded as a top prospect, sources at the Florida Pro Day told us that Evans had a strong all-around workout. Although not an explosive athlete, Evans was smooth throughout the positional drills staying over his feet and changing directions easily. One NFL person in attendance told us that it was clear to him that Evans is the more flexible and fluid athlete of the two safeties, Matt Elam being the other, and that he felt Evans was also better in coverage in games. Although his workout was impressive and we think he warrants being selected above Elam, the sources we spoke with said that while they agreed with our evaluation of Evans as a better prospect that Elam will still likely be selected first.
2. Michigan State: William Gholston, DE (6062, 281 and 5.00 – 40 Time from Pro Day), Dion Sims, TE (6047, 262 and 4.74) and Le'Veon Bell, RB (6013, 230 and 4.59):
After a disappointing Combine, Gholston needed to step up at his Pro Day to have any chance of being drafted in the first two rounds, but he did not do so. When he ran in the high 4.9's at the Combine, many expected he would improve upon that at his Pro Day, but when he ran a 5.00 40 it was not a good start to the day. Not only was his 40 time disappointing, but his positional workout did not impress as teams came away feeling he definitely is a "tweener." A long and linear defensive end, Gholston did not show the foot quickness or explosiveness during the workout, which only accentuated what he showed on film in 2012, to threaten the corner as an edge pass rusher. At the same time he did not show good flexibility to maintain leverage to be an effective two gap player. Most concerning however was the lack of aggressiveness, intensity and passion that Gholston displayed during the workout. An NFL source in attendance told me that Gholston's demeanor throughout the workout made them question if he has the mental makeup to handle being a five technique who has to anchor and physically control blocker. Although Gholston's workout did not help his draft status, both Dion Sims and Le'Veon Bell definitely helped their stock.
Sims looked in even better shape than he was at the Combine and an excellent workout. For such a big tight end, he displayed shocking balance, body control and coordination running routes and catching passes. His hands and ball skills catching passes were extremely impressive throughout the workout. Almost as impressive was his ability to bend knees and sink hips to maintain good leverage throughout the blocking drills. As a player who was not a good blocker in games, Sims looked much better in blocking drills during his Pro Day. An NFL source in attendance told us that while Sims' production on film is that of a third round pick, if someone just saw his Pro Day workout they would come away feeling that Sims warrants first round consideration.
A strong and powerful back, Bell impressed at the Combine by running in the mid 4.5's in his 40 and with a strong all-around workout and he did not disappoint at his Pro Day. With a number of running back coaches in attendance, Bell displayed better quickness, movement skills and blocking ability than expected. He did a good job of staying over his feet and using good technique in the pass blocking drills. Unlike many 225+ backs, Bell's hands and receiving skills were impressive throughout his workout. Able to twist to catch a few off-target passes, he displayed soft, natural hands. While he is still not viewed as a premier prospect, a number of sources at Michigan State's Pro Day told us they believe he will be selected in the second or third round.
Email Russ at Russelllande@yahoo.com and Follow Russ on Twitter @RUSSLANDE