March 09, 2012 -
National Football Post
Pro Day roundup: Alabama, USC and more
Who helped/hurt their stock the most during this week's pro day circuit…
Southern Cal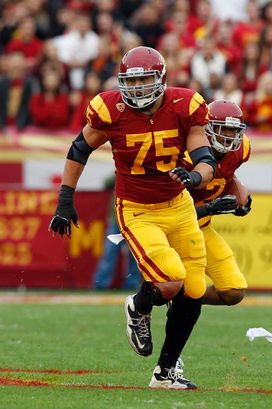 ICONKalil displayed "plus" athleticism at his pro day.
OT Matt Kalil
The draft's top offensive tackle prospect looked natural during his workout this week. He showcased good balance and change of directions skills both during run and pass blocking drills, as he was able to consistently gain leverage on contact. He did nothing but solidify his spot as a top-five pick.
DE Nick Perry
Perry looked a little tight during positional drills, especially when working out as a linebacker. However, the guy is an explosive pass rusher who can be violent with his hands and he wouldn't be the first ever "stiffer" prospect drafted as an outside linebacker. I think he has a similar type game to current Texans OLB Brooks Reed and can be a productive rush LB option because of his "plus" get off burst and motor.
DT DaJohn Harris
Harris was unable to workout at the NFL Combine after doctors discovered he had a
patent foramen ovale (a hole in heart). However, Harris has since been checked out and doctors have given him 100% clearance to play in the NFL.
Texas A&M
WR Jeff Fuller
The 225-pound receiver prospect didn't impress with his straight-line speed, running in the mid 4.6 range. He showcased some explosion on his vertical with a jump of 36-inches, but looks more like a big possession type receiver only who likely will be forced to play inside at the next level.
RB Cyrus Gray
He was said to look good during positional drills catching the football out of the backfield and explosive in space. He's not the biggest of backs at 204-pounds. However, he looks like an ideal change of pace guy with big play ability.
Alabama
LB Dont'a Hightower
Hightower had a strong workout, posting an explosive 9-foot-9-inch broad jump at 265-pounds and looked good during positional drills. He's the most naturally talented ILB prospect in the draft in my view, it's just getting him to play with a motor down in and down out in the NFL that will ultimately determine how good he can be.
CB De'Quan Menzie
I had some questions about Menzie all season on tape and after weighing in at just under 5-11 and posting a forty time of 4.62, I simply don't see the guy as a draftable prospect. He displays good ball skills, but to me I think he's going to have a tough time making a roster.
Arkansas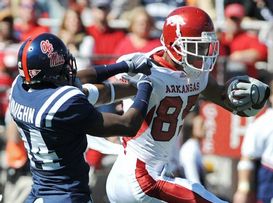 Childs continues to help his draft stock.
WR Greg Childs
He was one of the top rated receivers coming into the year, but saw much of his senior season derailed by injuries. However, the 6-3, 212-pound wide out continues to blow up this post-season. He ran in the high 4.3/low 4.4 range at the Arkansas pro day and looked impressive during positional drills. His 40.5-inch vertical is also a very good number and he finally seems healthy. Childs is a guy who could fall lower than his talent suggest, but if in fact he is back and 100% healthy, he could end up being a mid-round steal.
Auburn
FS Neiko Thorpe
He's raw when you watch him on tape and he's still adjusting to the position change (corner to free safety). However, Thorpe possesses good size at 6-1, 198-pounds and great speed for the position, running in the low 4.4 range. The biggest concern though is that he did only four reps on the bench. Nevertheless, a guy with his size and growth potential who can run like he does will give himself a chance to get drafted late.
Miami (OH)
OG Brandon Brooks
At 6-5, 346-pounds, Brooks ran in the low-5.0/high-4.9 range and showcased elite range/athleticism for a guy his size. He threw up 36-reps on the bench as well and after a dominant performance at the East/West Shrine game, I don't think it's out of the realm of possibility for him to go somewhere in the top two rounds of the draft.
Illinois
WR A.J. Jenkins
The former Illinois standout was said to look explosive during positional drills and has improved his overall route running since the end of the season. He's a good-looking athlete at just over 6-0 with the straight-line seed to get behind defenses vertically. Looks like an intriguing size/speed combo who has a chance to go in the top-100.
DE Whitney Mercilus
The college sack artist was said to look good during OLB drills as he showcased the fluidity to open up his hips and play in space. At nearly 6-4 and 260-pounds he's a physically imposing threat with elite production in 2011. I have some questions about him as a pure pass rusher. However, after his strong pro day performance, I expect him to go in round one.
Check out the NFP Draft page here...