September 12, 2011 -
National Football Post
Prospect of the day: Alabama DT Josh Chapman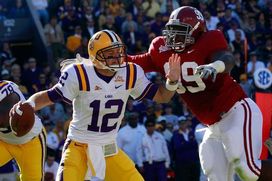 ICONChapman is a better athlete than given credit for.
NT Josh Chapman: No. 99 (6-1, 310)
A thick, girthy defender with a strong looking lower half and longer arms for his frame. Exhibits a strong anchor on contact when asked to eat up blocks inside. Is tough to move off the football, keeps his base down and works his hands quickly to maintain/regain leverage and hold the point inside. Gets himself in trouble at times shooting his hands to high into contact, but works hard to gain proper hand placement through the play and maximizes his length well in tight quarters. Is limited making plays off his frame. Allows himself to be easily sealed from the action inside and isn't real sudden when asked to disengage and range off his frame. Does a decent job fending off slide down blocks and can play the piano in tighter areas down the line, but when asked to work more in space, he struggles to put himself around the football.
Displays a decent get off for his size vs. the pass. Isn't a guy who will threaten gaps off the football, but plays with a good motor, keeps his base down and can fight through blocks working his way up field. Doesn't have the kind of body control to sudden change directions skill to quickly slip blocks, but does display some violence with his hands when asked to disengage while keeping the integrity of the pocket and fending off blocks as the QB steps up.
Impression: Has the making of a starting caliber nose at the next level in either a 3-4 and 4-3 front. Can consistently anchor on contact, is long armed and tough to move off the football. Also, is a better pass rusher than given credit for.