September 09, 2011 -
National Football Post
Prospect of the day: Arizona State CB Omar Bolden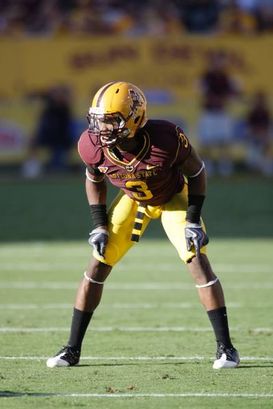 ICONBolden is raw, but a talented kid.
CB Omar Bolden: No. 3 (5-10, 195)
A little on the short side, but has a solidly built frame and has the frame to play either on the outside or in the slot. Is a naturally gifted athlete with impressive fluidity in the hips and burst out of his breaks. Does a decent job sitting into his drop off the line, can keep his base down and when asked to drive on throws under him or re-direct, there's an obvious closing burst to his game. Opens and closes his hips effortlessly when changing directions and if he maintains his balance he's extremely tough to separate from in man. Possesses good ball skills, undercutting throws and can be dynamic with the football in his hands. Is a threat on special teams as he possesses very good speed and lateral quickness to make a man miss and accelerate. Displays good straight-line speed, has the ability to make up for a false step and looks like a legit low 4.4 guy.
However, he needs to continue to improve his overall footwork and technique in coverage. Has a tendency to get upright the longer he has to sit into his drop. Is fidgety with his footwork hopping out of his breaks and has a hitch in his transition in order to catch himself down the field. Need a couple of steps in order to get back up to speed because of it and will let receivers behind him. To his credit has the speed to get himself back into the play, but struggles with balance again when asked to re-set his feet and high point the football. Isn't overly physical and needs to do a better job creating more of a bump into contact, especially down the field. Too often receivers can be physical with him out of their breaks and separate as they knock him off the ball. Shows flashes of tackling in the run game, however too often takes bad angles toward the ball carry, comes flying in out of control and/or is sealed on the edge by bigger receivers. Displays natural click and close ability in zone coverage, takes much better angles and has a natural feel for the game when the ball is in the air, but at times is a bit reactive in zone.
Impression: The skill set is there for this guy to be a starter in the NFL. Needs to play a little stronger and has to clean up his footwork in order to stick, but gives you some versatility to play inside and out on a defense.
Follow me on twitter: @WesBunting